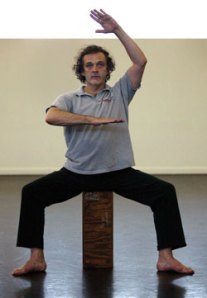 I can't imagine a better way to shake the late-winter blahs than hearing the great German bass-baritone Thomas Quasthoff at Stern Auditorium on March 7. Mr. Quasthoff is just about unbeatable in Schubert and Brahms, but wait till you hear him in a program he's been cultivating since childhood—the Great American Songbook, in which he has the chops to rival Sinatra, Eckstine and the rest of them. A few weeks later (March 23), another charismatic bass-baritone, the Canadian Gerald Finley, presents selections from the less-hummable American art-song-book (Ives, Rorem, Barber), along with Schumann's Dichterliebe.
Carnegie's Zankel Hall and Stern Auditorium will be both buzzing with sterling pianists. On March 21, Ingrid Fliter, an Argentinean protégée of Martha Argerich, makes her New York recital debut with pieces by Beethoven, Schubert and Chopin. On March 24, the Canadian virtuoso Louis Lortie leavens a Roman-tic feast of Liszt and Chopin with cheeky musings by the British brat, Thomas Adès. A week later (April 1), the French wizard Pierre-Laurent Aimard gives a selective history of 300 years of keyboard literature (Scarlatti to Carter), in what promises to be an unusually scintillating evening, enhanced by the pianist's spoken erudition.
Close on his heels come recitals by four of the world's most admired pianists: the deeply reflective Richard Goode (April 12), the im-perturbable Maurizio Pollini (April 29), the supreme colorist Krystian Zimerman (May 1), and the intense pointillist Mitsuko Uchida (May 9). I can't wait to hear the world premiere of a new piano work by the kaleido-scopic French composer Marc-André Dalbavie, which Yefim Bronfman will play along with chamber works by Shostakovich (May 4).
In Carnegie's usual stately proces-sion of visiting orchestras, the stand-out for me is the hometown Met Or-chestra, which is offering an all-Mussorgsky menu conducted by Valery Gergiev, with the towering German bass René Pape (May 18). A few days later (May 22), James Levine leads a tasty old/new program (Harbison, Schumann, Carter, Mendelssohn) with the American wunderkind pianist Jonathan Biss. The Emerson String Quartet closes the hall's season with eight concerts (May 31 to June 17), exploring the Beethoven quartet cycle in the context of other essayists in the genre. They range from Schubert to the world premiere of a new work by the astrally gifted Finnish composer Kaija Saariaho, which is likely to cast a glow over the closing performance of Beethoven's mighty, groundbreaking C-minor quartet.
A few blocks north, New York City Opera's spring gets off to a giddy start with Gilbert and Sullivan's Pirates of Penzance, starring Marc Kudisch as the undastardly Pirate King in a new production by Lillian Groag (March 3). I'm also eager to hear the splendid young Bulgarian soprano Alexandrina Pendatchanska tackle the spectacular title role in Rossini's La Donna del Lago (March 22).
The Met is mounting a new production of a Strauss rarity, Die ägyptische Helena (The Egyptian Helen), starring Deborah Voigt in her most glamorous role to date (March 15). If anyone has the voice to launch a thousand ships, she does. Another soprano powerhouse, Violeta Urmana, sails forth in Giordano's Andrea Chénier, with Ben Heppner in the fiery title role that made Luciano Pavarotti's bad knees wobble (opening March 22). It will be interesting to see what sort of pizzazz Broadway's Jack O'Brien brings to Puccini's sentimental triptych Il Trittico, with an all-star cast (April 20). Another keenly anticipated directing debut is that of Mark Morris, whose first Met vehicle, Orfeo ed Euridice, should be duck soup for a choreographer who revels in the noble simplicity embodied by Gluck's music (May 2).
Another Arcadian, William Christie, brings his keenly Enlightened troupe of young singers, Le Jardin des Voix, to Alice Tully Hall for a romp through the 17th- and 18th-century whimsies of Monteverdi, Cavalli and Haydn (March 31). Lincoln Center's Great Performers Series also finds room for two uncommonly interesting violinists: the keenly intelligent young Englishman Daniel Hope in a program of Schnittke, Copland and Brahms (April 15), and the legendary Midori, whose adventurous muse will lead her from Beethoven to Rautavaara, Hindemith and Strauss (April 24).
Mozart and Sibelius are two of Sir Colin Davis' favorite composers, and the British conductor's reading with the New York Philharmonic of the Piano Concerto No. 27 in B flat (with Radu Lupu) and the rarely heard Lemminkäinen Legends promises pure magic (March 29 to 31). The Philharmonic's Lorin Maazel has trained his sights on the Romantic, as opposed to the Classical, side of Brahms, and I wonder just how far the willful maestro will push and pull the composer's "Tragic" Overture, Double Concerto and Second Symphony (April 20 to 21) and Third and Fourth symphonies (May 31, June 1).
Wu Han and David Finckel, the new artis-tic directors of the Lincoln Center Chamber Music Society, are geniuses at coming up with must-hear programs. On March 7, the Orion String Quartet traverses the complete quartets (all four) of the influential American composer Leon Kirchner. On April 29, the society premieres Nicholas Maw's sextet for strings amid a cunning hodgepodge of Haydn, Schumann, Bruckner, Strauss and Britten. On May 20, Yefim Bronfman unveils a new work for solo piano by the Chinese composer Bright Sheng, which should sound especially exotic next to Mitteleuropean heapings by Ernö von Dohnányi and Dvořák.
Columbia University's Miller Theater roams more widely than any other presenter in town. This spring, the terrain extends from a 70th-birthday celebration on March 23 to 24 of minimalist master Steve Reich (his Music for 18 Musicians and Music for Pieces of Wood) to a concert at the Church of St. Mary the Virgin devoted to the 19th century's cult of Palestrina. Even the angels may fear to tread when Miller impresario George Steel and his forces let loose with the knock-'em-dead "Kyrie" from Bruckner's Mass in E minor.