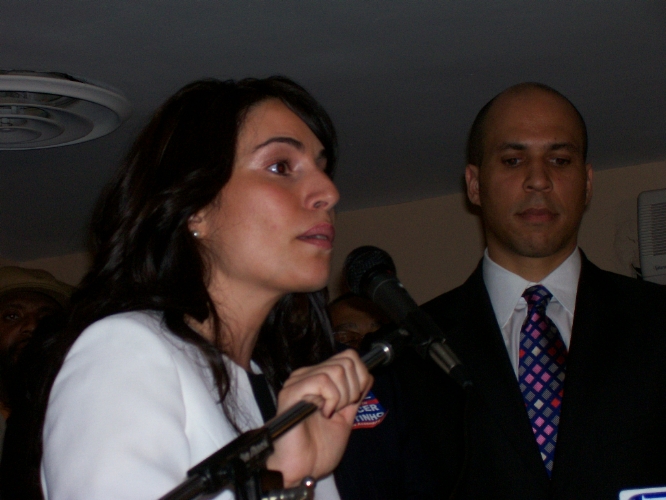 By MAX PIZARRO
PoliticsNJ.com
NEWARK, March 14 – Opposing State Senate primary candidates in Newark's 29th district have a subtly different but ultimately connected sensibility when it comes to politics, which in this city, they say, leads back to the neighborhood, the block, the family.
"Politics can be about bringing good things into the neighborhood," says 32-year-old Teresa Ruiz, whose career is just beginning.
Then there is the veteran's perception, which is that politics at some point must have an end.
"There is politics," muses Assemblyman William D. Payne, "And there is beyond politics. There is the way you were raised."
It was a stunning declaration by Payne Wednesday, who pointed out he wasn't reared in a Democratic Party that disrespects a senior member of a key legislative district, which he is, and which he serves.
With all regard to gentility and protocol, the 74-year-old Payne nonetheless said he wouldn't be pushed around. He came up in politics in the Civil Rights era, knew Dr. Martin Luther King, Jr. personally — he talked about seeing King for the last time, just before King was killed.
Payne said he carried that profound impact of an era into public life, and had served over eight years in the Assembly. If the post-Sharpe James epoch was going to inevitably bring big changes, Payne would be one of those vital links to the city's past.
An energetic young mayor like Cory A. Booker could jumpstart the economy with outside investment. Only old pros like Payne could stand guard over the conscience of black neighborhoods, and threats of disruptive development and gentrification. That's the way Payne saw it.
Politically he figured he'd earned it. He'd stood in line — and not only stood in line but worked hard for the right to move up after almost a decade in Trenton.
But Booker, the leader of Newark€˜s new generation, didn't exactly see it that way, as the final funeral pyre of his mayoral predecessor Sharpe James' political career appeared on the verge of embers. In recent talks with Payne against the backdrop of James' likely retirement from his district 29 State Senate seat, a post James held concurrently with his job as mayor,
Booker talked to Payne about staying on the team that represents all of Newark's East Ward and Hillside and parts of Newark's North, South and Central wards.
Payne said he would like to do that — as James' successor.
"I indicated I thought I would be effective in the Senate," he said.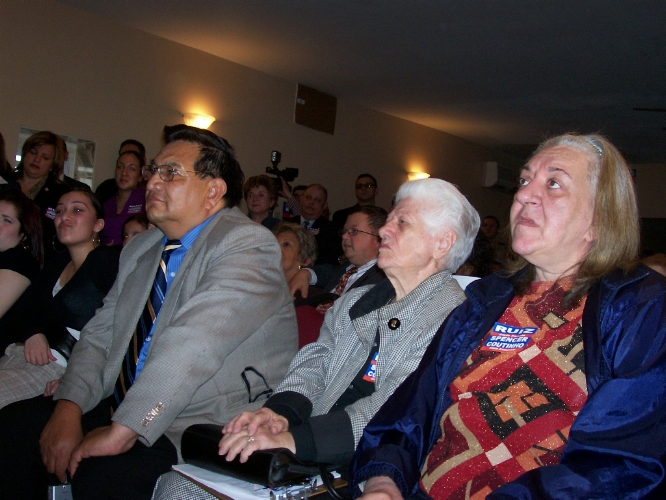 Looking back on the meeting with Booker, the Assemblyman said Booker indicated he would take Payne's wishes under advisement. Then the mayor called back and told the older man that in order to be on the Booker-endorsed ticket, Payne would have to stay in the Assembly. Booker was going to go with someone new in the upper house, and that selection turned out to be Ruiz, a 32-year old Newark native with ten years of experience in Essex County, including a stint as Deputy Chief of Staff and as Director of Public Information.
If elected, she would be the first Latina senator — and only the second Hispanic — in the state history.
Ruiz stood on the stage in Newark's North Ward yesterday on Bloomfield Avenue, with her other young running mates — Assembly candidates Grace Spencer and Albert Coutinho — amid the bling of flashbulbs and gleeful whoops as the song "Ain't no stopping us now" blared over the sound system. Joining the rising stars were the mayor,
Essex County Executive Joseph N. DiVincenzo, Jr., and other Essex County leaders.
"I won't be showing up for that," Payne had deadpanned earlier in the day.
But he said he will be showing up in the primary to run for that District 29 Senate seat, though who will join him to challenge the slate of Booker candidates remains as yet unknown.
"I'm talking to people," said Payne. "I'm trying to figure out who would be the strongest candidates."
Booker says he saw Payne's inability to accept a supporting role as the act of a spoiled member of an ancient regime.
"It cannot be Bill Payne's way over everyone else's," Booker told reporters when the celebration for his slate of candidates had subsided.
Payne says his way is better than that of a "neophyte with zero experience," which is how he describes Ruiz. While the five-term Democrat says he was out there doing the yeoman's work of the 29th — securing Abbott District status for Hillside, fighting the state sales tax, bringing in money — $7 million last year — Ruiz has been entirely under the sway of a powerful young mayor.
Payne says he wouldn't be Booker's vassal.
He also questions Ruiz's ability as a Latina to wield power in a mostly black district.
And that's where Booker says he completely loses Payne.
Booker insists Newark needs to move away from the old divisions, and the too-easy willingness on the part of leaders to wall off whole races from one another. The event on Wednesday highlighted the breadth of ethnic backgrounds represented on the Ruiz ticket, and alluded to Newark's tortured past.
"I have no doubt I will see this city as it was in 1967," said Essex County Sheriff Armando Fontoura, a former beat cop in the Ironbound district, who remembers the city before the riots. "There were people in this city who did not leave. The people of the Ironbound did not leave this city. Our community in the Ironbound had as much to do with this city surviving as any other community. The time must come now. We must come together as a people. We must all have a say in governing this city."
Then he brought Coutinho — whose family Fontoura identified as one of the city's success stories — up on stage. The beat cop turned sheriff bear-hugged the neighborhood kid turned Assembly candidate, and the crowd was charged and the low-key Coutinho. was at the microphone.
"I am proud to be part of this historic ticket," said Couhtino, who served several months as an Assemblyman in the 1990€˜s. "This all-encompassing ticket reflects the strength and diversity of Newark."
Booker introduced Spencer, an African-American and his former Deputy Campaign Manager, who said she was photographed as a four-year-old cleaning up trash in the park.
Celebrating her community activism as an attorney based in her hometown, Booker said, "She represents what Barack Obama calls the Joshua Generation. She's the embodiment of the heroic dreams of her forefathers, who did not get seduced off to high price law firms."
As Ruiz — a strong ally of North Ward Democratic leader Stephen Adubato, Sr., engages in a primary battle with Payne, the man who most embodied the older era, the kingpin himself, was missing in action this week.
"Sharpe is an enigma to me," admitted Payne, who went to James three weeks ago to tell him he was planning to run for James' senate seat amid the rumors that James was ready to retire.
Payne says he asked the three-term Senator — who spent twenty years as Mayor — to refrain from running rather than split up the vote. He also asked James for his support.
James promised his Payne he would get back to him, according to his former running mate, who has been both a close friend and bitter rival of the years — but he hasn't yet,
In the meantime, Payne has decided to move ahead and for the seat he figures James will likely surrender anyway at the end of this term, regardless of whom he supports.
There's an irony in Payne getting caught up in James-backlash.
"The Paynes are a distinguished family," says political analyst David P. Rebovich, the Director of the Rider University Institute of New Jersey Politics. "But there can be only one leader in Newark.
Rebovich said that when there is turnover like this, even with a reform-minded mayor, there are "good guys in the political establishment who end up being casualties."
At Wednesday's packed political rally it was hardly evident that the opposition is a member of the same party, let alone the same city.
"Oh, God, as we go into battle, we want to thank you," said Rev. Levin West, pastor of Newark's Grace Reform Baptist Church. "We're going into battle because we're God's people. The blood, the blood, the blood is the same."
"Teresa Ruiz stands for something," West said. "It's not about ethnicity. Martin Luther King, Jr., would be happy to see a Latina, African American and Portuguese running on the same ticket, West proclaimed to applause.
Ruiz alluded to her own ethnic heritage. "Is it important?," she asked.
"Yes, that makes me who I am," she said, also acknowledging her youth and the fact that she has spent her entire life in Newark.
"But more importantly," she insisted, "it's about being a public servant."
Maybe Booker sees Payne as connected to too many establishment interests in Newark, but beyond the all-day evocation of Dr. King and common humanity, whatever new power structure Booker means to deliver to the city he now runs, Payne stands on the outside of the mayor's circle, even with his personal remembrances of King.