By MAX PIZARRO
PoliticsNJ.com
Monmouth County Republicans take credit for building the county into what it is, and at a time when they're in a battle to protect their home turf, suggestions of disorder within the party cut with a particularly nasty edge.
Particularly for Adam Puharic, the 36-year old chairman of the Monmouth County Republican Party, who's had his own troubles fighting the charge that his duties as a federal employee — he is the public affairs officer with the U.S. Bureau of Immigration and Customs Enforcement — grates against his role as county chairman.
"I'm complying with the law," he insists — by not participating directly in any of the party's fundraising.
Given the trials, every GOP victory is critical for Puharic in the lead-up to a general election showdown with a Democratic Party pumped up by changing demographics in the county, the presence of State Sen. Ellen Karcher of the 11th district (who in 2003 defeated an embattled incumbent by a wide margin), and a Republican President whose approval ratings remain on life support in the low thirties.
Beat up in the local press and facing talk of rebellion, particularly from the Bayshore contingent of his party, Puharic claimed a key victory here Saturday after the Committee stood squarely behind a slate of GOP establishment candidates promising to fight taxes in Trenton.
"Today, Monmouth County Republicans won," said Puharic. "They faced unprecedented threats from inside the party and from a hostile media environment, and over multiple opportunities to vote for surrender, they stuck together. I've never been more proud to be a Republican in Monmouth County."
Republican blogs wondered glumly in the lead-up to Saturday's event at Brookdale Community College whether anyone would show, given the potential for a boil-over of words between Puharic's spear-carriers, and Freeholder Anna Little and members of "Anna's Army."
Little and her troops had gone on record disapproving of Puharic's tough-guy expectations for candidates, including background checks financed by the candidates themselves at $1,000 a pop.
But Puharic averted the calamity of an outright overthrow averted when Little was unable to mount any protest of consequence. The chairman strode the field in glory after the convention, exalting in the presence of "over 400 county committee members" (out of a possible 800), and defending his decision to close the hall to the press in the early moments of Saturday's event.
"During deliberations we didn't allow the press in because we didn't want to give the dissenters an opportunity to grandstand," said Puharic. "They didn't want to win. They couldn't win. They wanted to grandstand, and we wouldn't let them."
There were some distressed-looking people confined to the vending machine nook in the convention's early moments.
"I'm a mayor and I can't get in there," complained Fair Haven Mayor Mike Halfacre.
But there was no storming of the Bastille to be had.
As for party strife peculiar to Monmouth County, in his speech before the convention Freeholder candidate Jeff Cantor, an Iraq War vet who's running for Little's seat, produced a recent issue of Time Magazine, which features the tear-streaked face of Ronald Reagan on the cover, mourning a contemporary Republican Party with an image crisis nationwide.
That, too was a stretch, as far as Cantor was concerned. "It's B.S.," he insisted.
Puharic said his people opened the doors to the public as soon as the candidates began making their speeches, which proved a bruising, sustained trashing of Democratic Party rule in Trenton, and the run-away spending perpetuated by the would-be heirs of Jefferson-Jackson. C
ounty Clerk Claire French initially gave each of the Republican candidates five minutes to speak, but as the witching hour grew nearer, the clerk announced that each of them would have just three minutes to address the Committee.
There were no objections.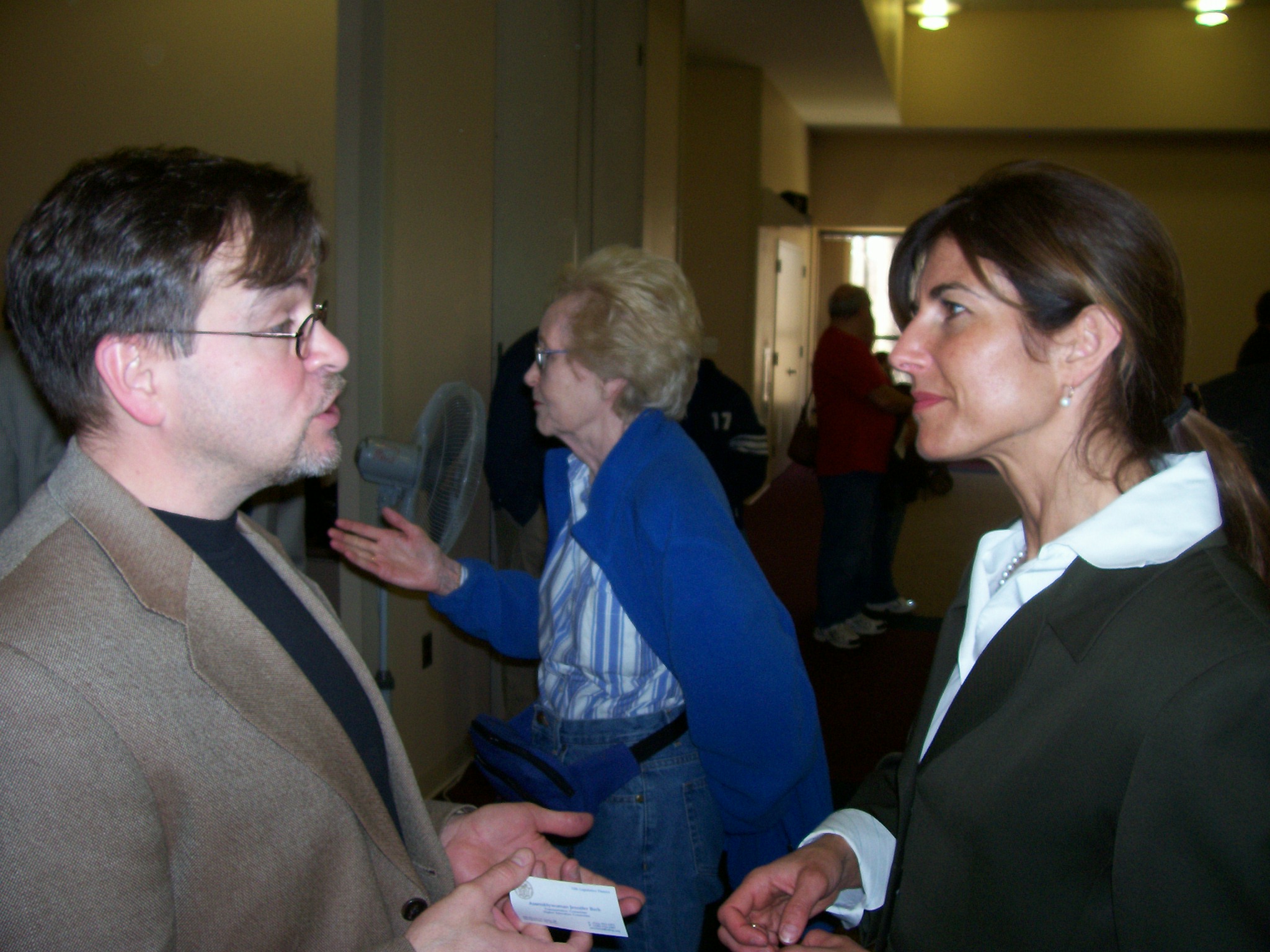 Running for State Senate in District 11, Assemblyman Sean T. Kean was the first one at the podium.
"This is the biggest thrill," said Kean, who's running to replace retiring Sen. Joseph A. Palaia. "My proudest moment."
Then the smile faded, and the voice went frigid as Kean turned his attention to the issue of spending in Trenton. "The budget has grown from $22 billion to $33 billion in the five years I've been there," said the Assemblyman. He committed to doing his best to stop the spending spree, promising he would make the county and the party proud.
The speech couldn't have been longer than two minutes, the morning's shortest. Next up were the two other members of Kean's 11th district team.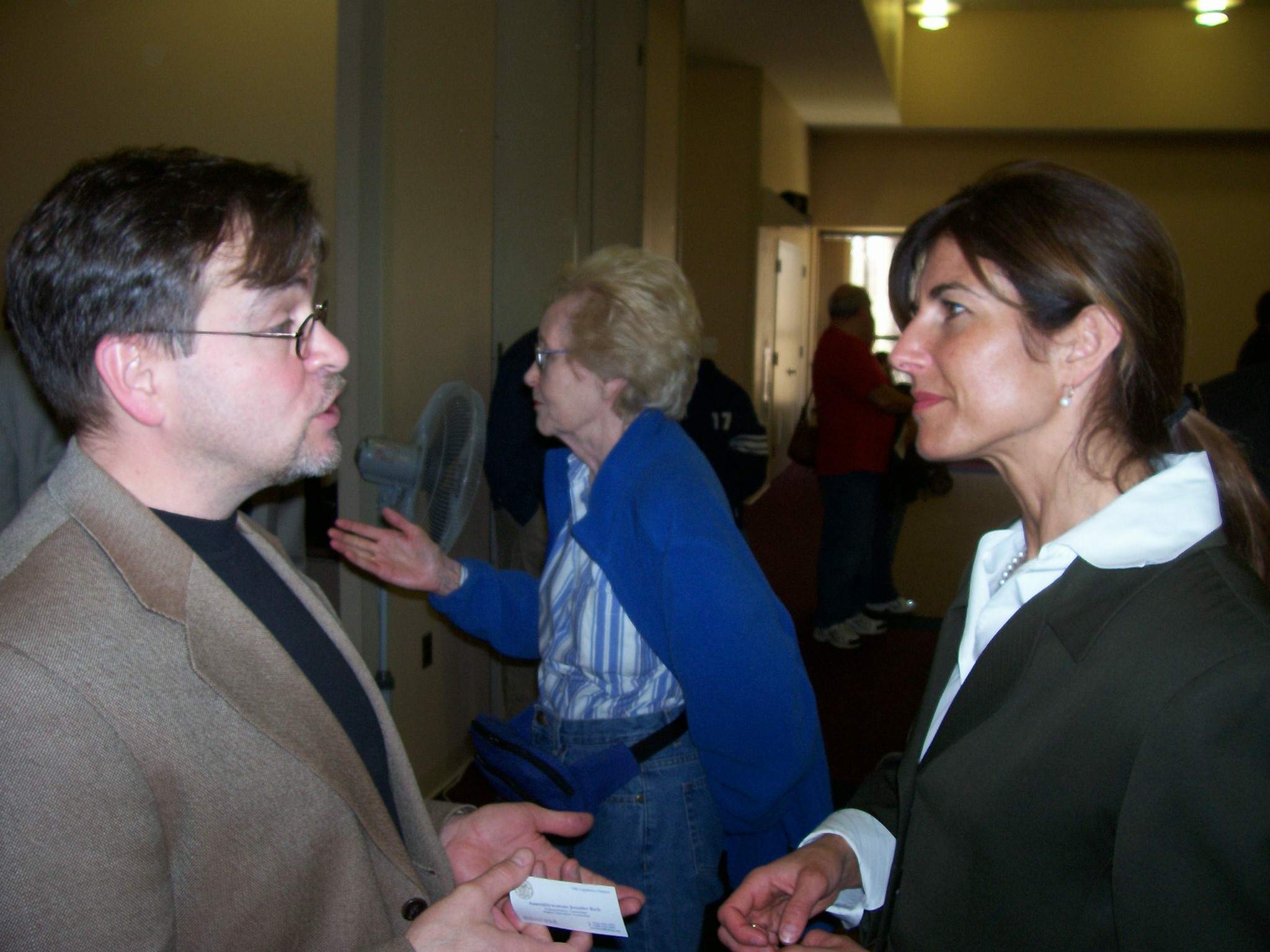 First came Mary Pat Angelini of Ocean, executive director of a nonprofit organization. There was the pleasant introduction. The requisite notes of gratitude and pride. Then she fixed her gaze behind black-rimmed glasses. The voice hardened. It was evident by this second speech that the morning in fact would be a contest of vocal inflection, an oratorical clean and jerk to determine who could muster the most contempt while uttering some combination of the words "Democrats," "state spending" and/or "property taxes."
"We've got the third highest debt in the nation," Angelini said, "the highest property taxes. Sixty-thousand people left the State of New Jersey last year. …We must stop spending at the state level and stop dual office holding. Let's go back to the Republican Party we all love, where smaller government is best."
Then it was Dave Rible's turn. A businessman and volunteer Belmar fireman who served 10 years as a police officer before an injury forced him to retire, Rible said he wanted to meet head-on the perception that because he lacks a four-degree he may be under-qualified.
"We're in a new age where security is going to be as important as fiscal matters," he said, arguing that in addition to his relevant background in police work the fact that he has no experience in elected office actually works to his advantage in an atmosphere of political corruption. Plus, he's worked on campaigns and been a loyal Republican for years, he pointed out.
Up next, Thomas Catley delivered the morning's longest remarks to ultimately make the point that he wouldn't be running for a District 11 Assembly seat this year.
The former mayor of Neptune had earlier announced his intentions to run, but decided against it after discussing the matter with his family. It was a painful speech for Catley, delivered in a bland tone perhaps so he could avoid the danger of a sudden emotional downturn. His attitude seemed to be if he had to deliver the speech completely flat in order to get through it, he was determined do so. Catley lost a son in a car accident a year and a half ago, and he admitted Saturday that he and his wife and daughter are still trying to heal.
"I stand before you as a proud Republican with over 20 years of service," he declared. "I've been a loyal Republican for the last 25 years."
But the 11th district is composed of 25 towns, which all require the focused attention of an assemblyman, and right now he just can't do it, Catley said. Instead, the attorney with ten years of experience as a trial lawyer is hoping to become a Superior Court Judge.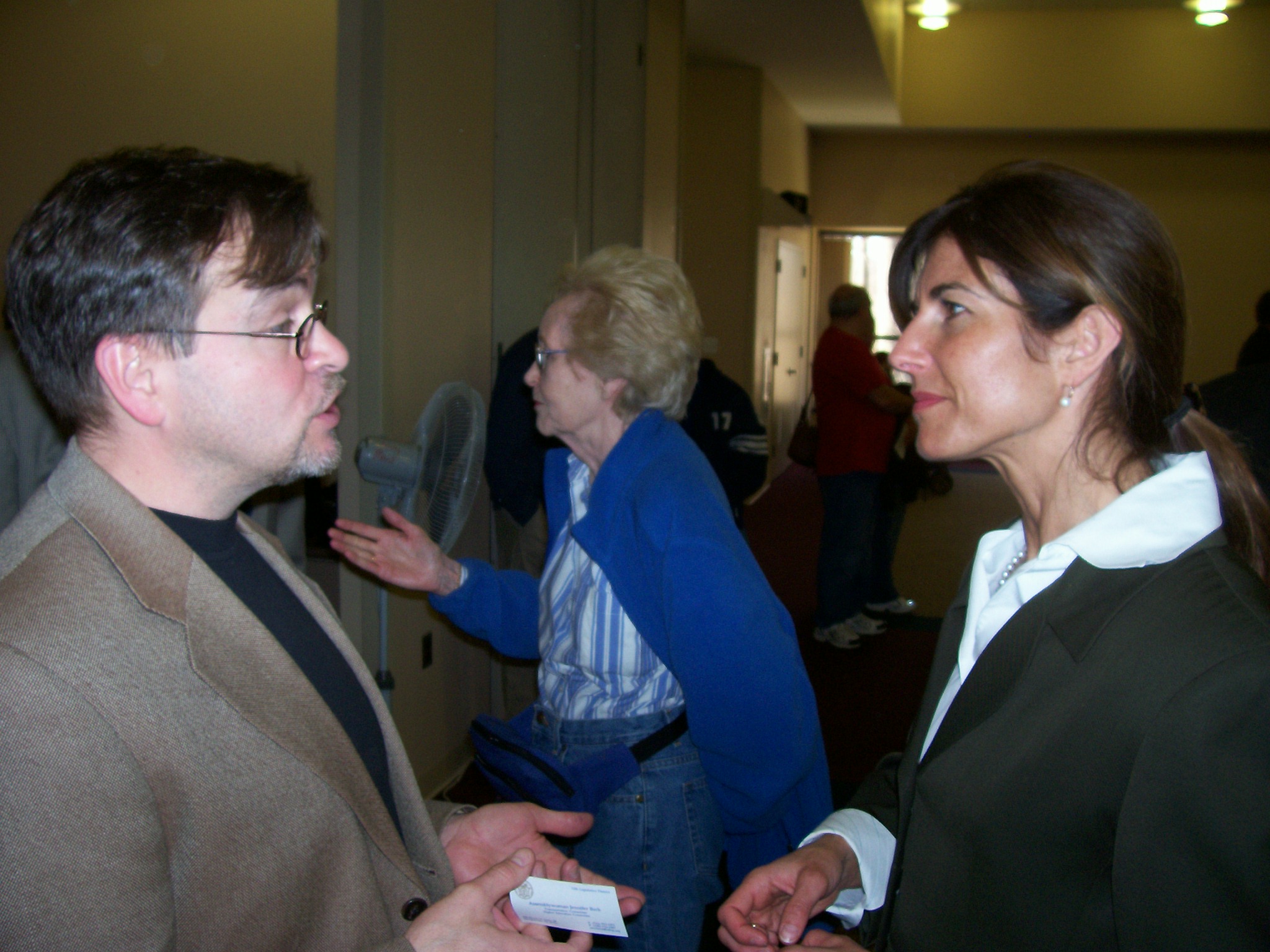 Assemblywoman Jennifer Beck, on the other hand, came ready to rumble, striking an underdog pose right out of the gate. She's in a tough fight for Karcher's 12th district Senate seat. Beck was in the moment with a roomful of Republicans sensing her commitment and Beck didn't back down.
She said she was looking forward to going out and beating Karcher.
The Democrats raised more money in Beck's last contest, she said. "But while we knew we would be outspent," she said, "we would not be outworked. …They have $3 million raised and I am undaunted by that."
Her District 12 running mates, Caroline Casagrande of Colts Neck and Little Silver Councilman Declan O'Scanlon, Jr., stirred the crowd with passion and humor respectively.
"We must stop the Democratic tax and spend machine," shouted Casagrande, attempting the morning's first foray into animated speech-making. A scattershot of hand-claps bucked her up, and a smile appeared as the claps grew into a modest wave of applause. The self-described "energetic and tough" attorney was just getting started.
"The state is now $37.5 billion in debt," she said. "There is no mystery as to why our property taxes are so high." Suburban schools are flat-funded, the state is diverting open space dollars into urban pocket parks. Trenton needs fiscal conservatives to stop the madness.
O'Scanlon, who said he was the token male on the ticket, identified the battle at the heart of the state: between more government and less, between an innovative market and a stagnant bureaucracy. "The economic engine made up by the jobs of each of you is an amazing instrument, and one of the largest and most consistent instruments in the world," he said. &
quot;What's amazing is there's a greater force: the Democratic machine in Trenton."
As for the political machinations of Monmouth, Puharic could look back on his convention Saturday, bask in the smooth conveyance of votes for his candidates – particularly in that Freeholder race – and not resist forecasting a Republican sweep come November.
But what happens when Little battles Cantor may come much sooner, in a Republican Primary if Little remains in the party, and Puharic's future standing as leader, secure for the moment but day-to-day in the volatility of this county – may yet hinge on that contest.