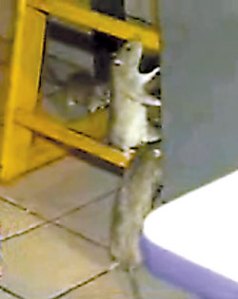 "This is the best local news story you could possibly have," said Peter Bunin, assignment editor for WNBC's Today in New York.
Mr. Bunin had been on duty in the early-morning hours of Feb. 23 when the station fielded a phone tip about rats in a West Village fast-food restaurant. Freelance cameraman Rafael Garcia Jr. went out to the Sixth Avenue KFC/Taco Bell at 2:30 a.m. and returned an hour later with footage: a dozen huge rats frolicking in plain view, rubbing noses and scampering up the booths.
"I was watching him making the dub, staring sort of dumbfounded with my hands over my mouth, laughing," Mr. Bunin said. "I've lived in New York for 37 years. I've never lived anywhere else. And I've never seen anything like that before."
It was a visual that would set off a chicken-fried feeding frenzy. Mr. Bunin played the tape on the newsroom's 65-inch plasma screen, to "shrieks and yelps."
"As soon as we saw it, we knew," Mr. Bunin said.
Reporter Adam Shapiro, at work on a story about the Department of Education's reinstatement of 17 school-bus routes, dropped everything and headed for the Village. "I saw the video, and we were like, 'Oh, my God!'" he said.
"You're not talking mind-boggling cinematography," Mr. Garcia said. He shot through a window at an angle to avoid glare, he said, and used a 30-volt light to illuminate the rats. Most were at the rear of the restaurant, about 100 feet away, in easy range of a 20-to-1 zoom lens.
When Mr. Shapiro arrived at the scene with a staff cameraman, there was a small crowd at the window. "If it had been a mouse, or even one rat, I think people would've been like, 'It's New York,'" he said. "But it was overrun."
His report—"This is a disturbing story"—led the program, airing at 5:33 a.m. By then, other local stations, drawn by other tipsters, were lining up reports of their own. Lisa Cabrera of Fox 5 News said producers pulled her off an assignment in Westchester at 5 a.m. "I thought it was a silly story about rats until I walked up to the window," Ms. Cabrera said. "There were a half-dozen rats, performing some kind of circus show."
"The lighting didn't matter for the rats," Mr. Bunin said. "The rats didn't budge. They looked kind of excited by the lights. You'd think they were posing for the cameras …. If it wasn't so yicky, it'd be funny."
Mr. Garcia granted NBC an exclusive on his original footage till 7 a.m. He then sold it to ABC local and national news, NY1, CNN, WPIX, Univision, the Associated Press and Newsday.
Meanwhile, WNBC was posting the original segment online. According to a station spokesperson, the clip has been viewed 10 times more often than any of the station's previous online videos. The next day, as the story spread to the tabloid front pages, WNBC added a Web clip of the original unedited rat footage. Both recordings now lead the site's top-viewed videos list, beating out "Shooting Caught on Dashcam."
"All video was appropriate for air, giving the viewers additional choices," the spokesperson wrote via e-mail. "[W]e put up links to allow our viewers to protect themselves from potentially unsanitary restaurants."
Also to watch huge rats running around! Even after the food-safety crisis had passed—Yum Brands, KFC/Taco Bell's parent company, closed the restaurant after seeing the Internet footage on the first day—the rat clips were showing up remixed and set to disco on YouTube. Fox 5's Ms. Cabrera, reporting a follow-up story, found onlookers snapping photos of the site with camera phones.
"It truly was like a tourist attraction, like the Statue of Liberty," she said. "People were taking pictures of themselves in front of the restaurant and in front of the 'Closed' sign that was posted up so they could show their friends."
"Everybody knows intellectually that there are roaches, mice and rats in restaurants," Mr. Bunin said. "The big difference is seeing them out in the open. Even if people are telling you rats are at your favorite restaurant, if you've never seen it and you like the place, you'll still most likely go back. But actually seeing them changes everything."
"You know, it's not making history or anything," Mr. Bunin said. "But it made international news. From a local-news perspective, it's a small validation of what we do."