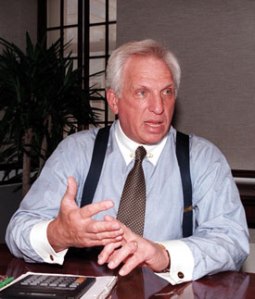 The upmarket men's clothier Thomas Pink is moving downtown.
Pink has landed a ground-floor lease at 63 Wall Street for just under 4,000 square feet, a broker involved in the deal confirmed.
The high-end British retailer, which sells $200 dress shirts and $100 ties, already has stores at the Time Warner Center, 520 Madison Avenue and 1155 Avenue of the Americas.
The lease at 63 Wall Street is for 10 years, at a space with an asking rent of $200 per square foot. It should be ready for a summer opening.
Darrell Rubens of Winick Realty Group, who brokered the deal, said Pink was only one of many elite midtown retailers who were fighting over this address.
"We had just about every major Fifth Avenue tenant looking at it," said Mr. Rubens.
Indeed, since Tiffany & Co. and Hermès announced downtown leases last year, tenants and brokers alike have been fleeing to Wall Street to find any and all open space.
Angellina DeRichie also worked on the deal for Winick.
This deal caps a dizzying few weeks of trading downtown for Mr. Rubens and Ms. DeRichie. Those two, along with other brokers at Winick Realty, just completed deals with the men's clothing store Canali at 25 Broad Street and with John Catsimatidis' Gristedes at 90 Maiden Lane.
THE MEGA-DEVELOPER SL GREEN CAN NOW BUILD a 900,000-square-foot tower at the foot of Grand Central Terminal.
This comes after SL Green purchased two small buildings, one at 331 Madison Avenue and the other at 48 East 43rd Street, for $76 million. SL Green owns a neighboring building on the block, at 317 Madison Avenue.
The Cushman & Wakefield investment-sales dream team, Richard Baxter, Scott Latham, Ron Cohen and Jon Caplan, brokered the deal.
Isaac Zion, a managing director at SL Green, also worked on the deal. He said SL Green will push rents and attract better tenants for the new buildings.
Mr. Zion said SL Green is seriously considering the possibility of building one big tower at one of the most lucrative addresses in the city.
"Given its location," he told The Observer, "I think it plays out well as an office building to take in a different direction."
If SL Green decides to build the tower, it would be between 42nd and 43rd streets, on Madison Avenue and a part of Vanderbilt Avenue.
As the properties now stand, 331 Madison Avenue is a 14-story, 92,000-square-foot building, and 48 East 43rd Street is a seven-story, 22,850-square-foot loft building.
The two buildings were sold by U.S. Trust on behalf of a group of investors, a source close to the deal said.
THE DEVELOPER JOSEPH CHETRIT HAS PURCHASED for $64 million a pair of New York University buildings that are within a stone's throw of the World Trade Center redevelopment site.
The buildings, at 90 and 100 Trinity Place, are the former home of N.Y.U.'s Stern School of Business and the current home of two city high schools. The sale was recorded in city records.
The deal looks like a long-term investment for Mr. Chetrit. When N.Y.U. put the buildings on the block, it did so with the condition that the new owner extend and honor the lease of the two city schools, a spokeswoman for the university said.
The two schools, the High School of Economics and Finance and the High School for Leadership and Public Service, signed a 15-year lease in January, a spokeswoman for the city's Department of Education said.
Mr. Chetrit would not comment for this story, but he's likely banking on the potential value of an asset that will soon be among a sea of new glass buildings dotting the lower Manhattan skyline. Even if he doesn't have leasing control until 2022, he's taking the gamble.
The buy is also a sudden reversal for Mr. Chetrit, who has been recently selling and marketing part of his portfolio. As The Observer earlier reported, he sold the Daily News building at 450 West 33rd Street to Broadway Partners, and has assigned Eastdil's Doug Harmon to market the Toy Building on Fifth Avenue.
MEANWHILE, BACK IN THE TREE-LINED CORNERS of the Upper West Side, an irreverent shoe company that created a niche online is moving to 269 Columbus Avenue.
The company, Crocs, is the maker of the colorful, plastic-looking clogs that have spurred a cult of loyal fans (Mario Batali seems to wear them all over the city) and a legion of grumpy dissidents (type "Crocs" into Google and you'll find sites like "ihatecrocs.com").
Now, everyone can gush or spew at the corner of 72nd and Columbus. The lease is for 10 years at 1,200 square feet.
Asking rent at the Columbus Avenue address is $300 per square foot. Rafe Evans, a broker at Walker Malloy & Co, represented the landlord, and said demand was so high for the Upper West Side address that Crocs will wind up paying even more than the asking rent.
The space used to belong to the restaurant City Grill.
These are boom times for the Colorado-based Crocs—last year it had revenues of more than $300 million, and it has a market cap that exceeds $1 billion. Crocs has sold its shoes mostly through the Internet and shoe vendors.
Crocs signed a lease last year at 143 Spring Street, but that location has yet to open. A spokeswoman for Crocs said the store on Columbus Avenue could open first.
Stephanie Snyder, of Robert K. Futterman & Associates, represented Crocs in the deal.