By MAX PIZARRO
PoliticsNJ.com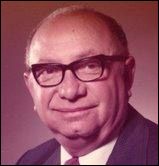 Joseph W. Chinnici ran a clothing factory in Cumberland County, where garment workers made uniforms for fighting men, and politicians went to look out for their constituents and collect votes.
Chinnici was known to his fellow South Jersey politicians as an active churchgoer who almost always had a smile on his face. They recognized early that he was a natural politician as he immersed himself in local government, serving as a Councilman in Bridgeton and later as a Freeholder. Eventually the Republican Party tapped him for the State Assembly, running on a ticket with James Cafiero and James Hurley in 1971.
Hurley and Chinnici were the Assembly candidates, and Cafiero was the pick for Senate; and they drove through the woods of Cumberland, campaigning in the factory towns and at the factories themselves.
"All those cold days outside the factories, handing out fingernail files and other campaign paraphernalia," Cafiero recalled this week as he prepared to go to the wake in memory of his friend Chinnici, who died Sunday at the age of 87. "What I remember from those days campaigning with Joe is that he was just such a warm, warm guy. He was so pleasant. I never saw anger in his face."
Hurley agreed.
"He was already so well known on the western side of the county because of his involvement in local and county politics," said Hurley, who went on to serve in the Senate.. "And, of course, his work as a factory owner too helped. They made raincoats for London Fog at his coat factory. But beyond where people knew him from or when they had met him, he was such a hail fellow."
They won, and they won again and they served together as a threesome for ten years.
No one ever forgot that friendliness in Chinnici, and whatever anyone could say about his stand on a particular issue, what lasts for those Democrats and Republicans who knew him once, is the memory of Chinnici as the consummate gentleman.
Former Gov. Jim Florio worked with him in the Assembly, and navigated the same back roads in that rural county on his way to meet with voters, and to secure the support of unionized garment workers. Later he remembered going into Chinnici's coat factory, a Democrat running for Congress on a pro-Union platform, and being struck by the boss's solicitousness.
"He was always proud of being Italian American," said Florio. "There wasn't the same degree of partisanship then."
Another Democrat, retired Edward Salmon, once ran against Chinnici and lost. Later he won the seat Chinnici vacated upon his retirement in 1987.
"He was about the friendliest person you'd ever want to meet," Salmon said. "Even though we ran once against each other it never affected our friendship. You could run against Joe Chinnici and aggressively try to win, but you could never keep from liking the man."
Asked to name the late Assemblyman's best accomplishment in the Legislature, Salmon didn't hesitate.
"Constituent service," he said. "If you had a problem, you could always go to Joe. He would listen and he would try to help you."
Former Rep. Bob Franks, who served with Chinnici in the Assembly, said that same sense of openness to people and concern for their well being made an early impression on him.
"Nothing mattered more to him than the people of his South Jersey district," said Franks of his fellow Republican. "He was one the most non-partisan guys. He believed government officials needed to work together to solve the common problems of the state."
Franks and Florio agreed that Chinnici was emblematic of another era of politics in Jersey, one in which old WW II veterans like the late Assemblyman had been shaped by the hard camaraderie of war, and thus usually found a way to build consensus in the halls of government.
Cafiero said that's right.
"It was warm, fuzzy and cozy back then," he said. "Now you look at the Legislative index and it registers 12,000 bills. What you have to realize, there are only about half that number in actuality. The thing is that the guys today all want their names on the bills, so if you have a version in the Assembly, you have to have a version in the Senate. You have all these co-sponsors. Back then, someone wanted a bill passed, you passed it, you didn't worry about whose name was on it."
That was just like Chinnici to be that way.
"He was a sweetheart," said Cafiero. "He was a delight. He was pleasant to be with. We ran together as part of a team, the three of us. We ran together like the three Musketeers."