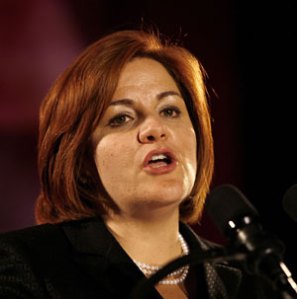 Six months ago, City Council Speaker Christine Quinn and real-estate powerhouse Tishman Speyer stood on opposite sides of the bidding battle for Stuyvesant Town and Peter Cooper Village.
Ms. Quinn supported the scrappy yet hopelessly outmatched group of tenants who placed a bid to buy from then-landlord MetLife. Meanwhile, Tishman Speyer, the well-oiled real-estate empire, lined up the $5.4 billion that would eventually win the historic bidding for the 110 buildings of mostly rent-regulated apartments.
Despite Tishman Speyer's triumph and Ms. Quinn's only cautious support of the sale, it appears the two are cozying up.
Since January, Rob Speyer, the 37-year-old managing director of Tishman Speyer, has quietly rounded up $22,275 in contributions for Christine Quinn's likely 2009 Mayoral run, according to the New York City Campaign Finance Board. He's bundled the money through First American Title Insurance and delivered it all as an intermediary.
That's the second-biggest amount of money anyone has donated to Ms. Quinn (next to longtime New York donor Howard Koeppel) for her budding run. And that's more money than any real-estate developer has arranged for a candidate thus far.
What's more is that Mr. Speyer has raised funds only for Ms. Quinn out of all the potential 2009 Mayoral hopefuls, according to the finance board's public-disclosure database. It's the first sign of early support from the real-estate community in the already wide-open election.
But the backing is a bit surprising.
Back in October, Ms. Quinn—a longtime advocate for affordable housing—was championing the tenants' bid to buy the Stuyvesant Town–Cooper Village complex along First Avenue from 14th to 23rd streets. (Her council district doesn't include either, but it does include the big apartment buildings of West Chelsea.)
In a well-publicized victory, Tishman Speyer won the bid, and many felt that it signaled the beginning of the end for middle-class housing in New York City, particularly in Manhattan. Would the new landlord begin moving the more than 11,200 units totally to market rate?
Ms. Quinn continued to push her affordable-housing platform after the sale.
"We will strongly urge Tishman Speyer, a company with a distinguished record, to meet with tenants as soon as possible to discuss the details of their purchase and their plan for affordability for this housing," she said in a press release following the sale.
Of course, since Tishman Speyer took over the complexes, rents have gone up as much as 33 percent, according to a story in The New York Times.
So what happened with the Speyer-Quinn relationship? Did Mr. Speyer pledge his contributions before Ms. Quinn publicly supported another party—the tenants—in the biggest real-estate deal in the city's history? Or did he offer his support so that, the next time, Ms. Quinn would back the big-time landlord?
A spokesman for Mr. Speyer declined to comment, as did one for Ms. Quinn.
Mr. Speyer's contributions may be the first deposits into the favor bank of a candidate who has occasionally stood in opposition to the interests of the city's real-estate kings, but has become a favorite of the establishment.
In December, Ms. Quinn sponsored the overhaul of the city's 421-a tax-abatement program, which had long given generous tax breaks to developers of market-rate housing; the program is now more closely tied to affordable-housing development.
But Ms. Quinn has been careful to take the right steps with the real-estate elite. At the Real Estate Board of New York's annual awards gala in January—widely considered the industry's biggest party—Ms. Quinn sat on the dais with some of the biggest names in real estate (as well as other politicians), rubbing elbows and delivering a brief speech.
Even with the Mayoral election more than two years away, it isn't too early for Ms. Quinn to rally such support in a field increasingly crowded by fellow Democrats looking to succeed a Republican Mayor whose popularity with the real-estate community remains at fever pitch.
So far, City Councilman Tony Avella of Queens and U.S. Representative Anthony Weiner of Brooklyn have announced their candidacies. And even though City Comptroller William Thompson Jr. has yet to announce, he is expected to run and has amassed more than $1 million in contributions—more than triple Ms. Quinn's $310,000. Bronx Borough President Adolfo Carrion Jr. told The Observer in February that he's talking about a run with "anyone who's willing to listen."
As the recent Starrett City transaction has proven, having star politicians on your side can be a good—even fiscally prudent—idea.
Clipper Equity, an unknown in the more rarefied circles of New York real estate, put in a winning bid of $1.3 billion for the affordable-housing complex in eastern Brooklyn. Within days, Senators Chuck Schumer and Hillary Clinton, along with Mr. Weiner, U.S. Representative Edolphus Towns and State Attorney General Andrew Cuomo, declared their opposition and called for a full review of the sale.
It paid off. Last week, the federal Department of Housing and Urban Development halted the deal amid concerns that, under the new ownership, the units wouldn't stay affordable.
Ms. Quinn, too, opposed the Starrett City sale.