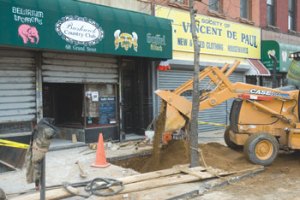 Xeniz Viray, 23, lives near Jackson Street and Graham Avenue in Williamsburg. Ms. Viray, smoking a cigarette outside of Phoebe's Cafe on Graham Street, where she waits tables, said that her Williamsburg friends will sometimes tell people they live in Bushwick.
"I think Bushwick sounds edgier than Williamsburg," Ms. Viray said.
And for the hipsters that have colonized the zig-zagging stretch of real-estate along the 'L' subway line, edgy is everything.
So when rents in Williamsburg and Park Slope came to be on par with those in Manhattan's Lower East Side, just living in Brooklyn was no longer enough.
In 2005, the median monthly rent in Williamsburg was $900, according to a New York University report, and $1,090 in Park Slope and Carroll Gardens; in the Lower East Side, it was $1,056.
If those rents sound reasonable, they're still not cool. Thus the Great Neighborhood Downshift: Where, once upon a time, New Yorkers living just south of Atlantic Avenue might claim to live in Brooklyn Heights, now it goes the other way around. The aspirational neighborhoods are no longer the ones you can't afford; they're the ones you're afraid to actually live in.
Williamsburg downshifters readily claim they live in bordering Bushwick, a Brooklyn enclave previously known more for its high crime stats. Carroll Gardeners, surrounded by handmade-jewelry boutiques and juice bars, will claim that they live in post-industrial, decidedly grittier Red Hook.
Whether shamed by their contribution to the gentrification or just because they want to seem cooler, these neighborhood downshifters tuck away their video iPods, shield their BlackBerries and, when asked, fib about their neighborhood.
ON MARCH 8, THE GOSSIP BLOG GAWKER.COM picked up a column from The Cornell Daily Sun about a young woman visiting "West Bushwick of Brooklyn," instead of Williamsburg. (Note: There is no such thing—yet—as West Bushwick.)
Some say they downshift because living in a hipster hub like Williamsburg makes you a target of mockery, often fueled by assumptions about class and style.
"Kinda like when you say you're from Canada if you're overseas, just to avoid trouble," said 23-year-old Jessica, who refused to give her last name but admitted that she moved to the neighborhood, off the Bedford Avenue stop, from Virginia two years ago.
"I can't tell people I'm from Williamsburg," she told The Observer. "It gets people so uptight; all 'Oooooo, you're from Williamsburg, and where's your Brooklyn Industries bag and your trust fund and your newsboy cap, hmmm?' So I just lie and say I'm from Greenpoint."
Melinda Quintero and Ronnie Faile, a young couple sitting in a Williamsburg coffee shop on a late March Saturday, explained that businesses are more likely to downshift.
"I've heard of businesses [downshifting]," Mr. Faile, 31, said. "Like the Bushwick Country Club—it's not in Bushwick, but it's in Williamsburg. Not the fancy Williamsburg, but this [part of the neighborhood] is more low-key," he added.
Shayne Edwards and Devon Giovino argued about neighborhood boundary lines at Crown Fried Chicken in Prospect Heights on the same balmy Saturday afternoon.
"You do not live in Bed-Stuy. I live in Bed-Stuy," said 21-year-old Ms. Edwards, playfully slapping Mr. Giovino on the arm. Ms. Edwards explained that she lives by Marcy Avenue and Monroe Street, firmly within the Bedford-Stuyvesant boundaries. Mr. Giovino lives on Prospect Place by Bedford Avenue, he said, which would place him in Crown Heights.
When asked why he would fib about his neighborhood, Mr. Giovino replied, "I don't know." He took a bite from his hot pastrami sandwich and added, "It's where Hov came from" (referring to hip-hop artist Jay-Z). "There's a more brotherly connection, to come from that neighborhood," Mr. Giovino explained.
"Whatever," Ms. Edwards tsk-tsked and shook her head. "You should be proud of where you live. I am."
Longtime residents say downshifting hurts such neighborhood pride.
Emma Triste has lived in Red Hook for 12 years. "I've heard Carroll Gardeners say they're from my neighborhood, and I get kind of upset," said Ms. Triste, a tall 27-year-old blonde, outside Alma Cafe, which lies on the Columbia Street waterfront, on the edge of Red Hook. "Well, not really upset—just annoyed."
Ms. Triste explained that people want to be part of the "next big thing," and Red Hook's pothole-littered streets and graffiti-covered warehouses are edgier than brownstone-lined Carroll Gardens. "It's cool to live in a grimier neighborhood now."
IN POST-GIULIANI, OVER-GENTRIFIED MANHATTAN, downshifting can be harder to come by than in a Brooklyn in flux.
But it's there. Take the East Village, on the corner of St. Mark's and Avenue A.
Carol, a 60-year-old former East Village resident, remembers when the neighborhood didn't exist.
"It was the Lower East Side," she said. "And my mom and I really resented it when it changed [to the East Village]." She and her mother would downshift, out of pride, to the scrappier Lower East Side. "It was like the rug got pulled out from under us. My mom thought they were just trying to be hoity-toities—you know, yuppies coming along."
On 121st Street and Amsterdam Avenue, an intersection firmly in Morningside Heights, Barnard College student Becky Blumenthal seemed aware of the boundary, but still favored the neighborhood to the north.
"I actually live on 121st and Amsterdam, so sort of Morningside Heights and sort of Harlem," Ms. Blumenthal, 21, said. "I tend to go uptown for most things, but most Columbia students go down. I identify more with Harlem, while most other students identify with Morningside Heights. It's because I live on the edge. The subway station I normally use is in Harlem, because I don't like to be around Columbia students all the time."
Other Morningside Heights residents said they tell people that they live in Harlem to make it easier.
"The real-estate agents would probably call it Morningside Heights, but to me it feels like Harlem with Columbia plopped down in the middle of it—less so every day, but it doesn't change the fact that it's here now," said Eli Dvorkian, a resident of the neighborhood.
One couple, out for a Sunday-morning walk with their Labrador on the corner of 112th Street and Broadway, cited an upcoming summer Columbia jazz festival that touts the university's "Harlem" address.
Some New Yorkers remain hypersensitive to the specifics of neighborhood boundaries.
Yusuke Shibapa, a 27-year-old graphic-design student, thought that his apartment at 11th Street and Avenue A is in Alphabet City; Sarah Eaves, a 27-year-old painter, said that the term is outdated.
"It's the Lower East Side," she said.
Nearby, a group of four girls stood on the corner talking about what they were going to do for the rest of a March Sunday. Sara Shemesh, 15, said that Alphabet City doesn't start until Avenue B. "B is bitchin', C is crazy and D is apparently 'The Ave.'" "No!" her friend, Madeline Foley, also 15, chimed in. "D stands for death."
"Yeah," agreed Ms. Shemesh, "if you go past C, you need protection."