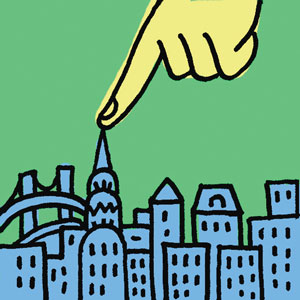 Think Small: Moses' Tiny City In Queens
Feeling a bit claustrophobic between the Empire State and Chrysler buildings? Get a bite-sized version of the Big Apple at the tiny New York City tucked away inside the Queens Museum of Art in Flushing Meadows–Corona Park. The Panorama, which reopened Feb. 4 after a five-month hiatus for lighting and video renovations, shrinks the city from nine billion square feet to a 9,335-square-foot version of the five boroughs. Commissioned by Robert Moses for the 1964 World's Fair, this 1992 version of the city is the world's largest architectural model and includes 895,000 buildings made of wood and plastic. An inch equals 100 feet, so the 102-story Empire State Building is just 15 inches tall, and the wire-made Cyclone in Coney Island looks like a sideshow attraction at a flea circus. On a rainy day last week, Benjamin Keil, 31, strolled along the Panorama's balcony walkways around the border of the exhibit with his 4-year-old daughter, Angelina. "I used to live ri-ight there," he said, pointing toward the Lower East Side, below Houston Street, where he lived for 12 years before moving to Long Island City three years ago. "I never knew about this. It's flooring me to see how big the city is. Kinda makes me realize how small we really are."
—Gillian Reagan
F Is for Feminism! And Other Things!
What the F? That's what Carol Cole Levin asked herself (and you might, too) when she gathered artwork for What F Word?, an exhibition at the Cynthia Broan Gallery in Chelsea. Originally organized for a feminist art project at the College Art Association conference held earlier this month, the estrogen-charged exhibit includes work from 34 female artists dancing around Gloria Steinem's favorite F-word: feminism. According to Ms. Levin, 63, who spoke to The Observer from her North Carolina home: "You just didn't say that you were a feminist artist …. These are women's words that are sometimes ignored." The photographs, paintings, video installations and mixed medium pieces have serious themes on faith, fascism and floods, but it's the funny pieces that make the exhibit worth attending. Ms. Levin's work on "finance" is a breast made out of shredded money that plays "God Bless America" when you press the nipple. Nancy Davidson's video "Let 'er Buck" documents an elderly woman competing in a rodeo. Suzanne McClelland's bright pink-and-red painting "Coming to a Head" is an instructional display on how to give a blowjob. So queue Sleater-Kinney and Le Tigre on the iPod and take notes, girls!
—Gillian Reagan
Ways to Forget It's Monday Already—Bingo!
Like bowling alleys, karaoke bars and roller rinks, bingo halls may soon become a quintessential destination for scenesters seeking a kitschy, jolly release. Helping to ignite this trend is Mo Pitkin's House of Satisfaction—an East Village venue where L.E.S. kool kids peaceably rub shoulders with Sutton Place I-bankers.
Hosted by celebrity drag queen Linda Simpson and comedian Murray Hill, Monday Night Bingo is definitely not reserved for the likes of AARP members and suburban housewives.
"We want to try and be a place where the core values of the Lower East Side and the Village are represented," said Jeremy Manta, a manger at Mo's. And unlike their other nightly events, which mainly consist of performances by local and well-known musicians, "bingo is a really good chance to join in the fun—no matter who you are, you become a part of the show," Mr. Manta gushed. Prizes include "theater tickets, liquor, X-rated DVD's, useless junk [like the Felix the Cat alarm clock that one lucky winner took home last week] and good ol' American cash."
Fans of Monday Night Bingo include local resident Parker Posey. Noting some loopy antics of the well-lubricated crowd, Mr. Manta cited a side competition that erupted a couple weeks ago between two separate birthday parties. "They wanted to see which table could be the loudest and most raucous," he said. "The lights were flickering on and off, people were dancing on tables, and I was like, 'Come on, it's bingo!'"
—David Foxley
Jarvis' Secret Song
Among the few who stayed till the house lights went back on after a showing of December's gloomy near-future film dystopia Children of Men, there were fewer still who probably recognized the milky croon in the last song of the credits. Jarvis Cocker, it seemed, had a new song! And it was very angry, and had some dirty words:
If you thought things had changed,
Friend you'd better think again,
Bluntly put in the fewest of words,
Cunts are still running the world,
Cunts are still running the world.
Against the cheerless gray backdrop of that movie, the lyrics worked. But the political directness was a surprise to those who remember the elliptical, clever-clogs leftism of Mr. Cocker's former band, Pulp.
"Running the World," as the song is demurely called on iTunes, isn't available there as a single; it isn't in the liner notes of the LP Jarvis, either. To hear it, you have to endure the silence that follows the last song on the album for about 30 minutes.
But if the song's viral popularity in New York bars these days is any indication, we're putting bets on "Running the World" to be the rabble-rousing finale of Mr. Cocker's solo tour dates at Webster Hall on April 22 and 23.
Those shows are already sold out. But if you want to get into the sing-along spirit with an angry Brit, you can find the video for the song easily enough on YouTube, complete with a scrolling karaoke-style lyrics presentation. Who needs eBay?
—Tom McGeveran