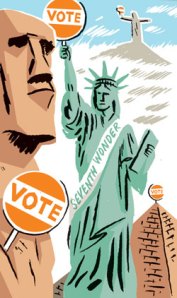 Your Tired, Your Poor, Your Vote
The Statue of Liberty isn't standing so tall at the moment. Out of 21 finalists, she's ranked in the bottom seven in the first global vote to determine the new Seven Wonders of the World. "She's doing extremely badly," said Tia B. Viering of New7Wonders, the campaign behind the international poll. "Everybody who loves the Lady Liberty needs to get behind her."
New7Wonders will present the official certificate of candidacy at the Mother of Exiles' feet on March 7, making a stop on their world tour of the finalists—including the Great Wall of China, the Acropolis of Athens and the Eiffel Tower.
Greek writer Philon of Byzantium composed the original list in 200 B.C. as an Athenian travel guide to the Mediterranean, highlighting the Hanging Gardens of Babylon and the Statue of Zeus, among other man-made monuments. But because of earthquakes, fires, wars and razing, the Great Pyramid of Giza is the sole surviving structure of the seven.
Swiss filmmaker and N.Y.U. grad Bernard Weber created New7Wonders in 2001 and has fielded over 28 million votes through text messages and the campaign's Web site. Winners will be announced this summer, and half the proceeds from the project, which is collecting donations, will be given to monument restoration and preservation. On March 7, starting at 10 a.m., the campaign's blimp will circle the Statue of Liberty's crown ("Weather permitting," Ms. Viering noted), while city and New Jersey school kids wearing red, white and blue hats will stand in formation to spell out "Vote for Me." Ms. Viering implored: "This is a call to action for the American people." Seriously.
—Gillian Reagan
Shots and Shouts for 24
Diehard fans of Fox's serial drama 24 are a special breed. Every Monday night, between 9 and 10 p.m., they turn off phones, shush significant others, yell at characters ("You can't kill President Palmer!") and glue themselves to the television. (No bathroom breaks!) But they may have found a home away from home—and a few new drinking buddies—at Professor Thoms', the bar on Second Avenue at 14th Street. During "Jack Bauer Power Hour" in the bar's upstairs Loft, comrades splay themselves on 10 comfortable couches and watch each week as take-charge government agent Jack Bauer (Kiefer Sutherland) saves the world from scheming terrorists on one of three 42-inch L.C.D.-screen televisions. They also get discounted Jack Daniels specials, a free shot when Mr. Bauer kills someone and free sake bombs if a plot twist predicted by the bar's staff comes true. Owner Pete Levin, a 24 buff, told The Observer that more than 100 Bauer fans have packed the lounge and, should Mr. Sutherland himself ever make an appearance, all will be granted free drinks for the night. "He has a reputation for loving people who do 24-related drinking games," Mr. Levin said. "So I'm sure if he caught wind of it, he wouldn't be opposed to stopping by." So how about chasing some sake bombs instead of nuclear bombs, Agent Bauer?
—Gillian Reagan
Bronx Flower Power!
With their comely shapes and suggestive fragrances, orchids have long been eroticized by artists of pen and paint. But you needn't be an O'Keeffe to find romance at the New York Botanical Garden's Orchid Show, where thousands of specimens have been brought together for the world's only curated exhibition of its kind.
"There is this mystique that surrounds the orchid—they're a flower of legend and lore," said Marc Hachadourian, curator of glasshouse collections at the Botanical Garden. "And there is this wonderful romantic aura about them …. For a long time, people have believed that orchids are an aphrodisiac," he added.
Even without munching on the plants, it's easy to get in the mood, because this slice of paradise in the Bronx has a pulse. Visitors stroll beneath a "jewel-like" dome over the Botanical Garden's central conservatory, where the tropical climate impels tightly packed bulbs to unfurl. Simply watching the delicate, brilliantly colored flowers spill forth has got to be worth at least a dozen oysters.
The Orchid Show isn't only a feast for the eyes—it has plenty of olfactory surprises in store as well. "Orchids are very inventive with their fragrances. I have orchids that smell like Valentine's candy hearts, some that smell like Scotch tape, and others that might make you check the bottom of your shoe," said Mr. Hachadourian. But nervous types can rest assured, since flowers with an unsavory odor are vastly outnumbered by orchids like the fragrant, elegantly named "golden dancing ladies." Speaking of which ….
—David Foxley
Park Art: Cheap Spring Fling
When March arrives, the urge to jump at the first trace of spring can be hard to resist. But these days, when the prospect of lazing on sodden grass seems foolish, wandering the city's temporary outdoor art displays can be the perfect alternative.
The Alexander Calder in New York exhibit at City Hall Park uses the season's slow expansion of daylight in extraordinary ways. Organized by the Public Art Fund, this is "the first multi-work presentation of the artist's iconic sculptures in New York's outdoor spaces." Meandering through the five massive metal "stabiles" in the early evening, when the twisting forms wallow in the sun's slanted rays, is an arresting experience. Only then do alien shadows creep across the pavement, stealing the show from Calder's dazzling sculptures.
In the southeast corner of Union Square, a 16-foot-tall rabbit, standing erect with drum in one hand and stick in the other, looks to have been caught in the midst of a lively performance and cast in bronze. Large Left Handed Drummer was created by British sculptor Barry Flanagan and "embodies the essence of our public art program," according to Parks and Recreation Commissioner Adrian Benepe.
Meanwhile, on the Upper West Side, Cheryl Farber Smith's Leaning Firm energizes Columbus Park's sleeping landscape with its risky placement of geometric forms, glossy blood-red color and overall melodic composition. Made of aluminum, Ms. Smith's towering piece "simultaneously suggests motion and repose." A fitting tribute to March, indeed.
—David Foxley