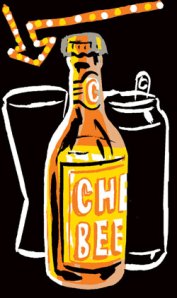 The Best Cheap Beer in New York!
New Yorkers guzzled about 326 million gallons of beer last year, but finding bars with a cheap belly wash in the city remains a chore. To be sure, brewing gluten-free witbier in a bathtub might be easier.
On an Internet message board devoted to this problem, one poster plugged a snack bar on the Staten Island Ferry, where "Bud tallboys are $2.50." Sure, in a perfect world, seafaring commuters would drink gratis, but this is the land of $55 mac 'n' cheeses and $10 million one-bedrooms. Luckily, a few "grounded" New York bulwarks of boozy sensibility still exist. These unfussy joints recall a time before Carrie Bradshaw's cosmo—back when urban watering holes offered an escape from the anxieties of city life.
While outer boroughs like Brooklyn and Queens are home to most of the city's affordable brewsky vendors, Manhattan can hold its own. Take, for example, the West Village's Corner Bistro, which offers five kinds of draft beer for $2.50. Heading south, Jeremy's Ale House, in the South Street Seaport, has long been a gathering spot for brokers and bricklayers hunting a pleasant end to a long day. Three bucks will get you a 16-ounce pull at Jeremy's, but the real draw here is the stagger-inducing 32-ounce Styrofoam cup of house beer for $5. Likewise, Rudy's Bar draws a steady midtown crowd with a $2.50 P.B.R. from the tap.
And as any self-respecting hophead knows, going straight to the source is key when only full-flavored beer will do. McSorley's Old Ale House has been putting the dorm soda to shame since 1854, when the East Village haunt first opened its doors. Customers choose from two simple options (dark and light ale), which "historically" come in two-mug servings for a mere $4.50. Oh, well—at least the Staten Island Ferry still has a great view. Cheers!
—David Foxley
To Do: Mock Hipsters
"Heather has this very strange obsession with raw meat," said Adam Newman of his fellow comedian, Heather Fink. Together with their friend Carlen Altman, they co-host "Street Meat," a monthly comedy show at the Lower East Side's Cake Shop, which includes a short screening of a video clip of dancing, googly-eyed steaks and curly-mustached hot dogs. "I was vegetarian for years, and Carlen is vegetarian, so it's strange that we do this, but it's funny enough …. There's something about raw meat dancing around … that we can get over how kind of gross it is."
Originally formulated in January to mock Williamsburg-type wafer-dolls ("Ludlow Hipster Fuck Fest" was one of the working titles for the evening, according to Mr. Newman), the three twentysomething-year-olds developed an event that not only showcases jiggling meats, but also prime acts from the street: "real folks … (whacky vendors, scientologists, flute players in the Port Authority—you name it)," according to the show's Web site.
At least one genuine street performer is on each month's line-up. On March 19, the evening will feature Luke Ryan, a street-corner blues guitarist, and subway singer Jessica Delfino, who writes funny songs using a guitar and a rape whistle. Other comedians on the bill create their own street characters and perform a five- to 10-minute act; afterward, they stay in character while the hosts interview them for an improvisation. One of Mr. Newman's favorite acts included two members of the sketch group Murderfist as competing DVD salesmen. Sometimes Ms. Altman's mother performs with a crack-addicted glowworm puppet, saying, "I vant my light to shine on you alvays!" in a foreign accent. Seriously, what a ham!
—Gillian Reagan
Street-Art Crash Course
Artists, hackers, protesters and pranksters have turned the city's mailboxes, warehouses and even soda cans into their own personal canvases. Now you can, too! Eyebeam, a sparse, brick-walled art and digital-technology research center and studio tucked away on 21st Street in Chelsea, is celebrating its 10th anniversary with Open City: Tools for Public Action. The exhibit features the work of graffiti artists "who communicate through the surfaces and structures of our communal spaces and offer a deeper look at the means and motivations of urban action and creativity," according to Eyebeam's Web site.
On March 17, three artists will host workshops for "hands-on, do-it-yourself" projects, according to Paul Amitai, Eyebeam's exhibitions and events coordinator. Leaders include Brooklyn-based artist Leon Reid IV (a.k.a. Darius Jones), who alters street signage by welding poles into tangling embraces or attaching a sign emblazoned with "I hear you bro" to a payphone. Eyebeam OpenLab Fellow Steve Lambert's workshop is called "Mind Control for Beginners"—"but the exact contents are undisclosed," according to Joanna Raczkiewicz, development and public-relations associate for Eyebeam. Graffiti Research Lab will take participants to the streets to use their latest "Weapons of Mass Defacement." If that sounds too hands-on for your taste, take in the screening on March 15 of Still We Ride, a short documentary on the Critical Mass bicycle-riding movement and the 2004 Republican National Convention.
—Gillian Reagan
Meat Me on Court Street
Request a pound each of ground beef, veal and pork, and they'll bark, "You mean meatloaf mix!" (Best for meatballs.) Ask for pork tenderloin for 10 people, and they'll narrow their eyes, shoot a wise glare and crack, "Sure you don't mean pork loin?" (People mix them up all the time.) A leg of lamb? Watch out—they will bring you the whole leg. Don't even ask about the Cornish hens.'
Meet the counter guys at Staubitz, Cobble Hill's venerable butcher, who are tough and gruff, but seem to know more about fresh meat—and how to cook it—than anyone else in Brooklyn. You might be tempted to drive past, en route to Fairway, that one-stop shopping dreamland. But don't discount the charm of the shop at Court Street and Baltic. Holding forth from a glass case brimming with sausages and salami, steaks and pork shoulders, and cheese galore, these men—of varying age, if not disposition—can get you any cut you crave (they'll even special-order), as long as you're willing to get cut on yourself.
—Hillary Frey