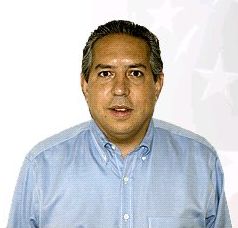 One indication of how upside-down Hudson County is these days: the wife of former Union City Mayor/Assemblyman Rudy Garcia will run for the State Assembly on the Hudson County Democratic Organization line, while Nicholas Chiaravalloti, a top aide to U.S. Senator Robert Menendez, could wind up running for State Assembly against the HCDO.
Nicole Harrison Garcia and former Hoboken Councilwoman (and mayoral candidate) Carol Marsh will run for Assembly in the 33rd district on a slate with Senate candidate Sal Vega, an Assemblyman and the Mayor of West New York. On a slate headed by Senate candidae Brian Stack, an Assemblyman and the Mayor of Union City, the Assembly candidates would be Hoboken Councilman Christopher Campos and West New York Commissioner Caridad Rodriguez, an aide to Congressman Albio Sires.
The meltdown of Rudy Garcia's political career will probably become one of those stories old time politicians tell young up-and-comers for years to come. Garcia was a promising 29-year-old lawyer when he was selected to fill a vacant seat in the State Assembly in 1993, and when incumbent Union City Mayor Bruce Walter died in 1998, Garcia was popular enough to win the support of Menendez's political organization to be appointed Mayor.
Within a year, Garcia split with Menendez and sought to exercise the clout that comes with being Mayor. He forged an alliance with County Executive Bob Janiszewski and dumped Menendez ally Neftali Cruz from his seat on the Hudson County Board of Freeholders; Cruz's seat was filled by Stack, who was a local rival of Menendez and Garcia, and who ran unsuccessfully for City Commissioner the year before. And he fired Menendez's best friend, powerful North Jersey lawyer Donald Scarinci, as the City Attorney.
But Garcia's own ambition proved to exceed his own leadership abilities, and he quickly lost support in Union City. Stack forged a relationship with Menendez and together they engineered a recall effort that forced Garcia's resignation as Mayor in 2000 and took away his seat in the State Assembly in 2001.