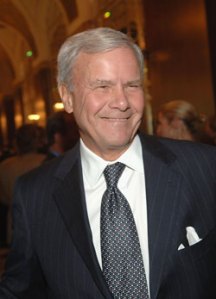 Godly-voiced newsman Tom Brokaw has bought the duplex apartment that belonged to the godly Barbara Epstein for over half a century. The apartment, at 33 West 67th Street, sold for $3,267,650.
At the apartment's dinner table, back in 1962, Ms. Epstein invented The New York Review of Books with Robert Lowell, Elizabeth Hardwick and then-husband Jason Epstein. She co-edited the colossally intelligent biweekly until her death last year.
"To be there was to be in the lap of beauty," the novelist Diane Johnson eulogized in The Review. "She had a talent for surrounding herself with wonderful art and objects, and had chosen the smallest porcelain jug or little watercolor with her perfect eye (and could be ruthless, like an editor, about excising something that didn't 'go.')"
Despite the co-op's 686-square-foot living room—with immense laddered bookshelves and double-height windows—Mr. Brokaw will probably not move in.
The ex-anchor, who helmed the NBC Nightly News from 1983 through 2004, shares the deed with his daughter Andrea and her husband Charles Simon. The couple married in January 2004—and last year Mr. Simon ran unsuccessfully for a State Assembly seat (representing, of course, the Upper West Side).
Will they live with Papa Brokaw? The apartment's upstairs bedrooms are side by side, which is potentially problematic. On the other hand, there's a space downstairs that could be slept in—it's a "double maids or library," according to the listing with Brown Harris Stevens.
The buyers' address is listed in city records at 941 Park Avenue. The new building is more stylish: The West 67th Street co-op, called the Atelier, was built in 1904 for artists, so Ms. Epstein's apartment has arty, old-school details like 10-foot fireplace mantels and a 15.5-foot-long balcony overlooking the living room.
"This unique home," says the listing, "is waiting for someone with style to make it their own."
Deposed Wall Street King Buys His Prince $1.96 M. Condo
Being born to the King of Wall Street has perks. John Peter Gutfreund—whose father is the cigar-gnawing Solomon Brothers legend John H. Gutfreund—has bought a $1.96 million condo at the Arcadia on far East 79th Street.
And J.P. is 21 years old.
The place has floor-to-ceiling windows and "Juliette balconies," according to the listing with the Corcoran Group. Then there's "radiant flooring in [the] master bath suite" and, luckily, a children's playroom in the building.
According to city deeds, the seller is Stacey Greenfield and her husband; Ms. Greenfield happens to be the director of Corcoran Sunshine, the firm that marketed the Arcadia.
"I knew about it before everybody else did," she said, "so I felt fortunate, because I met the sponsors and sat in the meetings, and said, 'That's going to be a nice building.'" Did she get a Sunshine discount? "No, absolutely not. We pay whatever the asking price is; at least, I do."
Yet the couple never moved in. "Well," Ms. Greenfield said, "we decided we needed more space."
How did her young buyer get the five-room condo? The elder Mr. Gutfreund was the head of Solomon Brothers until 1991—when his million-dollar poker games ended with a mammoth Treasury-bond scandal.
And J.P.'s mother is the socialite and interior designer Susan. Will she decorate his new place? "If that is his mother, she'll do a beautiful job for him," Ms. Greenfield told The Observer.
Four years ago, mother and son started a clothing line named with his initials. In interviews she said it also stood for "just perfect."
Video Gamer Has $6.25 M. for Soho Penthouse
Dan Houser, a pioneer of splendidly violent video games, has paid $6.25 million for a high-tech duplex penthouse at 20 Greene Street. According to city records, the seller is Charles Ferguson, who sold his firm Vermeer Technologies to Microsoft for $130 million before becoming a documentary filmmaker.
Despite its seven rooms, two terraces and a media room with a wood-burning fireplace, Mr. Ferguson never moved into the loft.
Broker Roger Erickson, senior managing director at Sotheby's International Realty, wouldn't discuss the deal—though he described the long-empty apartment's details, like a 1,000-square-foot terrace off the second-floor master bedroom.
"All with floor-to-ceiling glass," he said, "where no one can look in because you're actually higher than the building across the street." (Sexy Soho grandeur can be very grand like that.) There happens to be even more space upstairs—plus a panoramic view of Manhattan—via the private roof garden.
The fire-lit media room has a high-definition projection system. "Still kind of rare to find in people's residences," Mr. Erikson said. "It's there, ready to be hooked up." Plus, the apartment is wired with "every kind of conceivable" home technology.
So Mr. Houser, who co-founded Rockstar Games in 1998, will be able to play his company's artful but bloody best-sellers like The Warriors or Grand Theft Auto: Vice City.
Three years ago, the Californian art dealer Serge Sorokko and wife Tatiana—witnesses to Steve Wynn's recent Picasso elbowing—flipped the apartment for $4.7 million. "He decided not to do the bicoastal thing," said Mr. Erikson, the listing broker in both deals.
Maybe the Sorokkos' buyer, Mr. Ferguson, felt the same way: The sales deed puts his address in California. Will he be a movie man? This January, he won a Special Jury Prize at Sundance for his Iraq War documentary No End in Sight.
She's So Over This: Townhouse Re-Designer Lists Latest Fix-Up for $25 M.
Janna Bullock, the doyenne of Upper East Side townhouse overhauls, has put her C.P.H. Gilbert–designed mansion at 14 East 82nd Street on the market. According to the Brown Harris Stevens Web site, the listing price is $25 million.
That's over twice what she paid in November 2005—$12.2 million, The Observer reported. As recompense, she's transformed the 103-year-old townhouse into a mecca of high design: The 35th Kips Bay Decorator Show House opens in the mansion next month.
Twenty name-brand designers will saturate what is now 9,114 square feet of shiny white space. Jamie Drake, for example, is decorating the fourth-floor master bedroom. "I'm doing a luxurious feminine nest … so I'm upholstering the walls and swathing the windows and dressing up the dressing room," Mr. Drake told The Observer. "It's going to be delicious, sensual and glamorous."
If that's appealing, the potential mansion buyer can purchase the Kips design work.
The proceeds go to charity—but Ms. Bullock benefits too. "You know, Janna is a wonderful woman, and a smart and savvy lady," Mr. Drake said, "and I think she sees the benefit of having 20,000-plus come through and see a house she's rescued and turned into a showplace."
Indeed, she's done it before. Her townhouses on East 64th and 67th streets have become design showcases: The former was once the HQ of The Observer; the latter is reportedly about to go on the market for $35 million.
Likewise, Ms. Bullock owns the house next-door to the Gilbert mansion, which she bought for $14 million from the plastic, feline-faced Jocelyn Wildenstein. Her Upper East Side bounty also includes condo units at Park Avenue Court on East 87th Street.
According to the listing with Guida De Carvalhosa and Paula Del Nunzio, who wouldn't comment on the record for this story, the space at 14 East 82nd had a yearly rent of four wheat bushels in 1801.
Nowadays, there are three (expensive) terraces on the top floors, and a rusticated bowed façade below. The views look out onto the Metropolitan Museum of Art and the Empire State Building.