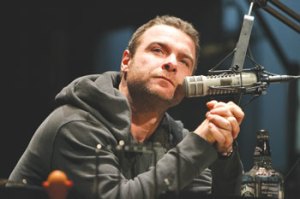 Eric Bogosian's Talk Radio is just about the best theatrical expression of our fucked-up culture that I know. Yet it's scarcely a play. In its toxic essentials, it's an electrifying solo performance piece for a virtuoso actor. Mr. Bogosian first played the corrosive antihero of his own play at the Public Theater in 1987 and made Talk Radio a cult hit. (He starred in Oliver Stone's movie version the following year.) Now comes the perfectly cast Liev Schreiber as the smart, slimebag radio host Barry Champlain in the Broadway revival.
I've noted before about the magnetic, but cold, Mr. Schreiber that he's more suited to the villain than to the romantic hero. He acts best alone (and it's both his strength and weakness). Even in an ensemble piece like the recent Glengarry Glen Ross, he gravitates to the warm embrace of the spotlight. There are other actors in Talk Radio, and many other voices. But there's only one God: the lord and ruler of the scuzzy kingdom of late-night radio talk, played by Mr. Schreiber as if to the manner born.
Robert Falls' new production takes place in Talk Radio's original 1987 time frame, and the only difference is a different Bush. "Night Talk, Debbie, you're on." The parade of nut-job call-ins remains sleeplessly eternal: paranoid losers, sicko anti-Semites, druggy hysterics, child-beaters, suicidal pregnant teens, pre-op transsexuals, deranged politicos and creepy, pathetic loners.
"Sorry, gotta run," Mr. Schreiber's Barry says to a wheelchair-bound caller. "I know you can't, but we can."
Barry, it's clear, isn't nice. His opening words are a rant against the driver of a car who cut in front of him as he headed to the studio. "I'm getting a fuckin' gun. Kill 'em all …. I'm getting one of those Dirty Harry Magnums. Next time some fucker cuts in front of me: BOOM! That's it. Or driving ten miles an hour: BOOM! Right turn from the left lane: BOOM! There should be a competency test for drivers. If they don't pass, they get shot. On the spot …. Just leave the body in the car."
We laugh (and often laugh with the outrageous Barry, in spite of our more correct selves). He sits wired and isolated at his console, chain-smoking and swigging Jack Daniels or doing a line of coke, empowered by his devoted listeners. It's a venomous high for him to cut them off because they're too needy or plain stupid: "I hurt your feelings?" he says to them. "Go tell it to your shrink."
Mr. Bogosian originally based Barry on the radio host Alan Berg, who invited his listeners to call in one Yom Kippur to say what they disliked about Jews. (Berg ended up being murdered in Denver, allegedly by white supremacists.) There's a simmering lunatic-fringe dangerousness to Talk Radio—as if an unpinned hand grenade were about to be tossed into the fetid air of Barry's studio. The conscience of late-night America wouldn't have it any other way.
"This country," Barry announces like a fervent evangelist or sick savior, "where culture means pornography and slasher films, where ethics means pay-offs, graft and insider schemes, where integrity means lying, whoring and intoxication … this country is in deep trouble, this country is rotten to the core … and somebody better do something about it. So this is what I need you to do. Are you listening? I want you to do something very simple. There's a device in your home called a 'telephone.' I want you to pick it up … go ahead, take your hand out of the potato chip bowl, reach out, grab your phone, hold it up to your face and dial 555-T-A-L-K. Open your mouth and tell me what we're going to do about the mess this country's in! Francine!"
"Yes, hello?"
"You're on, Francine."
It seems to me that the question mark over Talk Radio is whether you want to spend an evening in the low company of Barry and his pathetic callers. True, he ultimately breaks down in tears and self-loathing (and Mr. Schreiber wastes no opportunity milking the scene). There's also the pro forma monologue from Barry's loyal production assistant, who is also his long-suffering girlfriend, that's meant to reveal his human side—as if all that the poor baby needed was a little tender, loving care.
Our interest might dip during such sentimental scenes, but we remain both appalled and weirdly entertained by Talk Radio. "Yes, the world is shot to hell and you're all goners," Barry, our late-night bogeyman and truth teller, tells his loyal audience at the end. "And that's where I come in, isn't it?"
He's providing a public service.
I'VE LITTLE SPACE LEFT TO SING THE PRAISES OF Christopher Shinn's Dying City, so let's cut to quick: Dying City is the finest new American play I've seen in a long while.
This subtly disturbing drama of such emotional intelligence and craft is a spare 90 minutes, yet in its minimalist way, it speaks volumes about the failure of love and the inevitability of deep, deep sadness. The understated Mr. Shinn is one of the very few U.S. playwrights who knows how to write subtext, mastering its unspoken, potentially violent power.
Dying City is a political play and also a psychodrama about what Arthur Miller called the politics of the soul. It's about public conscience and private grief, and real and symbolic catastrophes. The dying city of the title is both Baghdad and the fatal open wound of a family at war.
Rebecca Brooksher (a Juilliard graduate in 2005) is brilliantly effective in her contained, agonized desperation as the New York therapist Kelly, while the dangerous Pablo Schreiber (gifted brother of Liev) could scarcely be better—in two roles, no less. In a series of flashbacks, Pablo Schreiber is Craig, Kelly's soldier-husband, a Harvard graduate who died in the Iraq War. And in the fleshier role, he's also Peter, Craig's twin, a gay actor visiting his grieving sister-in-law one year after his brother's death.
I found the twin concept a precarious device, though Mr. Schreiber just gets away with it. The important thing is that Mr. Shinn, moving seamlessly from the apparently mundane to the psychologically murderous, has written a tremendous, un-glib drama about damaged American lives in our cynical age.
Dying City is directed by James Macdonald, who originally staged it at the Royal Court Theatre in London. His exactly paced production at the Mitzi E. Newhouse Theater at Lincoln Center has a remarkable, uncluttered set designed by Anthony Ward. The platform stage makes a complete rotation almost imperceptibly over the course of the play, revealing intriguing new perspectives.