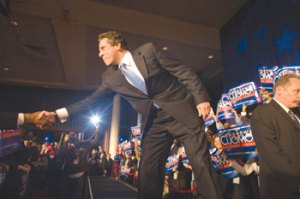 Andrew Cuomo isn't doing interviews. (Really.)
Unlike the abrasive candidate who barnstormed the state hoping to be Governor in 2002, or the one four years later who confessed to being more comfortable speaking to hundreds of people from a stage than to a handful in a living room, Mr. Cuomo is avoiding the spotlight. Or to be more precise, he's seeking it selectively—stepping forward periodically to utter an outraged line or two about some injustice before retreating back into his office.
Though it would be a stretch to assume that Mr. Cuomo has given up his outsized career ambitions, for now he is leaving himself out of the narrative.
"What we're seeing is a guy who sees the value of letting the work speak for itself, as opposed to engaging in gratuitous public relations," said Democratic consultant Hank Sheinkopf, who spent the 2006 election cycle calling Mr. Cuomo "Andy" on behalf of his main opponent in the Democratic primary, Mark Green.
Continuing a toned-down attitude that was already in evidence during Mr. Cuomo's Rose Garden–style campaign for office last year, the new State Attorney General has declined nearly all requests for interviews from New York media outlets since taking office. Mr. Cuomo's spokesman, John Milgrim, even took pains to qualify a recent New York Times interview as a chance encounter between his boss and reporter Jonathan Hicks.
Instead, since taking office, Mr. Cuomo has simply done his job. Shortly after arriving in office in January, he formalized a working relationship with the Albany District Attorney designed to allow more lawyers to work on pubic-corruption cases. More recently, he hired veteran government watchdog Blair Horner to head up Project Sunlight, which seeks to make campaign finance, lobbying and legislative records more accessible to the public.
In the meantime, his office has rolled out a steady stream of consumer-friendly announcements, ranging from a warning against price-gouging during snowstorms to a condemnation of the proposed sale of the federally subsidized Starrett City apartments. On March 15, for example, Mr. Cuomo blasted the student-loan industry for overcharging its clients. Several days later, he latched onto a report in the New York Post to promise an investigation into a "potential fraud" involving diluted mineral-spring bathwater at a Saratoga spa.
His onetime critics seem as pleased as they are baffled.
"Maybe the guy's better suited for the job than I thought," said Republican consultant Rob Ryan, who worked last year for G.O.P. Senate candidate John Spencer. "He isn't rushing into things. He reacts more judiciously than he has in the past, which is a great improvement."
The New York Times, which editorialized against Mr. Cuomo during the campaign by suggesting that he would be an "attorney general whose chief concern was burnishing a political résumé," wrote last month of his post-election agenda that "[f]or anyone interested in improving Albany, this is sweet music."
Shocking.