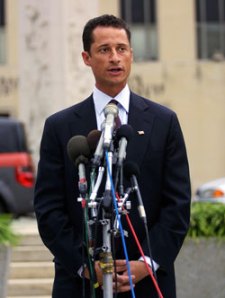 Representative Anthony Weiner has lots to do in the House of Representatives.
"I'm working on a health-care plan. That's one of the reasons I asked to be put on the Energy and Commerce Committee," he said.
He's also working on brownfield legislation, on a report depicting the "boondoggle" in homeland-security spending that should be out shortly, and on an effort to reauthorize a federal program to subsidize local police hiring. "I've been pretty busy," he said.
Oh, and Mr. Weiner is running for Mayor.
Last month, he opened Mayoral campaign accounts with the city and state Board of Elections.
"I held off as long as I could," Mr. Weiner said, also pointing out that his "opponents—people who are out there—have had it open for years."
Mr. Weiner is entering the Democratic Mayoral field—unofficially, for now—as a much better-known quantity than he was in 2005, theoretically allowing him to lay low for the time being. And anyway, he insists that New Yorkers are not interested in three years' worth of Mayoral campaigning.
Yet Mr. Weiner has seemingly been everywhere, strategically inserting himself into contested races locally and nationally, accumulating chits, political credibility and, always, publicity.
He has formed alliances that will broaden his demographic appeal citywide—he's a hawkishly Zionist Jew from the outer boroughs—by endorsing Yvette Clarke, a liberal Caribbean-American female running for Congress last year in the district next to his, and by flying to Minnesota last October to stump for Keith Ellison, who became the first Muslim elected to the House.
At the same time, he has kept himself in the press—in the manner of his old boss and political mentor, Chuck Schumer—by holding Sunday press conferences to highlight consumer grievances.
The campaigning will start to feel a lot less theoretical next month, when Mr. Weiner will join at least one of his likely Mayoral opponents, City Comptroller Bill Thompson, to discuss middle-class economic issues at a forum hosted by the Drum Major Institute, a think tank.
And by then, the fund-raising for his newly formed committees should be fully underway.
Incidentally, the treasurer for Mr. Weiner's campaign is Nelson Braff, the co-founder and executive vice president at Perrin, Holden & Davenport Capital Corp., in Manhattan, who, according to the biography on the company's Web site, is also an amateur comedian.
Mr. Weiner, as always, had a quote for the occasion. "As serious as these issues are," he said, "we're going to try not to take ourselves too seriously."