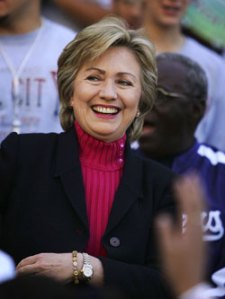 Speaking for the second time this month in front of a predominantly gay audience, Hillary Clinton assured the crowd at a Gay Men's Health Crisis dinner at Chelsea Piers that help was on the way.
She guaranteed her support of their issues "when I'm President," and pointedly referred to a special AIDS grant she pushed through Congress for the first time "since the end of the last Clinton administration."
The crowd laughed appreciatively at what was at once a well-worn bit about the Clinton restoration, and an acknowledgement of the influence of the gay fund-raisers and activists who may put her in the White House.
But Mrs. Clinton has stiff competition in her pursuit of influential gay Democrats. Unlike the election of 2004, when Howard Dean had the distinction of having fought for a civil-unions bill when he was governor of Vermont, the three leading Democratic candidates have virtually identical stances on the most visible gay issues. (Barack Obama, John Edwards and Mrs. Clinton are uniformly in favor of lifting a ban on gays openly serving in the military, but are all opposed to gay marriage.)
In a political climate in which Ann Coulter received applause for a "faggot" joke at a major conservative conference, and Rudy Giuliani's strong record on gay rights is widely presumed to be one of his greatest liabilities, there seems to be a pragmatic contentment in gay circles with the top Democratic tier.
"I don't think any viable, credible national candidate of either party is going to take a pro-gay-marriage position in this cycle," said Ethan Geto, the gay activist who ran Howard Dean's New York campaign in 2004. He pointed out that all the candidates supported civil unions, passing legislation aimed at hate crimes and workplace discrimination against gays and lesbians, and lifting any ban on gays openly serving in the military.
Mrs. Clinton seems to have assembled the most formidable list of established gay activists of any of the candidates so far. She hired Mark Walsh, a veteran bundler, as a staff fund-raiser for the gay community. Mr. Geto will be taking on a formal but non-paid position as a liaison to the gay community in the campaign, joining Fred P. Hochberg, the dean of Milano The New School for Management and Urban Policy and a loyal fund-raising force for Mrs. Clinton.
"I've been able to recruit a number of people to help out and help out generously," said Mr. Hochberg, who attended Mrs. Clinton's Monday-night remarks as well as a March 2 speech she delivered in Washington to board members of the Human Rights Campaign, the country's leading gay-rights group. (She was the only major candidate to accept an invitation to speak at the event.)
Hilary B. Rosen, a former president and C.E.O. of the Recording Industry Association of America and a well-known Beltway insider, was, like Mr. Hochberg, recognized by Mrs. Clinton in the opening remarks of that March 2 speech. Ms. Rosen is returning the favor by lobbying a constituency that she said would comprise a significant fund-raising base for Mrs. Clinton.
"She has a huge network of gay and lesbian supporters across the country," said Ms. Rosen, who said that much of the fund-raising done after the much-anticipated March 31 filing would shift from large events to smaller meetings. "We are planning some gay-specific fund-raisers in key areas across the country across the next three quarters. We're talking Dallas and Chicago and Columbus and Seattle and Boston and Nashville."
Mrs. Clinton also enjoys the support of Jeff Soref, a prominent fund-raiser and former chair of the Democratic National Committee's Gay & Lesbian Americans Caucus, and Steve Elmendorf, who managed Democrat Richard A. Gephardt's 2004 Presidential campaign.
"In the circles I travel in," said Mr. Elmendorf, "she is raising a lot of money."
Mrs. Clinton has locked down much of the gay power structure in New York.
Obama's Gays
Out of state is another story.
While Mr. Obama doesn't have a liaison to the gay community on staff, he does have Michael Bauer, a gay Chicago-based lawyer who raises money in million-dollar increments—as he did at a $2 million event on Feb. 11, the day after Mr. Obama's official declaration.
"There were a lot of people in the LGBT [Lesbian-Gay-Bisexual-Transgender] community to write checks that night," said Mr. Bauer.
While Mr. Bauer has made personal donations to Mrs. Clinton and Mr. Edwards, he has declined requests to lend his name to invitations for any other candidates.
"I'm only fund-raising for Barack," he said. "People will raise money in the community in Chicago for the other candidates, but I will guarantee that he raises more money here than all the other candidates combined."
Mr. Bauer is planning another fund-raiser for late May or early June, for which he expects a third of the $300,000 to come from gay donors.
While the candidates have similar positions on most gay issues, Mr. Obama has profited from the areas in which their stances differ. Mrs. Clinton supports the Defense of Marriage Act, signed into law by her husband in 1996, which prevents a state from having to recognize the legality of a same-sex marriage performed elsewhere in the country.
That position resulted in an embarrassing confrontation back in March of last year, when Alan Van Capelle, executive director of the Empire State Pride Agenda, a gay New York lobby, urged gay political donors to boycott a fund-raiser held for Mrs. Clinton's Senate re-election campaign in Diane Von Furstenberg's downtown studio.
In the course of explaining that he was still debating whether or not he would endorse a candidate in 2008, Mr. Van Capelle made it clear that he holds a grudge against Mrs. Clinton—and that he was enthusiastic about Mr. Obama.
"He has separated himself from the rest of the Democratic candidates at this early point in the campaign by seeming far less tortured when discussing our community," Mr. Van Capelle said. "I'm happy that Senator Obama has called for the repeal of the Defense of Marriage Act, something that Senator Clinton is in favor of. The best I can decipher from candidate Edwards is that he is on both sides of the issue."
Of course, not all of the top fund-raisers in the gay community are forming their political allegiances primarily on gay-rights issues.
David Mixner, a key gay bundler who is supporting the Edwards campaign, made his decision on the same basis as countless key Democratic donors: the war in Iraq.
"This is probably the first election in a while that LGBT issues are not what I'm voting on," said Mr. Mixner, who argued that all three candidates held acceptable positions on civil unions. "It's the first election where other issues are coming to the fore."
Mr. Mixner said that he eventually plans on fund-raising for Mr. Edwards, but the campaign's focus seems more concentrated on building a base, not a bank.
Nor is the campaigns' gay outreach entirely focused on big fund-raisers.
Eric Stern, a former outreach director to the gay community for the D.N.C. who is now volunteering for Mr. Edwards, said that the campaign was aiming primarily at gay activists in the early primary states.
"They recognized that these are the sort of people that are analogous to the county chairs, who really are the party activists in Iowa and New Hampshire," said Mr. Stern.
The competition for well-placed activists like Mr. Stern has been fierce.
As early as 2005, he was courted by Ann Lewis, a senior advisor to Mrs. Clinton, and Steve Hildebrand, now an advisor to Mr. Obama. He eventually signed in May of last year with the Edwards campaign.
Similarly, supporters of both the Clinton and Edwards campaigns cited Julie Johnson, a Dallas-based bundler, as one of their own. (Ms. Johnson didn't return several calls for comment.)
Revisiting the Ban
While Mr. Edwards has stammered somewhat in interviews when asked about gay marriage—he says that his religious Southern upbringing has made it a difficult issue for him—he has seized upon the idea of repealing "Don't ask, don't tell."
America should "never turn away anyone who is willing to serve their country because of their sexual orientation," Mr. Edwards said in a statement on Feb. 28, hours after Representative Marty Meehan introduced a motion to repeal the policy in the House.
Mrs. Clinton, who has criticized the policy since 1999, is also heaping on the derision, in public and private.
According to Yashar Hedayat, who organized and attended a West Hollywood fund-raiser on Feb. 22 for Mrs. Clinton, the Senator told 300 guests—many of them gay—that the ban on gays in the military was a "failed policy" that was "shameful" because people weren't allowed to serve "openly and proudly." Mrs. Clinton then called for a repeal of the rule so that gay soldiers could "come out of the shadows."
The event, catered with pear and endive salad, chicken and chocolate soufflé, raised several hundreds of thousands of dollars, said Mr. Hedayat, who is Mrs. Clinton's West Coast connection to the gay donors and a former liaison to the community for the Democratic Senatorial Campaign Committee. He said that he's already in the process of organizing another fund-raiser.
The momentum in favor of lifting the military ban seems to be this year's clearest winner among the perennial gay-rights issues. In contrast with gay marriage, which has been a liability in the recent past for Democrats in many parts of the country, it is the Republicans who seem somewhat defensive when talking about it.
On Thursday, Senator John McCain said that, after conferring with military leaders, he felt the policy was working.
"Generally, overall, it's working," said Mr. McCain, adding: "I think it's logical to leave this issue alone—I really do."
Mitt Romney's spokesman, Kevin Madden, told The Observer: "Governor Romney supports 'Don't ask, don't tell.' He agrees with the President's decision to maintain the policy."
Mr. Giuliani, on the other hand, continued his balancing act of studiously avoiding any position that could offend the party's conservative base while refusing to run the risk of reversing any of his positions.
"We're at war, and now isn't the time to question our military's admissions policy," Mr. Giuliani said in a statement to The Observer on Tuesday.
Long Memories
Back on Martin Luther King Day in 1991, about 300 politically active gay men and women piled into Marty Rouse's loft on Warren Street in Tribeca to meet then-Governor Bill Clinton.
Eager to tap into the community's powerful fund-raising potential, Mr. Clinton pledged to lift a ban preventing gays from serving in the military. The assembled crowd applauded and left energized by all of Mr. Clinton's inclusive rhetoric.
Then, in 1994, in the face of enormous political pressure, Mr. Clinton compromised and passed the much-maligned ban on openly gay soldiers.
Some activists still aren't over it.
"How could you not be disheartened by that?" said Mr. Rouse, who is currently a field director for the Human Rights Campaign, and who is not supporting any candidate this year.
But others have clearly moved on.
Mr. Geto, for one, thinks that repealing "Don't ask, don't tell" would only be the beginning if the Democrats running this year wind up in the White House.
"'Don't ask, don't tell' is right up there as a very, very high agenda item, and in practical reality it is clearly more achievable in the short term," said Mr. Geto. "There is a lot of strategic thinking in the gay movement that the repeal of 'Don't ask, don't tell' will be one of the major spurs to getting gay marriage passed."