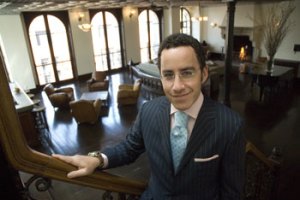 Look, you can see Britney Spears' former penthouse," said real-estate agent Adam Modlin, pointing out one of 50 windows at the triplex penthouse at 704 Broadway. That long greenhouse? "No, no, look—five windows in. It's the top three floors under the roof and the glass on top …. I sold it last year for $4 million." The apartment Mr. Modlin was currently showing has been on the market on and off since 2002, originally priced at $27 million, now down to $22.5 million.
The term "penthouse" is used a little loosely these days. Mock penthouses called "sky towers" are cropping up in new construction projects. Upper floors are standing on their toes trying to pass as penthouses (PH Cirrus! PH Nimbus!).
Given the extra money that developers can charge for a penthouse—a faster-selling totem that has never gone out of style—they are putting as many as they can on top of buildings, with maybe the floor below set back with a terrace so that it looks like a penthouse.
Along with the new penthouses are a new breed of penthouse inhabitants—not just couples drinking Pinot or taking Beano, who are so busy being two that they forgot who was one, but those parents busy planning the playground on the terrace—which used to connote cocktails, gazing at planets, gripping the rail, Reg confessing all to Pam, the wind, the chiffon, no yellow plastic bumpy cars or swing sets. Parents are seeing terraces as playground opportunities. (Though what if the children blow off?) With Mayor Michael Bloomberg projecting another million people living in the city by 2025, more penthouses will have to be created in the penthouse laboratory, the workers will be frantically turning them out for royalty, until New York is so top-heavy that it falls on its face.
The one at 704 Broadway is a true penthouse, though neither the early-century martini kind nor like those on the tops of the new, glassy, ice-age towers that also have utopian community amenities like shared screening rooms and libraries, almost Florida-like for an alter kocker jet set. It comes from the 1990's, when luxury real estate in gritty downtown was more inconspicuous, as opposed to the current Astor Towers, Richard Meier–West Side Highway sort of architectural life. Sky Studios, as it was called then, was a star: Jerry Seinfeld's wedding, a Sex and the City shoot, Chelsea Clinton's birthday party.
"It's like a Batman cave" (meaning not dark but secretive), said Mr. Modlin, 34, a founder of the Modlin Group with his brother Avery, who heads the investment-group portion, "backed by entrepreneurs, celebrity and entertainment people." Adam Modlin deals with their real estate. The baseball player Alex Rodriguez is one of his clients. "My buddy," he said. He loves his work.
After a complex entry that involved getting in the private-keyed elevator (there is no doorman in this eight-condo building), Mr. Modlin stood in the 46-by-20-foot living room of the penthouse's "winter quarters"—that's what he calls the lower level—and explained how the five-bedroom, five-bathroom triplex with upper-deck views of every building in New York City was built by the Israeli venture capitalist Jonathan Leitersdorf, founder of New York–based L Capital Partners, on the 10th story of an old turn-of-the-century hatmakers' building called "The Dandy" (where, one imagines, Manny and Freddy worked their fingers to the bone making a fedora for Greasy).
Mr. Leitersdorf bought the building in 1997 and sold all the floors except one. "He saved the very top," said Mr. Modlin. "The best for himself." (For a second, he sounded like Orson Welles on his radio show: "I bring you my very best.") "One day he got bored and built the second level, and then the third." Mr. Lietersdorf, commuting between Geneva and the Mediterranean, used 704 Broadway as a pied-à-terre. The kind of person who would buy such a loft is "a jet setter," Mr. Modlin said, "not a New Yorker, someone who comes in one or two days in a private plane every few months. That is one reason that it takes a long time to sell a luxury penthouse. I was here last week for a mega-rock star. Everyone who looks at the penthouse is somebody, whether it be a captain of industry, a Wall Streeter, an entertainment mogul."
A bird type, an eagle or hawk sort of person. Why doesn't Mr. Leitersdorf live here anymore?
"He's at a different stage of his life now," Mr. Modlin said, and went on to explain that there are only a handful of New York City penthouses in the $20 million to $30 million range. The city's most costly penthouse is on top of the Pierre, for $70 million. The most expensive of the all-sold 15 penthouses at the new (still under construction) 15 Central Park West was $45 million for 11,000 square feet.
"Come with me. I will show you his vision, the warm tones," said Mr. Modlin in a most courtly manner—for this is a bit of a castle. "Mr. Leitersdorf is an architect by trade. He brought in artisans from all over the world for the marble, the wood. He decided this first level would be his winter residence. He would be inspired to move upstairs for a summer retreat, to be inspired by the light, the sky." Mr. Leitersdorf must be very big, for the master bed could hold eight. The summer guest bedroom with green silk divan and suede pillows looks right for a brothel. And the overall vision is both sybaritic-rocker and a little antiquey—a cabinet with a biscuit sign, wooden toilets.
Archaeological remains were spotted: broken glass and a crystallized lime slice on the teak deck and a credit card at the bottom of the pool, not far from the "forest," which is more like groupings of trees. On the icy, windy day, the scratchy bushes were bent over and seemed to be crying: Why are we up here, and can't we be with our brothers in the park?
There was an aloneness about the place, now that there wasn't a party for 400; one could drift through in a robe, deciding on the fate of man, rejecting all human knowledge, maybe holding a candelabrum. Mr. Modlin was really excited when he arrived at a small library on the third level. With a flourish, he pulled at a bookcase filled with volumes like a book on pesticides and a copy of The Perfect Storm. The bookcase swung out. There was a secret panic room behind it, though no one was inside panicking: only an old Toshiba phone, dusty, a landline.