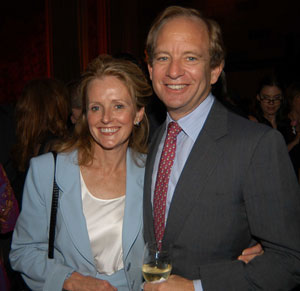 For all the stuffy ladies' lunches, and high-dollar dinners featuring this or that Presidential contender, the world of political fund-raising is hardly a genteel place. Factions form, egos clash, turf battles erupt. By the time a nominee has emerged from the primary process, some of the deepest-pocketed donors—like their candidates—are barely on speaking terms.
But on the evening of Feb. 21, in a scene that guests jokingly compared to the gathering of the tribes in The Godfather, some of the top bundlers from the warring Democratic factions came together at the Fifth Avenue manse of Democratic super-bundlers Maureen White and Steve Rattner to do the unthinkable: to try to make a lasting peace.
"All the biggest people in New York were there," said one guest who attended the intimate 30-person dinner.
According to accounts from a number of attendees, all of the main factions were represented.
There were Barack Obama loyalists like George Soros and financier Orin Kramer (a reformed Clintonite); Hillary Clinton devotees like Susan Patricof, Hassan Nemazee, Bernard Schwartz, Jay Snyder and Stanley Shuman; John Edwards partisans like Fern Hurst, Robert Katz and Laura Ross; and even a smattering of cheerleaders for Bill Richardson, Joe Biden and Chris Dodd.
And at the center of it all, sending a message of unity and Democratic one-ness, was Howard Dean, the onetime Presidential candidate and current Democratic National Committee chairman.
"It was really about admitting the fact that in a year, we are all going to be on the same team, so let's not rip each other apart," said the guest.
By several accounts, the idea for this gathering of self-selected donor elites originated with Ms. White, an influential donor-society hostess who spent several years as finance chair of the D.N.C., and a small klatch of concerned donors who had begun worrying that this election season might prove particularly divisive.
At the resulting buffet dinner last month, the guests sat at three different tables, mingling, drinking wine and chatting informally about keeping the Big One—the general election—in their sights.
The summit was, apparently, productive enough for the organizers to be planning several follow-up gatherings during the course of the primary season.
Still, they have their work cut out for them. On the very day they held their event, an Obama supporter from across the country, media mogul David Geffen, lobbed his now-infamous Molotov comments at his old friends, the Clintons. It sparked the first full-blown open feud of the Democratic primary cycle. It surely wasn't the last.