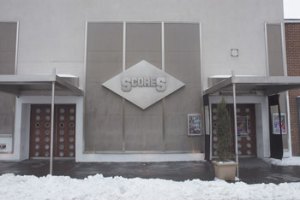 The government may have stripped him of his title as C.E.O. of Manhattan's most protuberant topless-bar franchise, but recently demoted Scores boss Richard Goldring isn't giving up his main money-maker so easily.
On March 28, Mr. Goldring faces off against the State Liquor Authority (S.L.A.) in a hearing of huge consequence to his sprawling, 10,000-square-foot West Chelsea stripper-plex, Scores West.
Though scantily clad dancers are the nightclub's star attraction, booze is its biggest source of revenue. Now, regulators are trying to cut off the cash flow, following the Jan. 25 arrest of six Scores West employees on prostitution charges—allegations that Mr. Goldring has denied in court papers as "unfounded and unproven," and has further characterized as the result of a "witch-hunt which is part of a publicity campaign designed to shut down my business."
For the moment, at least, the publicity may only be furthering Mr. Goldring's business. Both the wine and the women continue to flow at his West 28th Street venue, courtesy of a court order temporarily blocking the S.L.A.'s intended suspension.
After blasting the government panel for its "emasculation of all Constitutional requirements of due process" in so hastily yanking his license over a few alleged misdemeanors, Mr. Goldring is now witnessing justice in action. Yet again.
If legal history is any indicator, Mr. Goldring & Co. could still be shilling pricey champagne and shimmying in G-strings when the lease at Scores West ends in 2021. Twice since 2002, the company has faced eviction at that location—once over a bounced $500,000 deposit check, another over unresolved mechanics' liens, court records show. According to another lawsuit, Mr. Goldring and his partners also have faced hammer-wielding thugs and death threats during an ownership dispute with Scores' former proprietor. Still, the business survives.
Scores' present standoff with the S.L.A. comes at a time of transition for the celebrated strip-club brand, an infamous local trademark (and one that was once reputed to have mob ties) that Mr. Goldring has since turned into a national name, thanks to a little promotional help from exotic-dancer aficionado Howard Stern, among other famous patrons.
After expanding the Scores moniker from a single club on East 60th Street to seven locations nationwide—including Scores West, which opened in 2004—Mr. Goldring officially stepped down last month as the president and chief executive of Scores Holding Co., the publicly traded entity that he and partners Elliot and Harvey Osher formed to handle the brand's franchising efforts.
According to a March 8 filing with the Securities and Exchange Commission, the company has named Alex Amoriello, a former executive at database and Web-solutions company Automated Resources Group, as Mr. Goldring's successor.
Though Mr. Goldring's Feb. 28 resignation comes in the wake of the authorities' apparent prostitution sting, the change in leadership actually stems from an entirely different criminal investigation.
Last year, Mr. Goldring was indicted on seven charges of falsifying tax returns and fudging business records, as part of what Manhattan District Attorney Robert M. Morgenthau's office then described as a massive $3.1 million tax-evasion scheme.
Repeated Scores customers' complaints about being overcharged on their credit cards triggered the investigation, according to Mr. Morgenthau's office. The most famous case involved a software executive who got stuck with a $241,000 tab.
After digging through boxes of subpoenaed Scores documents, Mr. Morgenthau accused Mr. Goldring of diverting strip-club revenues through shell companies to pay for personal expenses, including tens of thousands' worth of jewelry and more than $100,000 in home-construction costs.
Not that Mr. Morgenthau would ever back up all of those charges. After two years of combing through a reportedly dizzying trail of paperwork, investigators ultimately opted to cut a deal with the Scores mogul.
The former Brooklyn College accounting major, now 38, eventually agreed to plead guilty to a single felony count of falsifying a state tax form. In return, he would serve just five years' probation and still retain ownership of Scores West and the original East Side Scores—as well as keep both liquor licenses, despite regulations barring convicted felons from selling booze. The only real caveat: Within a year, he would have to resign as C.E.O. of Scores Holding Co.
The rather lax punishment reportedly angered some investigators, with one disgruntled cop telling the New York Post that the Scores exec seemed "above the law."
But if that mere title demotion seemed too light a penalty for such a serious crime, then perhaps the opposite could be said about Scores' current imbroglio with the S.L.A.
A convicted felon may not be the most reliable plaintiff, but in this case, Mr. Goldring seems to have some legitimate gripes.
Striking a tough-on-crime pose in the aftermath of several high-profile nightlife-related deaths in Manhattan, the S.L.A. sprung into action after January's prostitution busts, deeming the business "an immediate and imminent threat to the public," and summarily suspending Scores West's liquor license as an emergency measure—a whole 27 days after the alleged sexual solicitations took place.
That almost month-long gap in the regulatory response is just one of many points made by Mr. Goldring and his lawyers, who thoroughly ridicule the S.L.A. action in court papers.
An immediate threat? With no violence, no drugs, no underage drinking? In his own court filing, S.L.A. attorney Thomas Donahue asserted that the authority "did not abuse its discretion" and "did not violate [Scores'] right to due process." He further argued that the ruling was "supported by a reasonable basis."
However, Mr. Goldring's lawyer, Warren Pesetsky—himself a former counsel to the S.L.A. who now advocates for liquor-sellers—stated in an affidavit that he'd never once seen the authority summarily suspend a license "upon an unproven allegation of prostitution that is alleged to have occurred only one time nor in any case not involving continuing violence."
To Mr. Goldring himself, "[p]erhaps nothing illustrates the shallowness of this claimed emergency, as well as the true publicity- seeking nature of this action, as the fact that the [S.L.A.] issued a press release even before they served the [suspension] Order."
If the honey-haven honcho didn't like the first press release, then he most certainly hated the next one.
After Mr. Pesetsky tried to broker a settlement with the S.L.A. earlier this month, offering $25,000 to resolve the dispute, the liquor board issued a public rejection and counteroffer via another release: "Members offered to accept a license revocation, a two year proscription, a $1,000 bond claim and a $25,000 civil penalty."
Revocation? For a few misdemeanors?
"You know what we'll settle for? Paying a fine—and that's it," said Scores spokesman Lonnie Hanover, who predicted more forthcoming vindications, in keeping with the Scores tradition.