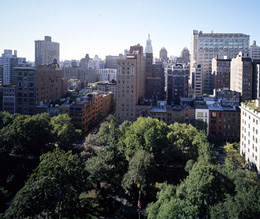 Gramercy Park is the kind of genial place where a headline-grabbing Icelandic retail-and-supermarket mogul can settle down in a comfy $20,175,000 triplex.
According to public records, billionaire Jon Asgeir Johannesson and his blue-eyed companion, Ingibjorg Palmadottir, have paid $10 million for the duplex penthouse at Ian Schrager's new 50 Gramercy Park North.
Luckily, the couple already has the full-floor apartment below, which (as first reported by The Observer's Web site) cost $10.175 million in December.
Their sprawl, next-door to Mr. Schrager's Gramercy Park Hotel, covers 7,223 square feet, which fits, among other things, six bathrooms, five bedrooms, four outdoor spaces, three wood-burning fireplaces, two 30-foot-long eat-in kitchens, and a 1,318-square-foot master suite (excluding its 716-square-foot "outdoor room").
They're lucky to have the place: Fellow billionaire François Pinault reportedly lost out on the penthouse because he wanted to pay only around $8 million. (Worse, he had sued the developers of a former Manhattan duplex, at 515 Park Avenue.)
According to the Corcoran Group's Web site, the most recent price tag for Mr. Johannesson's penthouse had been $16 million, which means he got an outstanding bargain. On the plus side for Mr. Schrager, he and his partners will receive more than Mr. Pinault offered.
Mr. Johannesson is a hot topic in Iceland, where his firm, the Baugur Group, is on trial for fraud and embezzlement. Years earlier, he was accused of using a company credit card to pay female escorts visiting his yacht.
Appropriately, The Financial Times has called him a "dashing 21st-century Rockefeller."
He can work on maintaining that image in his new triplex: The top floor has only an exercise room (besides the bedroom, bathroom, dressing area and three walk-in closets).