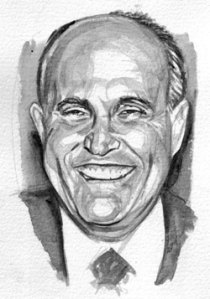 Before Rudolph W. Giuliani started to run for President, he specialized in writing books and delivering inspirational lectures on the topic of "leadership," which has become the theme for his campaign. He is now telling America that in a time of war and terror, he is the leader we need. And he seems to be saying that the determination and strength of "the leader" matter more than where the leader wants to take us or whether he knows where he is going.
If that sounds like the same primitive mind-set that created our current disaster, then consider yourself forewarned. Mr. Giuliani is a fervent admirer of George W. Bush, whose election he considers a result of "divine guidance," and a dauntless supporter of the war in Iraq, which resulted from the kind of leadership he advocates. Despite that highly unpopular position, the former New York City Mayor leads the Republican Presidential field in many polls.
Much of the Giuliani appeal is based on his admirable performance in the immediate aftermath of the Sept. 11 terrorist attacks (a symbolic performance that benefited greatly from the stark contrast with a wavering and uncertain President Bush). Mr. Giuliani has profited personally and politically from the real leadership he provided then.
But his ambitions demand a more dispassionate examination of his claims, his ideas and his record.
Mr. Giuliani's fundamental argument is that 9/11 endowed him with special qualifications for the job he is seeking. "What they say in Washington is not going to affect the fact that there are terrorists around the world that are planning to come here and kill us," he told voters the other day in Iowa.
"It is something I understand better than anyone else running for president," he continued, bouncing up and down on his toes as he spoke, according to The New York Times.
What exactly does he mean? If he is suggesting that he is a leader who should be trusted to make critical judgments about national security and foreign policy, there is plenty of evidence to contradict him.
During the months and years leading up to 9/11—as reporters Wayne Barrett and Dan Collins proved in Grand Illusion: The Untold Story of Rudy Giuliani and 9/11, their superb book debunking much of the "America's Mayor" mythology—he made several decisions as Mayor that would later prove disastrous.
Against the advice of real experts, he stubbornly insisted on placing his immensely expensive emergency-command center in a World Trade Center building, although terrorists had struck there already and were determined to do so again. The command center went down with the rest of Ground Zero, leaving the Mayor and his aides to wander downtown as the buildings fell.
The city's frantic efforts to cope with the disaster were lethally hindered by faulty communications equipment that the Giuliani administration had purchased—also against the advice of experts who knew better. Both of those fateful errors are more troubling when viewed against the backdrop of political and financial influences that probably distorted the decision-making process.
Yet while Mr. Giuliani is often wrong, he is never uncertain. That same attitude prevailed in his promotion of Bernard Kerik, a truly dubious character, first to corrections commissioner and then to police commissioner. By the time Mr. Giuliani appointed him to head the New York Police Department in 2000, evidence of Mr. Kerik's ties with a mob-connected construction company had emerged in a background investigation. Mr. Kerik had obtained jobs for his brother and his best friend with that company, and he had interceded with city authorities on the firm's behalf to win city contracts. Moreover, federal prosecutors had by then indicted Mr. Kerik's friend, Lawrence Ray, along with a reputed Gambino crime-family figure.
In testimony before a Bronx grand jury investigating Mr. Kerik last year, Mr. Giuliani didn't deny that he had been briefed on those issues before promoting his former bodyguard to the office of police commissioner. But he insisted that he didn't remember that briefing—and noted that his investigators had "cleared" Mr. Kerik.
No doubt Mr. Giuliani's failure of recall allowed him to enthusiastically recommend Mr. Kerik to President Bush as a suitable candidate for Secretary of Homeland Security in late 2004. That potentially ruinous choice was averted only because New York newspapers published timely exposés of Mr. Kerik's embarrassing past. As for Mr. Giuliani, he says that he "assumed responsibility" for recommending Mr. Kerik, his old friend and business partner, which he termed "a mistake."
While it is encouraging that he recognizes the error, there is a persistent flaw in Mr. Giuliani that makes such errors inevitable. He promoted Mr. Kerik because he preferred the loyal sycophant to William Bratton, the smart, independent and competent police commissioner whom he had fired. He ignored the threat of terrorism until it was too late, and arrogantly rejected the advice of those who knew more than he did.
Over the past six years, this brand of leadership has become all too familiar. We don't need it any more. In fact, we never did.