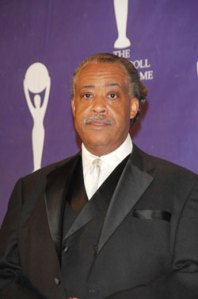 Al Sharpton really enjoys making candidates beg for his endorsement.
And yet they come.
Next week, Mr. Sharpton will take over the swanky Sheraton New York Hotel and Towers and spend four days granting an audience to every Democrat who wants to be President.
He's not saying anything definitive yet about which candidate he likes best, of course. He just offers clues.
"On the war, Kucinich is probably the closest, because I feel we should defund the war," he said. "On some issues of poverty, Edwards is closer. Health care—Hillary. In terms of racial profiling, probably Obama. All of them have been close in some area."
Mr. Sharpton's upcoming forum—the ninth annual National Action Network Convention, running from April 18 to 21, will feature serious panels ("Improving Race Relations: Where Do We Go From Here—Chaos or Community?") and invitation-only receptions.
In addition to the Democratic Presidential candidates, guests will include former President Bill Clinton, Fox News commentator Bill O'Reilly, former Mayor Ed Koch, director Spike Lee, music producer L.A. Reid and retired Knicks guard Allan Houston (who, perhaps not coincidentally, is rumored to be working on a comeback).
To those interested in winning the Democratic nomination, which may well be decided in the three-week period between the Iowa caucuses on Jan. 14 and the Feb. 5 primaries in New York, California, New Jersey and seven other states, Mr. Sharpton wants to make clear that skipping is not a good option.
"I think expediting the process in many ways cuts off the time period of knowledge, which is why addressing conferences like mine and debates are going to be very important," Mr. Sharpton said.
"It is very important if it leads to policies that help the women, blacks and Latinos," he continued. "If not, it is just window dressing to camouflage the same old policies. That's why I want them at my conference. Is this just some array of tokens, or is this real?"
Mr. Sharpton, who ran for President four years ago, said that the current standing of the field would have no bearing on his final decision. Or on much of anything, really.
"You got to remember," he said, recalling his own run, "as early as November, I was tied with John Kerry."
Mr. Kerry is not scheduled to attend this year's conference.