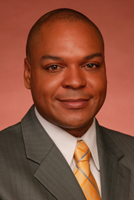 Karim Camara, an Assemblyman from Brooklyn–who is also a reverend–was arrested last night in Albany for driving while intoxicated, according to the TU.
He reportedly failed a few sobriety tests and refused to take a breathalyzer.
Camara, you will recall, got into the Assembly when his predecessor, Clarence Norman, ran into some legal trouble.
UPDATE: Consultant Scott Levenson emailed the following statement from Camara:
"I certainly appreciate and understand the concern of my community and my supporters. I have not been given any special treatment. I will continue to abide by the process that is taking place and will be glad to comment further at the appropriate time. In the meantime I will continue to serve my constituents by working on education, affordable housing, healthcare and all of their other significant concerns."