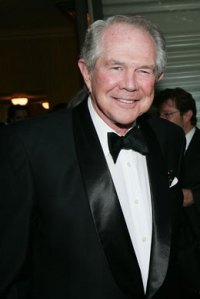 Not long after his roundly panned performance at the White House Correspondents' Association Dinner, the comedian Rich Little was standing behind a velvet rope near the stage.
"I'm having a jowl movement!" had been one of Mr. Little's jokes in a long Richard Nixon impersonation routine. At which point, it started to seem like the only way to get the temperature of the room was rectally.
"I didn't get those huge belly laughs that I might get in Middle America doing my act," Mr. Little said. "Whenever you've got professional people, like politicians and doctors and lawyers, they're a little stiff. I felt, overall, it went pretty good."
In the hands of the artful comedian, the audience, not the performer, is the hack. In fact, his Nixon impersonation got a few laughs, and a few good reviews later in the evening ("I loved the Nixon piece," Paul Wolfowitz told The Observer later on)—as though, at a series of parties chock-full of Republicans, there were some generosity or sense of humor in that.
"I did him a lot back in the 70's," Mr. Little had told the crowd by way of introducing his reproduction of Nixon. "My own parents tried to have me impeached. It was terrible. Nobody ever believed anything I said, and my nose kept growing. It was a terrible time for me."
It hadn't been such a great time for G. Gordon Liddy, who is most famous for masterminding a break-in at the offices of the Democratic National Committee in the Watergate building. Seated far across the room at the Christian Broadcasting Network table, he was asked later what had changed about the Washington press corps since his Watergate days. His answer? Nothing.
"With certain exceptions, such as Fox, the Washington press corps is in denial of the fact that it has a leftist agenda," said the conservative satellite-radio commentator and sometime Fox News guest, staying strictly on message. "I think it's a very healthy thing that we have Fox, and that we have talk radio and that we have the blogosphere, because that helps counteract the left-wing bias."
An annual event that brings together politicians and press is bound to become some sort of event-of-the-year spectacle, a time to reflect on the nature of the city, or of politics.
At least, between the lame jokes and the endless alcohol, it seems worth a try.
"Suddenly, it's like L.A.," said John King, CNN's chief national correspondent. "Suddenly, the White House correspondents' dinner has become Oscar night in Washington, where there are parties before, there are parties after, there are watching parties—I should say, 'there are viewing parties'—there's a little bit of … Washington has definitely been infected with a little bit of L.A."
But Washington isn't really that kind of town.
First of all: "People kind of don't know each other anymore, much," said Bob Schieffer, host of CBS's Face The Nation. "The politicians, they go home every weekend—when I came to Washington, it was much different. People knew one another. They spent about six months here, and then they went home for six months. Now they go home every weekend, because they have to go back and raise money to get themselves elected."
And more importantly: "Morgan Fairchild is wearing the same wrap that I gave Robin Bronk for Christmas, that Robin Bronk is wearing tonight—so there's a lot of doubles here tonight," said Phillip Bloch, the celebrity stylist. "Which would never happen in Hollywood—if I had anything to do with it, anyway. Or New York, for that matter. I think it's so interesting, because New York, you go to an event, and you see everybody in the greatest dresses—you know, the Oscar de la Rentas, and the Carolina Herreras, and the Badgley Mischkas. And here, it's kind of—a lot of bras showing. I'm seeing a lot of bras showing here tonight.
"There's a lot of makeup and hairdos going on here," Mr. Bloch continued. "Obviously, there's not a lot of great hair and makeup artists here in town working tonight."
When President Bush was introduced, the crowd up front barely noticed. Conversations continued unabated, and several black-tie-clad attendees were pushed aside to let the color guard through.
The table for the CBS News elite, in the second row, still had several empty seats with name cards reading "Katie Couric," "Sean McManus" and "Rick Kaplan." Retired football star Tiki Barber was being photographed alongside a fan, with the commander in chief providing the backdrop.
And the publications that were jockeying this year to bring the most talked-about celebrity to their table came up pretty short. People easily won the prize by getting would-be American Idol Sanjaya Malakar. (Quality check: Last year, it was George Clooney.)
"All on the press line, they're like, 'So are you excited to see Sanjaya?'" said Mr. Bloch. "And I was like, 'I'm in Washington—I don't care about Sanjaya. I mean, like, who?'"
Yes, everyone agreed, this was the lamest correspondents' dinner in recent memory. When was the Washington press corps ever so—well, ambivalent about the White House before? Love, hate, Schadenfreude, jealousy: That is the currency of fun at political parties. And nobody had the scratch.
"What's interesting about this dinner is that they have an entertainer who is controversial for not being controversial," said Bill Schneider, CNN's senior political analyst. "Rich Little is creating controversy because Democrats are saying, 'You didn't pick anybody controversial, like Stephen Colbert last year.' That's why he's controversial."
Good try.
At times, it seemed like the only real wattage, the only electrical force at the event, were the roving Republican Presidential candidates, scoring laughs with their handful of sympathizers in the television news business.
Sometime between the pan-roasted filet of salmon and Rich Little's dusty impressions, Presidential candidate Mitt Romney strode over to Pat Robertson's table.
"He's going to have to do what John F. Kennedy did down to the Houston Baptists," Mr. Robertson told The Observer after the two had talked. "Once he said where he stood, then he allayed their fears.
"I don't know if Romney can do that," said Mr. Robertson of the l
one Mormon candidate, while adding that "he's an extraordinarily attractive person."
But the table of the Christian Broadcasting Network was a magnet for Republican Presidential candidates.
"Giuliani, Fred Thompson, Romney and Mike Huckabee—just to name four that have come by the table already," said Mr. Robertson.
Before dinner got underway, the 2008 election—just under 19 months away—was widely speculated about at the National Review's cocktail party.
"I'm backing Giuliani," said Steve Forbes, C.E.O. of the eponymous firm. Last month, Mr. Forbes signed on as the Giuliani campaign's national campaign co-chair and senior policy advisor, and he described his role as an "agitator" rather than a candidate, as in two previous Presidential elections.
Mr. Forbes was chatting near the buffet table with Michael Novak, a contributing editor at the National Review.
"It would be hard not to [enjoy the party] with this weather, and this company—right-thinking people," said Mr. Forbes.
Mr. Romney's image was everywhere, splashed over the cover of the magazine, copies of which were scattered throughout the party.
"I think [Giuliani] combines vision with an extraordinary attention to detail," said Mr. Forbes. "He knows how to get things done."
But how do those right-thinking folks feel with the changes in Washington since the midterms?
"I think they're partying nervously," said the National Review's Byron York, of his ideological comrades.
"It's pretty clear the White House, the executive branch, is really now just getting used to the idea that the other guys control the House and Senate," said Mr. York. "Now they're digging in for what could be a really long two years."
At the Atlantic Media pre-dinner bash, held near the Hilton's poolside gazebos, attendees enjoyed idyllic spring weather—and drank!
There was Mad Money host Jim Cramer, ordering another vodka and cranberry—two parts Ketel One—and, when asked how many he'd had, answering: "Not enough."
"[T]he night came to a crashing halt with Rich Little," said Arianna Huffington. "I think this mood is going to be very hard to revive. I mean, there was something offensive about having somebody that sophomoric—don't you think?"
"Not an easy night to be a comedian, but I admire the effort," said New York Governor Eliot Spitzer.
"I'm not going to the party," said Mayor Michael Bloomberg, leaving the ballroom. Mr. Bloomberg had to get his beauty rest before announcing his big Earth Day plans at the Museum of Natural History the following day.
(Basically, they amount to an effort to keep the theme of the White House Correspondents' Association Dinner, circa 2030, from turning into an "Under the Sea Dance.")
"I suppose there is this end-of-Rome quality to the whole affair," sighed New Republic editor Franklin Foer, looking toward the stage, where the head table was located.
Then, as if correcting himself: "Fundamentally, once a ratfuck, always a ratfuck."
—additional reporting by Spencer Morgan