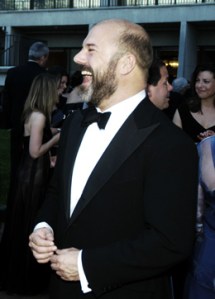 "Andrew, did you see David?" said authoress and blogger den mother Arianna Huffington to writer Andrew Sullivan as Hollywood mogul David Geffen approached. The group had coalesced outside the Hilton banquet hall as they attempted an early exit from the White House Correspondents' Association Dinner.
"Yes! We just had sex!" Mr. Sullivan said. "Safe sex!"
"That's right," the bald billionaire replied with a laugh. "Standing up, because we can." Then Mr. Geffen turned more serious. "Now what's this I hear? You're getting married?" he inquired.
"Yes," said Mr. Sullivan, the wedding would be in late August. "He's got hair on his back and everything."
Mr. Geffen nodded sagely. "All the things you like in a man," he said. "Congratulations."
Later that night, at the Vanity Fair party held at Christopher Hitchens' house, The Transom pried loose a few wedding details from Mr. Sullivan's fiancé, Aaron, an actor (last name withheld at Mr. Sullivan's request): It's going to be a small affair, mostly family, to take place in Provincetown, Mass.
"We haven't done much yet to prepare," said Aaron, who is currently starring in the Studio Theatre production of The Pillowman. "We've rented the house where we're going to have it—that's about it. It's on the beach."
Mr. Sullivan was standing nearby, wearing a tux and his trademark Dr. Martens. Would he be allowed to wear those hogs to the wedding?
"Absolutely not," Aaron said.
You've talked it over, huh?
"No, but we don't need to talk it over," Aaron said. "He won't be wearing those."