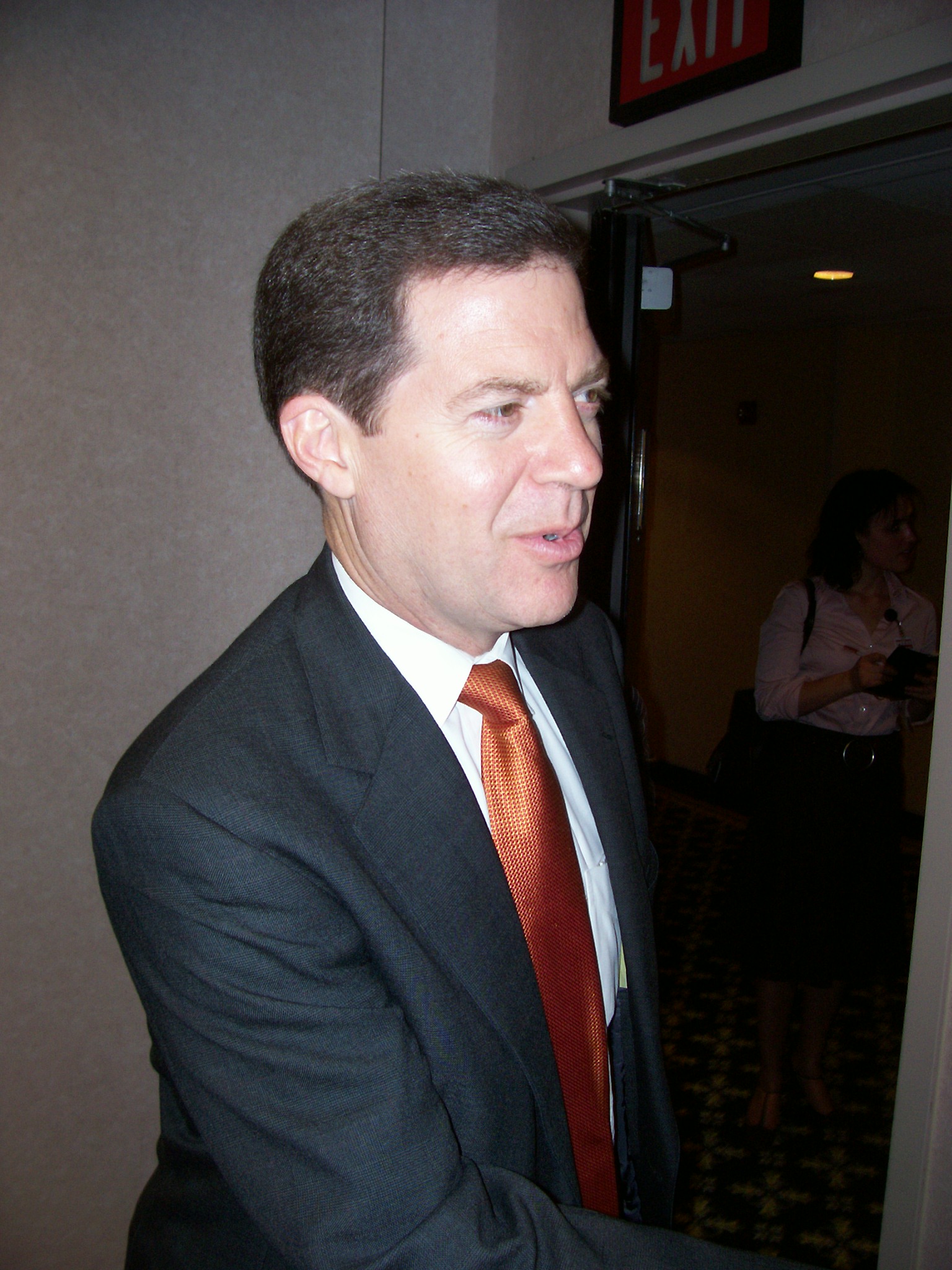 By MAX PIZARRO
PoliticsNJ.com

Presidential candidate Sam Brownback was in New Jersey last Friday, speaking to groups that might be considered a potential base for the fledgling campaign of a social conservative.
The three-term U.S. Senator from Kansas impressed the leaders of at least one of those groups, but not enough to overcome the strong grass roots support former New York City Mayor Rudy Giuliani has amassed in New Jersey.
The outgoing and incoming state College Republican Chairmen €" both self-described conservatives €" spoke of Brownback as a possible Giuliani running mate, saying Giuliani's chances of getting elected would be even greater with a running Brownback, who was in New Jersey last week as the keynote speaker of the New Jersey Right to Life Convention in Iselin.
"Rudy doesn't need to offset himself," said Frank Luna, a Stockton University graduate and the outgoing chairman of the New Jersey College Republicans, which hosted Brownback at the Hilton in East Brunswick before the Kansas senator and 2008 presidential hopeful made his way to Iselin. "If Rudy is the nominee, he needs someone who will work regionally, and in that sense he's not going to go with someone like (former Mass. Gov.) Mitt Romney," Luna said.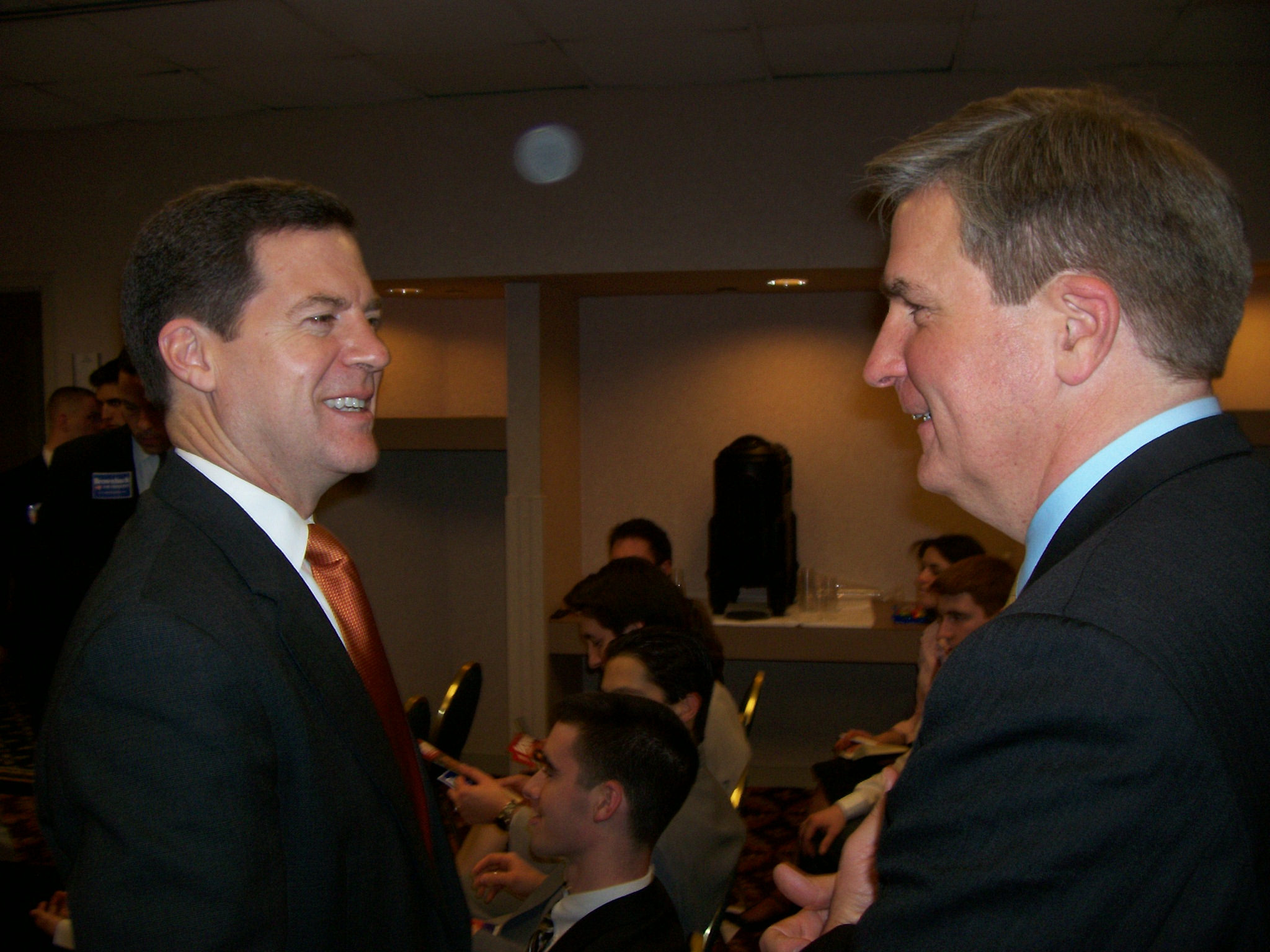 Kansas native Christopher Stark, elected New Jersey College Republican Chairman on Friday, loves Brownback, and for two years has been advancing a Giuliani-Brownback ticket. He'll even settle for Giuliani-Huckabee €" he likes the former Governor of Arkansas €" and said he would celebrate a flip ticket of either one of those options.

Giuliani's pro-choicepast doesn't diminish him for Stark.

"I think a lot of the candidates try to hide where they stand," said the Seton Hall junior and international relations major, who worked his connections to bring Brownback to New Jersey. "In the case of Rudy, I don't agree with him on 100 percent of the issues. We agree on 80 percent of the issues. This coming election is not going to be so much about the social breakdown in America. It will be about making this country safe."

Maybe that's one of the reasons why Giuliani is leading Brownback. According to the latest Quinnipiac University poll, among registered Republicans in New Jersey, Giuliani garners 49 to the Kansan's 1 percent in a match-up with other GOP presidential hopefuls.

That's all right, according to Stark and Luna. It's still early. Giuliani will appeal nationwide, they say; and people don't yet know the low-key Brownback, who calls himself the U.S. Senate's leading pro-life voice.

The author of the Broadcast Decency Enforcement Act of 2006, which increases fines for networks that broadcast indecent and obscene materials aimed at children, Brownback believes in using American power to combat injustice worldwide.

But it's his strong social conservative credentials and speaking skills that led many conservative activists to encourage his candidacy.

Introduced as a "compassionate conservative," Brownback radiated Reagan-like cheerfulness as he went to the head of a room of about 40 college Republicans in the Hilton Friday.

"Is everyone here from Seton Hall?" the 2008 presidential candidate inquired, to some groans.

"Rutgers," he was informed.

"Rutgers," repeated Brownback, quickly pirouetting out of the gaffe with a solid landing. "I was cheering for the Rutgers women's basketball team."

He asked the students to participate in a moment of silence for the victims of the Virginia Tech massacre and for the recovery of Gov. Jon Corzine.

"There should not be a state-run church," said Brownback, trying to clarify his views on government and religion, which he said have been widely misconstrued. "I don't support a theocracy. But this is a faith-based country and there should be a celebration of faith in the public square."

And Brownback played the Gipper card.

"Ronald Reagan won with big ideas and with a smile," he said.

Luna explained why he believes the Reagan nod is important.

"He's more relevant than Bush, and that's why everyone's wondering who will be the next Ronald Reagan."

Brownback argued that America must reclaim its moral focus in some key cultural areas, such as marriage and abortion. Brownback believes marriage should be between a man and a woman.

And he wants the Supreme Court to overturn Roe v. Wade, a feat that might be accomplished with the help — and here another nod to New Jersey — of erstwhile conservative justices and Jersey natives, Antonin Scalia and Samuel Alito.

Brownback applauded the Supreme Court's decision last week to uphold the ban on partial birth abortions — which Giuliani also backed, Luna and Stark hastened to point out.

Keeping with the culture question, Brownback tongue-lashed Don Imus, who was fired a week and a half ago by CBS Inc after the shock-jock radio show host used a racial epithet to describe the members of the Rutgers women's basketball team.

In the name of cultural consistency, Brownback said all of the companies who use the same language in their products should be held to account and shamed.

"If they got rid of him, they ought to get rid of them," Brownback said.

Also addressing the college GOP convention were Assemblymen Bill Baron and Mike Doherty, former Jersey City Mayor (and gubernatorial candidate) Bret Schundler, and State Senator Tom Kean, who challenged U.S. Sen. Bob Menendez last year and lost.

"I'm here to thank them for the work they did on my campaign," Kean told PoliticsNJ.com.

Stark was appreciative of all the speakers, and on the state level reserved special praise for Kean.

"It meant a lot to have Senator Kean there," said the new chairman. "To get a personal thanks meant a lot to college Republicans."

It will be a battle for the minority party faithful, but Stark is encouraged.

"This year will be easier than last year in terms of raising money, thanks to Luna's leadership," he said. "We have shown we are a powerful grassroots organization, and in the days ahead we are going to continue to meet fund-raising and recruitment goals. We will pick an issue each month, host a speaker on each specific topic – whether it's social security or a conservative tax plan – and rally at the end of the month down in Trenton. We've got to be out there. We will win this battle."

The possibility that Brownback may not be not Republican nominee in November 2008 matterslittle to Stark.

"He will rise up even if it's not this election," said the chairman. "He has a long career in front of him."