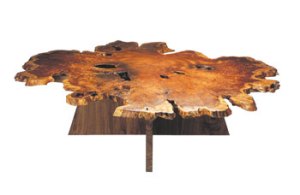 Spring is here, sigh, a leaf trembles. If you're going to throw everything out the window and repaint top to bottom—which New Yorkers often do because they have so much time on their hands—what color is the color of the moment? All the experts say the subject is too personal: pink for Heather, umber for Joshua. There is no one color for one season or one geography. If you say one color is in vogue, then the others feel left out, so just invite everybody.
But people have moods. "Icy blue is this week!" said Margaret Russell, Elle Decor's editor in chief and a judge on Bravo's Top Design, calling in from the North Carolina furniture market. Ms. Russell sounded excited, though her phone was breaking up. "They have a … here in icy blue … I want to go home … paint that."
Noho-based designer Miles Redd breathed on the phone. After a suspenseful pause: "Emerald green. I'm really feeling emerald green is making a comeback." How so? "It was an 80's color—forest-green-lacquer library, men's bathroom, mahogany, green marble," Mr. Redd said. "But not avocado. Not like my grandmother's kitchen."
For Ernest de la Torre, a designer whose office is in Chelsea, it's rough, it's animal, it's stone, gunmetal, straw and crimson. Whatever works with all the 1960's, 70's, 80's wood furniture people are collecting today: curving, sometimes serpent- or tongue-like shapes, smooth forest furniture—Michael Coffey, Phillip Powell, George Nakashima, Wendell Castle. Mr. de la Torre just finished his own pied-à-terre in Chelsea's London Terrace. The walls are pearlescent cream with gold undertones that change colors during the day, he said. The wood palette is honey to whitewashed to dark walnut, and the bedroom has red fox pillows and a mink bedspread. "They were a gift," he said, slightly ashamed.
"It is impossible to pin down any one color," said Manhattan designer Jamie Drake, known for his liberal way with the spectrum. Just the other week, he was spotted all in bronze Lanvin and Vuitton, merrily pointing out a faux zebrawood refrigerator at the Architectural Digest Home Design Show, which was full of chairs with rubber noodles, conch shells and awful lawn furniture. "I may be doing bright pastels for one client; somebody may be bamboo or sage. Then you have the clients who want to live in the 18th or 19th century." What to do?
Mr. de la Torre did agree on two threads or strands in the air. No more beige, he said, though he wasn't talking about late-1950's champagne beige, silk-furniture beige on which women in chiffon evening-gown beige would sit having a champagne cocktail and sounding like Deborah Kerr. He meant 1990 Jil Sander beige, the white and the bone.
The obvious other strand, seen on all economic levels, is the eco-simpatico palette: delicate greens, papery bamboo, a bubble on the pond, the sound of a frog in the late morning, colors of objects that want to be sustainable whether they are or not. At the Design Industries Foundation Fighting AIDS "Dining for Design" event in March, there was much of this wheatgrass effect: sliced-log placemats and bird-nest glasses. Then again, there were also bunny-fur cocktail stools, flower wall videos, and the black Alfred Hitchcock room, proving that there is always the other.
Maybe everybody should just give it up and go outside and be with Nature. "She gives us color plans for all the needs we can conceive," wrote the great, late Elsie de Wolfe. "White and gray clouds on a blue sky—what more could she use in such a composition?"
Nature never makes a mistake, if you think about it. ("I don't know—what about gladiolas?" Mr. Redd said.)
When people talk about colors, their voices get all funny, kind of slower, as if they are being carried on a dreamy wave. Color is a constant protagonist editorially. There are always feature stories like: Don't be afraid of blue, blue is your friend. Take yellow to lunch. If magenta walks in the room, ask him/her to dance. Spend an evening with your colors; they are your best friends. We're not just talking Matisse or Tworkov.
"We get more reader inquiries, e-mails asking about color than anything else," Ms. Russell said. "That's why magazines do issues on color. It's inspiring." But "we don't have a big color issue. Most every issue, we feature houses with color in them."
The biggest story since home magazines started printing in color in the 1940's is red. What "big man topples" is to news, red is to fashion—most famously Diana Vreeland's Park Avenue apartment, which she told Billy Baldwin to furnish like "a garden in hell," and now the red walls and doors and "convenience stairs," as spokeswoman Abbe Serphos put it, of the Renzo Piano's new headquarters for The New York Times, which look as though they are painted with cheerful tomatoes. "We refer to it as 'sunset red,'" Ms. Serphos said, in what one hopes is not some sort of subconscious prophecy about the newspaper industry.
The red will never be quite still or all there in one way, like the events of the days: The light will change, the light affecting the color will change the color, one's mood will change, the moods of all The New York Times reporters will change ….
In any case, thinking about red in spring is upsetting. Red is theatrical, artificial, an opera costume, the blood of medieval illuminated manuscripts, love, love later on when it is no longer love but something more dangerous, not the hopeful colors of spring flowers, lilacs in Paris or violets on a 1950's hat with green leaves and perfect green grapes.