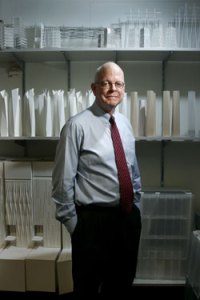 Location: You have a number of publicly funded—or at least very public—projects: the Freedom Tower, Moynihan Station and Sheldon Solow's East Side development on the Consolidated Edison site. Why do you keep getting chosen to do these projects?
Childs: Well, I love them, frankly. And I also believe that architects should be involved in the cities in which they live. So I therefore have been involved in a lot of city planning through [the Municipal Art Society]. I've been around and have been involved in those things. We also have a very large office that, frankly, loves to do very large, complicated projects.
What's your secret for negotiating all the bureaucratic and political obstacles?
Bureaucratic isn't so bad. I'm a big believer in community review: You get some of your best insights sometimes from those types of processes.
The most important thing that an architect does—and this was taught to me by I.M. Pei many years ago—is choosing your plan. Sometimes, in the development world, we have had some developers whose aspirations didn't meet the project that they were doing.
And that's the dirty work. Any great architect can do something spectacular for City Hall. Sometimes a person who owns the piece of property, you can drag them from doing a B-minus building to doing a B-plus building, and you have achieved a lot. But it is a tough thing to do.
You have said in the past that you wouldn't mind it if people looked at one of your buildings and never said, "That's a David Childs building."
That's wonderful. Often, architects can have a very clear style. Frankly, I believe that there are certain fundamentals with every project, but stylistically, they vary considerably. That's because every project is different because of its site, location and program.
I am particularly happy in a project like the World Trade Center. I think it's kind of funny to have an architect's name attached to it. It should be the World Trade Center Tower 1, not the Childs Tower.
How do you think your building will fit in with those at the trade-center site by Norman Foster, Richard Rogers and Fumihiko Maki?
When Larry [Silverstein] and I first got together after 9/11, he said, "I want you to be my Yamasaki [the architect of the original World Trade Center]." And I told him, "Larry, you won't believe this, but I think that you should have many architects. I believe that because it is too big for one person to do."
He asked me to recommend a list of architects, which I did. I think they have made a good effort to work together.
So you prescreened those three?
My list was longer, but those three were there.
As for Moynihan Station, how are you going to get a basketball arena in the back end of the Farley Post Office?
We're not. Madison Square Garden is to get [the arena] in the back of Farley. They've got an architect from Toronto who is doing that.
So you are just doing the front end?
I would say they would think their front door would be Ninth Avenue. We're doing the Farley, and I must say what I think is wonderful is what has happened under this developer [a partnership between Vornado Realty and the Related Companies]. They have this combined vision of doing a whole building from Seventh to Eighth [avenues]. Right now, we are trying to look at the biggest picture to do what might be the most extraordinary project ever done.
I thought a different architect might be brought in for each building.
They are! There are many other sites Vornado has in the area. I know that Cesar Pelli will be involved, KPF, our friend Norman Foster and ourselves. The site itself has another 5.5 million square feet.
What is your reaction to the comment that the Freedom Tower will look like a fortress?
That is the most ridiculous thing. It's stated by people who haven't even looked at the plans. We did a new design in which the whole building is fractionally larger than the core of the old building. Now we have transfer floors, so this building is a fraction of what it was.
And yes, we have to have a high percentage of solid in that base to get to a point where, any blast from the street, people will be protected where they work.
I had originally thought, in the original proposal, that the base of the building would be stone or metal. In the end, I decided to make it glass. The whole base is cast glass, which is not flat; it is a cast glass with ridges in it that are actually prisms.
Basically, glass over concrete?
No more so than this is glass over concrete [pointing to his window]. Where it is not glass looking through, it is a glass skin that, when light hits it, it breaks into color behind it. I think it will be the most clear, transparent, light color—I think we hit a home run here. When people see it, they are going to love it.