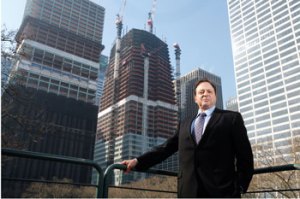 Despite the hype about green roofs; despite the rampant branding of luxury residences with names like the Solaire and Tribeca Green; despite the cachet that once-repulsive ideas have now garnered (waterless urinals! recycled rainwater!), technologies that allow buildings to generate at least a portion of their own power in a clean, efficient way are having trouble catching on in Manhattan.
And it is not the developers or tenants or architects who are standing in the way, but instead regulators and the utility company, which cite safety and technical concerns.
In 2005, the city Department of Buildings essentially issued a moratorium against the installation of microturbines, which are minivan-sized generators that provide clean power and hot water in residential buildings. Several buildings around Manhattan that had been planned before the new rules took effect now have these metal boxes at the tops of the buildings, worth between $50,000 and $100,000, completely idle and offline.
Meanwhile, another developer, Douglas Durst, has run into a different kind of resistance from Consolidated Edison while trying to install a much larger clean-power plant in his new office tower in midtown. He suspects that the utility cannot be too thrilled that he is trying to take away some of their business.
"It is a frustrating situation," said James Cavanaugh, the president of the Battery Park City Authority, a state agency that runs the landfill development on the Lower West Side, where three new apartment buildings are topped with microturbines that they cannot use. "This technology is acceptable in many other parts of the country and has been used in New York prior to this regulatory difficulty. These are very experienced and reputable developers. When you have companies such as Albanese, Related and Millennium standing behind technology, they do not do so lightly."
MICROTURBINES, WHICH ARE CONTAINED WITHIN metal boxes and could easily pass as just another heating/ventilation/air-conditioning component stuck on a roof, reduce pollution by burning natural gas rather than diesel to generate electricity; and they save energy by capturing the heat thrown off to warm the water that runs through a building's hot-water system.
The situation is particularly poignant for Battery Park City, a well-groomed 92-acre enclave close to Wall Street, whose owner, the Battery Park City Authority, requires developers to use green-building practices. In 2005, before the Department of Buildings took a position on microturbines, the authority adopted new guidelines that encouraged their use.
Soon afterward, the authority found out that the city was instituting a more onerous procedure, in which the Fire Department would have to review the new specific make and model of any microturbine that would be installed in order to make sure that it did not pose a fire hazard. The Fire Department would not respond to requests for an interview, and it is unclear whether, to date, it has approved any models at all.
By the time the rule came down, three developers had all planned for microturbines, Mr. Cavanaugh said. The generators are all sitting in the buildings, waiting to be hooked up, while the buildings use back-up systems instead. The 275-unit Tribeca Green, by the Related Companies, opened in 2005; the 250-unit Verdesian, by Albanese Development, debuted in 2006; and the 35-story Millennium Tower Residences, by Millennium Partners, started move-ins four months ago.
Martin Dettling, vice president in charge of design and construction oversight at Albanese, said that "the timing could have been better" for the new regulations, although he supports the concept.
"Originally, what we looked at was quite easily approvable, but then different manufacturers came out with different systems, so the city decided to take a close look at these and come up with regulations," Mr. Dettling said. "I wish the process would go faster, but the most important part is safeguarding the public. That's of paramount concern, and I believe it is a safe system and they will come to see that."
The Buildings Department recently considered an agreement that would specify which microturbines would be permissible at Battery Park City, according to authority spokeswoman Leticia Remauro, but "the Fire Department would not sign off on it."
A Buildings Department spokeswoman, Kate Lindquist, did not comment on the agreement, but said the department had convened a task force last year to come up with a rule governing all microturbines. The task force is still working on it and doesn't expect to have it complete by the time the City Council votes on a major code revision this spring.
"Microturbines are 15 to 20 years old. Our Building Code, which was written 40 years ago, does not address their use and installation," Ms. Lindquist said in an e-mail. "The Task Force is working as quickly as it can to develop a new rule to speak to the safe installation of microturbines, not only in industrial, storage and high-hazard buildings but also in residential, commercial, educational and other occupancies."
The microturbines that fit at or near the top of these residential towers are rather modest. They are sized to provide the amount of hot water that a building would need rather than to cover electrical demand. Since apartment buildings don't use that much hot water, the amount of power they produce is not great either: maybe 3 or 4 percent of the total power needed in a building.
The specs given by one producer, Ingersoll Rand Industrial Technologies, sound impressive: The microturbines reduce carbon-dioxide emissions in a building by about 133 metric tons a year. That amount turns out to be the equivalent of getting just 20 cars off the road a year, which is about how many drive by on West Street in the blink of an eye.
Still, it's better than nothing.
"The city has an enormous challenge in terms of providing its future electric supply," said Mr. Cavanaugh. "It is even more important for the larger picture of what we do here in Battery Park City. We consider ourselves an incubator and a model to demonstrate technologies for use elsewhere."
Ashok Gupta, the director of the air and water program at the National Resources Defense Council, said that developers could eventually use larger microturbines to cover more of their buildings' energy needs, and that the technology would have to play a role if the city intends to reduce greenhouse-gas emissions by 30 percent—the goal that Mayor Michael Bloomberg set in December when he outlined his sustainability initiative.
"I think it is going to be playing a small part, but it's a portfolio approach," Mr. Gupta said. "Every little bit is going to help, but most of it is going to be coming from distributed generation, under which microturbines can be an important contributor."
THE COGNERATION PLANT THAT MR. DURST is installing at 1 Bryant Park, a 52-story office tower under construction at 42nd Street and Avenue of the Americas, however, is much larger. It will produce 5.4 megawatts of electricity—enough to cover 70 percent of the building's power—and because other technology will allow the plant to cool the building as well as heat water, it will reduce emissions by 50 percent, according to Mr. Durst.
"The resistance from Con Edison to these facilities is overwhelming," he said at a recent energy panel for Mayor Bloomberg's upcoming PlaNYC report on the city's future. "And the reason they are resistant is that they get paid by people using their transmission lines—so when you build on-site generation, Con Edison is losing income."
Mr. Durst, who also installed fuel cells at 4 Times Square and microturbines at a West 57th Street apartment tower, the Helena (where they, like the ones in Battery Park City, are sitting unused), told The Observer in a follow-up interview that it took a year and a half to gain approval from Con Ed to use the cogeneration plant, but that he expects it will be operating when 1 Bryant Park, also called the Bank of America Tower, opens next year.
He gave up on incorporating certain elements, such as designing the system to operate even after the electrical grid goes down, because it took Con Ed too long to approve it. But Mr. Durst acknowledged that the utility has become more willing to cooperate in conservation measures.
"I think they are better now than they were in 2003," he said. "The leadership has changed; I think just the basic awareness has grown."
Joe Petta, a spokesman for Con Ed, said the 1 Bryant Park cogeneration plant had several "technical issues that needed to be addressed in order for their project to safely and reliably interconnect with our system." He also disputed the idea that the utility didn't have an incentive to encourage conservation, saying that New York City is basically maxed out on available power produced by existing plants and is an expensive and politically difficult environment in which to build more.
"We need to make significant investments in infrastructure, and we have an active program in demand-side management to slow demand growth and to keep usage down, which helps us defer infrastructure expenditures," he told The Observer. "We have a targeted reduction of 675 megawatts. That offsets the need for a new power plant."