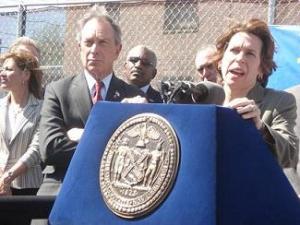 Hillary Clinton's middle name is missing. 

Highlights of some Rudy Giuliani speeches are here.

Barack Obama is popular among independents.

Eliot Spitzer doesn't think his prolific fund-raising runs counter to message of campaign finance reform.

After Andrew Cuomo told a crowd that "the winds of change are blowing in Albany today," he went to have lunch with Assembly Democrats.
 
Six more schools settled loan issues with Cuomo.

Rep. Carolyn Maloney said that according to Tennessee, Al Gore will enter the presidential race in August or September.
 
Gay activists will lobby in Albany tomorrow.

Leonie Haimson wants parents to boycott Bloomberg's school survey. 

And pictured above is Mike Bloomberg and his temporary friend, UFT president Randi Weingarten.