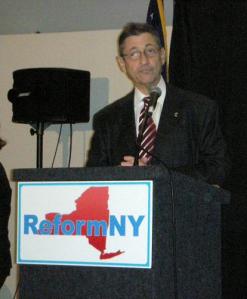 "I concentrated on a lot of things, so very few people saw me as an education governor, an infrastructure governor," Mario Cuomo said in this profile of his son, Andrew.
The younger Cuomo took a swipe at the federal Education Department during his congressional testimony.
Time magazine is trying to whittle down their list of most influential people from 200 to 100.
Barack Obama hit Rudy Giuliani over his recent comments about Democrats and terrorism.
Scott McClellan is writing a book.
DA David Soares won't go easy on the Assemblyman from Brooklyn who got arrested in Albany.
Former state Senator Nick Spano is now a real estate agent.
Liz Krueger got some support for her breast-feeding bill in Hawaii.
A parent blogger doesn't like the notion of parents having teachers' cell phone numbers, but President Bush does.
Reform activists have position papers on their three main issues.
And pictured above is Sheldon Silver talking about reform.