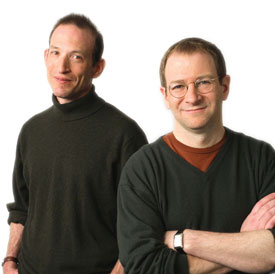 When David Shipley, editor of the New York Times Op-Ed page, and Will Schwalbe, editor in chief of Hyperion Books, met for oysters in Grand Central Terminal in May of 2005, neither man would have guessed that their conversation that day would result in a 247-page book about e-mail.
"We were having lunch at the Oyster Bar—in the saloon—and we realized that a lot of time during lunch was spent complaining about all the things that had gone wrong in our respective mornings," said Mr. Shipley, who was able to escape the grind for a few minutes to discuss his new book, Send: The Essential Guide to Email for Office and Home, in the Times cafeteria.
"It's hard to pinpoint the eureka moment," said Mr. Shipley, who is 43, tall, lean and—despite gray slacks, rolled-up shirt sleeves and a tie—resembled an avid cyclist. He has a long face, earnest eyes, sparse hair and ears that stick out cute. A former speechwriter for President Bill Clinton, Mr. Shipley takes his time choosing his words. "We realized that almost everything we were talking about came out of an e-mail—either really boneheaded e-mails we'd received, or stupid things that we'd done in an e-mail—and we just starting thinking: Is there anything out there that is remotely helpful in this regard?"
The answer was no. Over the next week or so, the two friends went back and forth and finally decided to get serious about plumbing the depths of e-mail, and creating a guide book to navigating what Mr. Schwalbe called the "wild west" of electronic communication. A month later, they had a "very generous" book deal with esteemed publisher Knopf.
"It's the kind of book that neither of us would have written alone," said Mr. Schwalbe, who met The Observer for $3 cokes at the Blue Water Grill bar. Unlike his writing partner, Mr. Schwalbe, 44, is a fast talker, animated and compact.
The authors acknowledged that e-mail is nothing new, and indeed the book dedicates two almost admittedly dull sub-chapters to its history. The first, aptly titled "A Brief History of Email, for Anyone Who Cares," rehashes how it all started in the 1960's, when the Pentagon asked its computer whizzes to build the world's first computer network. A second bullet-points "Big Moments in Email History": "1976: Queen Elizabeth II becomes the first head of state to send an electronic message"; "2006: Britney Spears dumps husband via Blackberry message." The eminently qualified e-mail-obsessed brain trust of Shipley and Schwalbe ultimately argue that e-mail has been around just long enough—and has only recently become sufficiently pervasive—to start thinking and talking about it seriously.
FROM OCTOBER 2005 TO LAST FALL, these two brave men began examining from every angle this new form of communication that has undoubtedly taken over our lives.
Mr. Schwalbe said they wanted the book to be a fully functional e-mail reference guide, so they brought the magnifying glass in close: from the "To:" to the "From:"; from the "Reply" to the "Reply All"; from the "politics" of the "Cc:" to the "flattering" advantages of the "Bcc:" (that's the blind copy). They unravel the mystery of what makes a good subject line and inform us of the dangers of Autofill.
They also asked broad questions—of themselves, mostly, but others too—like: How does e-mail differ from "e-mail alternatives" such as the phone, or the fax, or the letter?
Mr. Schwalbe and Mr. Shipley said they got to the bottom of these issues in part by combing through past studies, but mostly through surveys of their own: They sent out over a thousand e-mail questionnaires to friends, family and colleagues. And they clearly did a lot of reflecting on all their personal experiences in the new age of electronic communication—many of which make their way into Send's pages verbatim, but with the names changed.
Still, much of the information in this book will be familiar to those of us who use e-mail on a daily basis. For example, the "elements of the signature block" section describes what one might include in the signature portion of an e-mail (i.e., full name, title, organization, address, phone, number, fax and e-mail address).
The critical thinking that accompanies each of these sections is often likely to appear obvious—especially to those of us capable of tying our shoes. In one place, the authors write: "As a general rule, if you are writing to someone, and you want something from her, and you want her to get back to you, it's both smart and courteous to include all of your contact information."
Messrs. Shipley and Schwalbe—who estimate that they receive between 200 and 300 e-mails a day, a number they both said was not atypical among their friends and colleagues—are aware of how such information and advice might be perceived.
"We found that the same thing that is obvious to one reader is not to another," said Mr. Schwalbe. "The very fact that you can write an e-mail and have your machine send it later comes as complete news to everyone."
He added: "The fire guy comes every six months, and most of what he says is obvious. Sometimes it is the most obvious thing that we need to be reminded of all the time."
BY FAR THE MOST UNUSUAL ASPECT of the book is the process by which it was written.
"We wrote it side by side, his place and my place," recalled Mr. Shipley. "Maybe because we're both editors, there was less of a sense of ownership in terms of how you write, and maybe the speechwriting was helpful for me in that regard—because I wrote speeches for Clinton, and that's more of a collaborative process than going off somewhere in the woods and writing. But it really was just weekends, early in the morning, late at night, just sitting side by side writing."
"It was wonderful; it was odd—I can't think of a disagreement," added Mr. Shipley, who lives near the South Street Seaport.
"We both have these 'After you, my dear Alphonse' personalities," Mr. Schwalbe concurred.
What's more: There was a soundtrack on this magic carpet ride.
"There was this beautiful album that was sort of the album that kept us going," said Mr. Shipley. It was Israel Kamakawiwo'ole, but he couldn't remember the exact name of the recording.
"Whatever that Hawaiian music was, it seemed like it was playing every 10 minutes," countered Mr. Schwalbe. (Was this their first disagreement?) "There's a song on the album—I think it's called 'Hawaiian Superman'—and that's the song I can never hear again."
While a book on the team-writing of this book—literally every sentence was a joint process—might make for a more fascinating read, we can all agree that it wouldn't have been nearly as practical.
Even the most experienced e-mailer will learn something from the hour and half it takes to read Send, if for no other reason than, for that hour and a half, you are thinking about e-mail and recognizing how important, serious and inescapable it is.
In the words of Mr. Schwalbe: "The thing that can send an important business relationship or a lifelong friendship down the tubes could be as simple as one insufficiently warm e-mail."
The people over at Knopf are so confident that this book is both important and far-reaching in its demographic scope that Send is getting the full-court press treatment now: Look for Messrs. Shipley and Schwalbe on Good Morning America, NPR, Amazon's Fishbowl and much, much more.
"We've arrived at a juncture in our civilization where there is a clear need for this book," said Paul Bogaards, executive director of publicity at Knopf. "So people either need to master [e-mail], or they become its slave."
Mr. Bogaards said they had already distributed 5,000 advance-reading copies—an unusually high number. And the feedback has been palpable.
"It is a statement of belief. It is a statement of affirmation," he said. "Galleys were being passed around Amazon like the Paris Hilton tape. Everyone in that office wanted a copy of Send."
He added: "Everyone lives and dies on e-mail."