By MAX PIZARRO
PoliticsNJ.com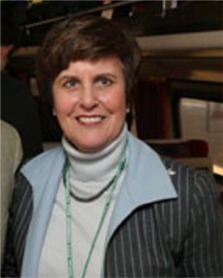 I steered the broken-down clunker off Route 22 and into Kenilworth, staring grimly at the temperature gauge as it wobbled toward the red-zone.
"Go ahead," I said through gritted teeth. "Just go ahead and do it."
If the car was going to have a meltdown, I wanted it to happen before I reached Anne Estabrook's Cranford office, where I was going to ask the millionaire businesswoman about the War in Iraq.
Arriving unannounced is one thing, but pulling up in a billow of smoke and trailing a clutter of automobile parts would make for a decidedly inauspicious entrance, particularly in the presence of the chauffeur-ferried Estabrook.
A GOP fund-raiser who's made a lot of money in real estate and never held elected office, she wants to run for U.S. Senate against incumbent Democratic Sen. Frank Lautenberg. When I called the prospective candidate and left a message on Saturday, her chief handler, Larry Weitzner — not Estabrook — returned my phone call to confirm that she is indeed forming an exploratory committee – and that she doesn't have a statement about Iraq.
Scanning the headlines on Monday morning, I noticed the latest casualties coming back in body bags. There were over 100 dead American soldiers in Iraq in April and that makes the war's bloodiest month this year. The Democrats are calling for a deadline to withdraw troops. The president's dug in against "retreat."
My question for Estabrook is simple: What's her position on the war? It was the same question I put last week to GOP Assemblyman Michael Doherty, who also wants to challenge Lautenberg.
I called Estabrook several times and there was no answer Monday. I called her office directly and told them I was looking for her. Still no reply.
So I drove up to the offices of Elberon Properties in the Union County surburn, choking and sputtering but getting there ultimately. And giving the car a drink in grateful triumph, I called Estabrook again and still there was no response. I called her beach house in Spring Lake and the cheerful voice on the other end told me she wasn't home but that she would call me back at the end of the week.
I was sitting there in the office park driveway reading the sports page in the Ledger, when I saw this dark sedan pull up and stop in front of a sign marked "Mrs. Estabrook." I knew that was her spot because I had toyed with the idea of parking there myself. It had been the only empty space in the lot, and I figured if I went to sleep I could count on the indignant blast of a car horn to wake me up.
But here was the car, and it had to be the car by the way it stood there unchallenged in that clearing marked for the boss.
And trudging through a no-man's land of leaf-blowers and lawnmowers, I went up to the car where the driver stared straight ahead behind glasses, and Estabrook sat in the back seat on the phone. The noise from the back-pack clad worker bees was so loud I could barely get out the word "Iraq," before I found myself wondering, Do I rap on the window? Gesticulate wildly? Nah. So I walked inside the office building and sat down and waited. And waited. And 20 minutes later the businesswoman emerged from her car.
When she entered the building I stood up and introduced myself in the hallway and she was a flurry of friendliness as I told her how important this debate on Iraq is and wondered if she supports the troop withdrawal.
"I don't have a comment," she said. "I have a conference call, very important."
I said a war resolution is the subject of debate in the Senate, and asked what is her position as she made a beeline for the staircase and was halfway up the steps when she said, "I'm leaving for California in an hour and a half. I'd be happy to talk to you at the end of the week."
"But you are running for Senate?" I asked her.
"I'm exploring," she corrected. "And I'll be happy to talk with you at the end of the week."
"Do you have any statement on Iraq?" I asked.
"No comment," she replied.
And a few minutes later I was back on the highway coaxing that old machine southward, but not before marveling at how Estabrook, standing at the top of those stairs, seemed simply to vanish.