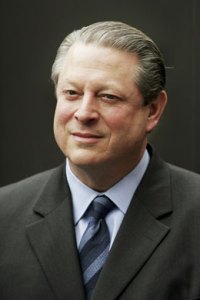 If the cynics are right, and Al Gore's real aim in refusing to kill off talk of a run for President in 2008 is to publicize his film, then this week could hardly have gone any better.
In the days leading up to his April 25 appearance at the Tribeca Film Festival, Bill Clinton casually mentioned on Larry King Live that Mr. Gore might run; Britain's Sunday Telegraph reported that two unnamed former Gore staffers were assembling a secret campaign; and finally, the day before his arrival, The New York Times broke the news that about 20 former fund-raisers and supporters of Mr. Gore were planning to gather in Washington next month "to talk about politics, memories and Mr. Gore's future."
But what do his supporters think?
From the sound of it, the current consensus is this: He probably won't do it, but if he does, we're there.
"It's never too late for any candidate until the deadlines," said Donna Brazile, Mr. Gore's former campaign manager. "The deadlines won't start approaching until the fall."
As for the comments by Mr. Clinton, and to others made recently by consultant James Carville, Ms. Brazile said: "They want him to make the Shermanesque statement that he is not running, period. Because if you look at the polls—and I'm sure they look at the polls much more often than you and I—he draws support from Mrs. Clinton, and a little bit from Edwards and Obama. But a lot from her. So I'm sure that's the reason why."
Ms. Brazile, for her part, said that she wasn't convinced from her recent conversations with the former Vice President that he actually intended to go for it.
"I saw him in March, when he was here in Washington, D.C., and I got no sense that he was making another run at the job," she said, before adding that "if Gore decided to run, he would be a big deal."
Also, she said, "If Al Gore decided at the last minute, whichever time that could be—that could be tomorrow, that could be two months, three months—I would give him every consideration. No question I would."
Some of Mr. Gore's financial supporters have moved on to other candidates. Chris Deri, for example, is raising money for Barack Obama, whom he calls "the most exciting political figure I've observed in the last 15 years."
And yet.
"If Gore gets in, I'm with Gore," Mr. Deri said. "He's the singular candidate who it's never going to be too late for, because he doesn't have to pass and succeed at the traditional milestones. So he gets to do an end-run around a lot of the gauntlet.
"I strongly believe he has made the intellectual decision not to run," Mr. Deri continued. "But what is interesting and exciting about politics is, you never know what is going to happen."
Mr. Deri was invited to—but will not attend—the upcoming dinner on May 8 for former Gore supporters, which is being organized by his former chief of staff, Peter Knight.
("It's not something that he or we are coordinating with or involved with," said Mr. Gore's spokeswoman, Kalee Kreider.)
One Gore loyalist who is planning to attend is Charles W. Bone, a Tennessee lawyer and longtime Gore fund-raiser.
"It's just a reunion," said Mr. Bone, convincingly. "It's 20 years ago that he first ran for President."
When asked if there was any chance that Mr. Gore's political future may be a topic of discussion, Mr. Bone said: "Anytime this crowd gets together, there's a lot of talk about politics.
"It's a fun story," he continued, "but I don't think there is any deliberate effort here to do other than getting together again. My suspicion is that almost everybody in that group probably has some commitments or interest in different candidates."
And then, suddenly, this:
"My instincts say that somebody could get in this in January and turn this thing around. Or maybe even in March or April, if the initial primaries don't develop a clear candidate."
Somebody.