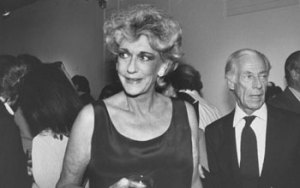 "It's been quite something," said Christopher Buckley, of the deluge of phone calls that he and his family had received about the death of his mother, Pat Buckley, on April 15. Mr. Buckley, a humor writer and editor, spoke to The Observer from the Buckley family home in Stamford, Conn. Mrs. Buckley, her son said, had died of an infection after a long, very painful illness. She was 80. "Even I have been impressed by the number of calls. She was a great lady-capital G, capital L. Everyone including the President of the United States called."
Nancy Reagan had called, too. The two families had Thanksgiving'd together in Connecticut. Mrs. Reagan, the son relayed, had sounded "pretty broke up."
"She was a very big deal for a while," Mr. Buckley said of his mother. "She was at the center of the greatest city in world."
New York has many worlds, each with its own precious center. Mr. Buckley allowed that the center he was talking about was the center of "social" New York.
"And by 'social New York,' I don't mean 'social' in the silly sense," Mr. Buckley said. "I mean the modern equivalent to Ms. Astor's 400. She knew everyone. She had class."
It's a clarification that may be more necessary now-when the term "society" sometimes carries with it images of young, uncovered nether regions falling out of limousines-than in previous eras.
But the social world of the Buckleys was perhaps larger than the phrase was ever intended to accommodate.
Always one to proudly identify herself, first and foremost, as a wife and keeper of house, Mrs. Buckley was, of course, the better half of writer, editor and television persona William F. Buckley Jr., who launched the National Review in 1955 and is often credited with being the founder of the American conservative movement. Her only son fondly refers to Pat Buckley as that movement's "den mother." From the early 1960's until only recently, the Buckleys hosted twice-monthly dinners for the magazine's editors-dinners that were always attended by some luminary who would inevitably become a friend of the family. "That's a lot of dinners," Mr. Buckley said.
While she was famous for her cutting wit, there was nothing silly about Pat Buckley. She was a very serious "money-raiser" (as she sometimes referred to herself) for various causes, including a number of city hospitals. Her friend and fellow social force, Nan Kempner, estimated that between the two of them, they had raked in upwards of $75 million for the Memorial Sloan-Kettering Cancer Center. There were other causes as well: the N.Y.U. Medical Center, St. Vincent's, AIDS, Vietnam vets, the arts.
And, as is always the case in this town, to raise money is also to know how to throw a swinging party.
"She put the Met museum on the map!" said her longtime friend, gossip doyenne Aileen (Suzy) Mehle, no doubt referring to the museum's annual Costume Gala, which Mrs. Buckley chaired for years. Of her many fund-raising events, Ms. Mehle said: "She instigated them, she ran them, she decorated them, planned the menus. She just got things done. And, of course, everyone came."
"She was just brought up that way," said the writer Bob Colacello, of his longtime friend's philanthropy.
Patricia Alden Austin Taylor was born to a rich Vancouver family on July 1, 1926. The Trudeau family-including the young Pierre Trudeau, who would become the prime minister of Canada-lived in the house next-door, according to Mr. Colacello. Her father, Austin C. Taylor, was in lumber and mining. Her mother initially tried to break up her marriage to William F. Buckley Jr. because she thought her daughter was marrying down: Mr. Buckley was a Catholic.
After meeting through Mr. Buckley's sister-her college roommate at Vassar-the two were married in 1950, and Mrs. Buckley went from being, in the words of her son Christopher, "a glamorous debutante to a vacuum-cleaner-wielding wife of a junior faculty member of Yale."
Life would become much more glamorous, and in time, Mrs. Buckley became the vacuum-cleaner-wielding, rose-clipping, chicken-pot-pie-preparing director of three households: a Park Avenue maisonette, a home in Stamford, and a Swiss chateau that the Buckleys rented during skiing season for roughly half a century.
In 1975, she was voted to the Best-Dressed Hall of Fame. But it was more the way she wore the gowns that writer Tom Wolfe remembers: "She was always slender and very erect; her body language was that of somebody who expects the best." (Mrs. Buckley clocked in at just under six feet tall.) "It wasn't so much that the chin was up, but more the posture: She always looked like a very dignified person who was always ready to have fun at any moment."
"She always spoke her mind, and did so with such wit and intelligence that you just had to enjoy it," Mr. Colacello recalled. "More than anyone, Pat encouraged me to leave Andy Warhol, who she called 'that ridiculous creep.'"
"My favorite story is the time John Kenneth Galbraith brought Ted Kennedy to visit them in their chateau in Rougemont," said Linda Bridges, a friend of Mrs. Buckley and a longtime editorial assistant to her husband. "And then Kennedy was going back to Gstaad, and the Galbraiths were going in the other direction. Kennedy asked if he could borrow a car to go back to Gstaad and Pat said, 'Certainly not-there are three bridges between here and Gstaad.'"
A charmed life, indeed-but one not devoid of suffering, her son recalled. She had four hip replacements. After a skiing accident shattered her hip in four places, she was on crutches for two years. She had two ectopic pregnancies.
"She was a strong woman. She was literally formidable," Christopher Buckley said. He was with her to the end, when the suffering was worst of all. Mr. Buckley began to choke up. "I'm sorry," he said, fighting back tears. "She was my mother."