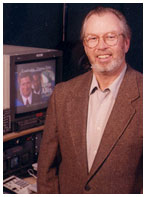 Greg Stevens, who served as Chief of Staff to Governor Thomas H. Kean and was the principal architect of his landslide re-election victory in 1985, passed away today. He was 58. A former newspaper reporter who later became a political consultant, Stevens was diagnosed with a brain tumor while serving as Douglas Forrester's strategist in 2005.
"Greg was a tremendous friend and advisor to our family," said State Sen. Thomas Kean, Jr. "He loved New Jersey very much and dedicated a significant portion of his career to making it a better state in which to live, work and raise a family."
"Republicans and Democrats alike appreciated and respected his wit, candor and intellect. We will all miss his passion for life and for politics," Kean said.
"I always respected Greg's integrity in a business where that is sometimes a forgotten commodity," said former Gov. Christine Todd Whitman. "He was justifiably respected for his understanding of policy as well as politics and he was a loyal friend."
"Greg Stevens understood more about people than anyone I have ever met," said GOP State Chairman Tom Wilson. "Whenever I talked to Greg, I always left the conversation a little bit smarter. He was a fierce competitor, a truly brilliant communicator and a great teacher. On top of all that, he was also a very funny, humble and down to earth guy."
"With the exception of Governor Kean, no one was more responsible for creating the sense of pride that New Jerseyans felt for our state in the 1980's. He understood the hopes and frustrations of that people had and helped Tom Kean shape and articulate an agenda that made New Jersey and her citizens 'perfect together.' It was a skill that made him one of the most successful and sought after campaign minds in the world. But, it never mattered how busy he was, he always kept in touch with his friends in New Jersey and always wanted to talk state politics," said Wilson.
"He's proof that you can take the boy out of Jersey, but you can never take the Jersey out of the boy," Wilson said.
"Greg was a good friend and a man of remarkable talent," said Forrester, who served with Stevens in the Kean administration. "I was fortunate to observe first-handhis skillsat work when he was Governor Kean's Chief of Staff andlater, during the arduous 2005 Governor's race. He encouraged me at times when I needed it, whether on the raquetball court, on my job as Assistant State Treasurer oronthe campaign trail."
"It was especially meaningful to see his tenacity and commitment at work when, in themiddle ofmygubernatorialrace, he requireddebilitating medical attention," Forrester said. "He will be sorely missed by those who care about good government and the political skills requiredto bring it about. Our prayers are with his family."