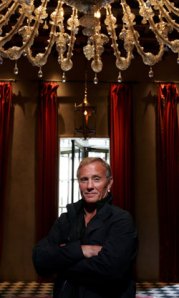 Location: You recently turned 60. What's that like?
Schrager: I never went through anything on any birthday, but this one I realize that I'm nearing the endgame! So it's been a little bit more of an issue for me than the other birthdays.
Looking back, what do you feel most proud of?
My most important contribution, and my best work, has been my daughters. Away from that, in terms of New York, I like to think that I have changed things, impacted things.
I think I have changed the hotel industry; I think I've created a whole new generation of hotel people that might not have otherwise gone into the business [if it weren't] for the success that I have been lucky enough to have. I think I have raised the bar and elevated the standards, and I think people—not only in New York—benefit from that.
Where would you like to work that you haven't?
Wherever there's something that excites me, turns me on—I react to a business opportunity the way maybe some men react to a woman or a car. It's a visceral thing.
What Brooklyn neighborhood excites you most as a potential place to work?
Williamsburg, I suppose, or even downtown Brooklyn, where Bruce Ratner is doing a lot of work; around B.A.M. [the Brooklyn Academy of Music]—I have been asked to do a couple projects over there. I am thinking about it, but there is only so much you can do …. I haven't been entertaining offers about doing anything in New Jersey yet, but I might if the right project came along.
What is your development at One Madison Avenue's clock tower, which was once the tallest building in the city, going to look like?
Well, we are going to make a hotel there, a very high-end hotel, more like a private club …. I have my development plans, but I might sell [the building] if we have the right price. We have been getting unsolicited offers.
What do you mean by "club"? Even clubbier than Gramercy Park Hotel?
Yes. It's an idea whose time has come to New York; it was never really here before. I like to think I had the most successful nightclub in history with Studio 54, but we couldn't sell membership!
How long can the good times last in New York, with room rates and hotel occupancy as high as they are?
Certainly not forever …. I am beginning to get signals now of the end—intuitively, not analytically.
What protects you and your future projects?
Doing something unique and special. When the economy goes through a dip, and it always does, if you have something that's indistinguishable from everybody else, if it's generic, if it's a commodity, then you're going to rise and fall simply on the economy.
What is your other project in New York?
Well, I have two projects I'm working on in Chelsea, and also I am very close to announcing a big project with a big hotel company …. I would create a brand for them.
The idea of creating a brand and having a big hotel company roll out lots of this particular brand is interesting … maybe there's a few hundred of them.
And the brand will have your name on it?
It won't have my name on it, but people will know I've done it.
What will the Chelsea developments look like?
There will be multiple hotels, and residential. Not condo-hotels—the plans haven't really been finalized yet—but multiple hotels, maybe as many as three or four, with different price points and a retail component and restaurants and bars …. I'm looking at two specific locations on the High Line.
Are you going to work with developer Aby Rosen again, like you are on One Madison?
On one of them.
You also have a project in Las Vegas. What appeals to you about Vegas?
You know, Las Vegas is like the new Texas; everything is so big out there …. I don't want to do a Vegas thing, I want to do my thing—something that's sophisticated, and cool, and edgy, and will attract people that now don't go to Las Vegas.
But it will be Las Vegas–sized?
Yes …. I do so few projects, something has to have a big scale in order to be worth my effort.
How often do you think about your Studio 54 business partner, Steve Rubell? What is the thing you miss most about him?
His friendship. I am by myself now. I have a very good and strong friendship with Aby that I find really fulfilling—we were friends first before we became business partners. But, you know, I love Steve, and we went through a lot together, and we were both kids from Brooklyn …. I think sometimes about how things would be different if he was still alive—maybe more fun and more enjoyable.
Do you have any regrets?
The only thing that I regret were the [tax-evasion] issues that came out of Studio 54. Other than that, I have no regrets in business. Because when I do a project, if I weren't 100 percent ready for that project to open, I wouldn't open. People say, "What would you have done differently?" I always, thank God, can say: "I would do nothing different."