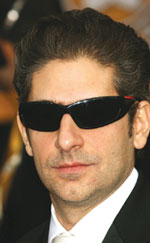 With The Sopranos airing its glorious final episodes, a longtime star and his wife are embracing the less entertaining roles of office manager and landlord. Ornate interior designer Victoria Imperioli, whose husband Michael plays the drug-addled Christopher Moltisanti, has paid $2.4 million for a four-story walk-up at 499 Canal Street.
One floor of the shabby-looking 17-foot-wide building on the Soho-Tribeca border will house offices for the couple's three-year-old Studio Dante, a theater at 257 West 29th Street.
 "We needed extra space," Ms. Imperioli told The Observer. After renovation, the place will be sparse and sleek, with "a small stage inside the office where people can audition."
The other floors will be rented out as apartments. "Later, when we can possibly do it, we'll take over the entire building …. And we live close by, so we can shuttle in between."
The ground floor had been commercial space, and pictures on the Massey Knakal listing show curtains that belong in a Jersey dentist office. "You know what?" said the designer. "This is a very old building." To start fixing things up, she's picked a brick-orange color for the brick façade.
Another source with knowledge of the deal said the entire place needs a gut renovation. On the bright side, the building has nearly 2,000 square feet of air rights.
The wily seller, who is listed in public records as M&R Canal, bought the walk-up only seven months ago for $1,685,000. The deed also lists Ms. Imperioli's mother as a buyer; likewise, her father partnered in the Studio Dante project.
Does Ms. Imperioli know that Tony's all-powerful wife Carmela tried construction with her dad on The Sopranos? "I don't have cable, so I'm not up on my Sopranos," she said. "We have three children; we make them read."