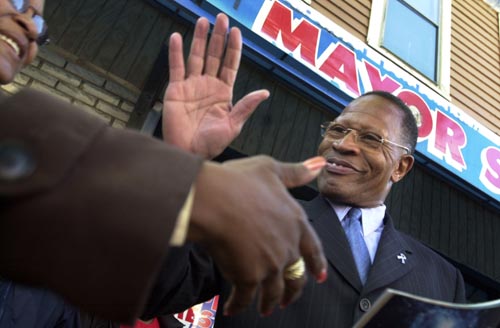 State Sen. Sharpe James will not seek re-election to a fourth term in the State Senate, according to a report by WNBC-TV's Brian Thompson.
"I will not seek re-election in 2007, whereas it is time to spend more time with my family, win a senior national tennis championship and to finish writing the last chapters of my autobiography," James said in an e-mal to Thompson.
The 71-year-old James, who is reportedly the target of a federal probe of his twenty years as Mayor of Newark, becomes the 13th Senate retirement this year.
Teresa Ruiz, the Deputy Chief of Staff to Essex County Executive Joseph DiVincenzo, is seeking the 29th district seat James has held since he succeeded the late Wynona M. Lipman in 1999. Assemblyman William Payne had also been considering a Senate bid, but has not yet filed his petitions. He has until 4PM today.