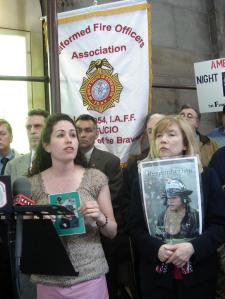 When Rudy Giuliani went to speak to Manhattan Republicans at Cipriani at 42nd Street last night, he snuck through the back door. By the main door was a bag pipe player greeting guests for the $1,000-a-plate dinner. And also, more than fifty protesters.
"People say, 'Oh my god, there's Rudy,'" said Rosaleen Tallon, who was holding a picture of her late brother, Sean, a fire fighter who died on Sept. 11. "He was great for New York on 9-11."
Tallon, needless to say, does not think Giuliani has been particularly great the rest of the time.
She was joined outside Cipriani by John McNamara, a former firefighter who developed cancer after working on Ground Zero, Peter Gorman, president of the Uniformed Fire Officers Association and family members of other sick rescue workers and fallen firefighters. They were there to contend, as they have before, that the former mayor didn't do enough to prepare for the terrorist attacks of Sept. 11, that he gave fire fighters inadequate radios and that he didn't adequately alert rescue workers to the health risks associated with working at Ground Zero.
"It all comes into this one story," Tallon said, referring to Giuliani's presidential candidacy. "I don't want that to be the reason people go into the booth thinking he was so great."