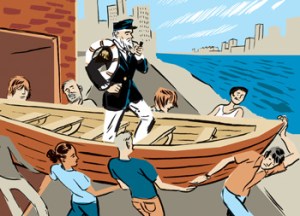 Last week, a woman walking down 14th Street stopped suddenly after looking inside an expansive storefront window. What she saw, in fact, was a group of students sanding a 25-foot-long wooden boat in preparation for its launch into the Hudson River on Friday, April 27. The project—a collaboration between Eugene Lang College (part of the New School) and Floating the Apple—is part of an ongoing initiative to inform young urbanites about "green" recreation.
"Even though when [the boats] are finished, they look like yachts, it's not about exclusivity; it's really about taking back the harbors as public space, which it legally is," said Rob Buchanan, the Lang professor in charge of the project. And while the low-impact boating venture might be founded on nostalgia for New York's maritime past, the notion, at its core, is actually rooted in the future.
"It's incredibly timely," said Michael Davis, executive director of Floating the Apple, which has built some 25 boats with young people all over the city. "It's important to engage kids, because it's their generation that will set the mode …. Nature is so strongly and immediately stated in the waterways; the power of nature is the curriculum," he added.
And many of the boat's hip creators also seem excited by the prospect of rowing alongside Manhattan's concrete cliffs. Nadia Chaudhury, a 22-year-old senior at Lang and one of the students in Mr. Buchanan's class, noted the oft-forgotten fact that our city is an island: "You don't really know what kind of access you have until you go to the water. I mean—you're surrounded by water. You should know what's out there."
The launch will take place at noon on April 27, at Pier 40 and West Houston Street