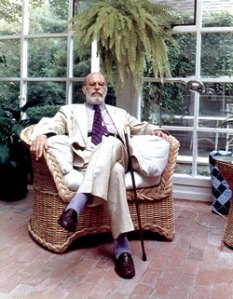 Part pooh-bah, part pontiff, for some 50 years Leo Lerman ruled Manhattan's cultural roost from a host of journalistic redoubts, including Mademoiselle, Vogue and Vanity Fair, ending his career as an über-editorial advisor at Condé Nast Publications. He died at 80 on Aug. 22, 1994. The ultimate first-nighter, he apparently never missed the opening of a play, a nightclub, an opera or a musical. He also gave remarkably well-attended parties. His Journals are worth the price of admission for the guest lists alone.
"Alone" isn't the right word, for Lerman was rarely alone. Among his pals were Marlene Dietrich, the Baroness Blixen (a.k.a. Isak Dinesen), Irving Penn, Jacqueline Kennedy Onassis, Vera Stravinsky, Virgil Thomson, John Gielgud, Diana and Lionel Trilling, Pavel Tchelitchew, Margot Fonteyn, Carol Channing, Arthur Penn, W.H. Auden, Imogene Coca, Cecil Beaton, George Balanchine, Susan Sontag and—of course—Truman Capote.
To a "Chinese Supper for Maria Callas" on Nov. 18, 1956, Lerman invited, among many others, Leonard and Felicia Bernstein, Samuel Barber, Lillian Gish, Lincoln Kirstein, Leontyne Price, William Faulkner, Maggie Smith and Tom Clancy. As at all his entertainments, these glittering guests were sardined into his apartment of the moment. Eight years later, the mix for an "Early Twelfth Night" party would include Rudolf Nureyev, Robert Motherwell, Joan Sutherland, Gloria Steinem and various members of the Newhouse publishing clan. Would you have liked to be a fly on the wall? Say yes, and this is the book for you.
Lerman and Gray Foy, with whom Lerman lived from the 1940's, rang in 1976 by entertaining many of the notables cited above, plus Woody Allen, Richard and Dorothy Rodgers, Estée Lauder, John Lindsay, Diana Vreeland, Robert Fosse, Martha Graham, Oscar de la Renta, Ismail Merchant and James Ivory, André Gregory, Luciano Pavarotti, Candice Bergen, Barbara Walters, Henry Kissinger, Joseph Heller, Tony Perkins, Lillian Hellman, Mikhail Baryshnikov and the Persian ambassador, to name some but not all.
Leo Lerman knew everybody—except perhaps himself.
"I sit at my desk writing, because this is the only solitude left," he wrote in 1947. "I am like Nicole in Tender is the Night." Actually, he was the openly homosexual son of Jewish émigré and—like so many New Yorkers, then and now—very much a self-invention. His formal education ended with high school, at which point he began reading Proust and Virginia Woolf. "I should have had a life of letters," he mourned in 1975, "not journalism."
Not really: Leo Lerman was no belletrist, even in his private writing, now made public in The Grand Surprise. In all fairness, the book is not of his own devising, but rather a posthumous compendium cobbled together by Stephen Pascal, whose long career as a Condé Nast editor began when he started out as Lerman's assistant. Mr. Pascal also became Lerman's amanuensis: Though in 1982 Random House signed Lerman to write an autobiography, after nine years, he'd written nothing at all—and so he began to tape-record reminiscences with Mr. Pascal as his audience. The memoir was never finished. Only after Lerman's death were several caches of personal notebooks discovered, ultimately numbering in the hundreds.
To this material, Mr. Pascal adds letters—many from Lerman to his one-time lover and life-long friend Richard Hunter. There are also letters to Gray Foy and others, including Marlene Dietrich. The letters are laced throughout the text in chronological order. There are also, printed in italics, interpolated passages written long after the dated entries. Some of the interpolated passages are from previously published writings; some of them come from the unfinished memoir; and everything is sedulously annotated and footnoted. The overall effect of this collage technique can be a bit strange, with Lerman veering rapidly from one voice to another. All in all, the book feels like a do-it-yourself kit for a Lerman biopic.
Indeed, The Grand Surprise is a kind of literary zoetrope: You select a set of vignettes, spin the cylinder, and see a jumpy movie of parties, weekends in the country, travel abroad, and celebrity after celebrity. Often the effect is the contrary of intimacy, and often Lerman himself seems to be on the outside of events, looking in. All this information, and still you find yourself wondering: What was he like?
"I am writing to be read, one day—I don't care when—but I am really writing to talk to myself," Lerman wrote in 1984. "I am talking to my best friend, and I forget anyone else, forget future readers, am only concerned to question myself, interpret myself, re-create myself … narcissistic, of course." According to Mr. Pascal, the 654 pages of this book include only 10 percent of the available material. "I balloon with words, I grow lardy with words," Lerman wrote in 1978. "I am fat—hideously fat—with words."
Well, yes. But they're interesting words, serving up lost worlds, ancient gossip, nasty anecdotes, accounts of art and of love, and of sex. There are many pages of sharply observed portraits—some sympathetic, some devastating, some both. "I must tell you about last night's dinner guests," Lerman wrote to Foy in June 1957, and went on to describe one of them. "Jane Grant, once Mrs. Harold Ross …. It is strange to see this woman, once the center of the Algonquin Round Table set … here in remote Connecticut and wrinkled the way country women are wrinkled, as though each line, each wrinkle held earth—the sort of skin you could grow something in—herbs rather than flowers. I like her …. " It's not a kind description, and somehow the nature of the person described is lost in Lerman's exquisite, airless observation.
Shrouding the entire Lerman carnival is a penumbra of loss, sorrow and regret, increasing with every passing year. Retrospective as written, still more retrospective now, The Grand Surprise leaves the reader feeling that to have known Leo Lerman would have been, if not to love him, to feel rather fond of him, and rather lucky.
To read him is not quite the same thing. Frequently, writers are less desirable as friends than as authors. From the evidence, it was the opposite with Lerman.
At his request, after his death, Lerman was laid out at home, and invitations were sent forth. There, at the Osborne, on West 57th Street, he lay, embalmed, under purple sheets in his mahogany sleigh bed, wearing a Turkish needlepoint cap and a nightshirt, receiving visitors. It was the last party.
Nancy Dalva is senior writer at 2wice.