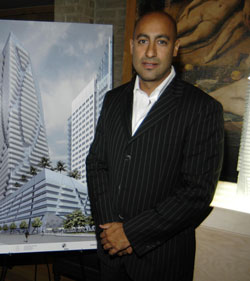 Harry and Billy Macklowe are so busy. Two months ago, they more than doubled their New York portfolio with a $7 billion buy from Blackstone. And now here comes their next prize.
We already know that the Macklowes are planning something at the corner of Park Avenue and 56th Street, where they own the soon-to-be-demolished Drake Hotel. But now it appears that the big development site is expanding even more.
According to city records, the Macklowes have purchased 44 and 50 East 57th Street for $41 million and have issued a declaration of development rights for 42, 44, 48 and 50 East 57th Street—all tiny buildings that border the Drake. In the declarations, those properties are bundled with 434 Park Avenue—the Drake's address—to make up an L.L.C. named 440 Park Avenue Owner Associates.
That means the Macklowes' prospective monster at the corner of Park Avenue and 56th will curve like an L and expand all the way to 57th Street. So, in addition to being pretty tall—it will reportedly be 70 stories—the new development's going to have a huge base. (Conspicuously absent from the declaration of development rights is 46 East 57th Street; one wonders if the Macklowes are having a tough time nabbing that building. They would not comment.)
In any event, Harry and Billy Macklowe are quickly securing cash. According to a document obtained by The Observer, the Macklowes have signed an air-rights mortgage-spreader agreement with Deutsche Bank for the 440 Park Avenue project for $543 million.
So they've got the money, but what are they going to build there?
It was originally conceived as a mixed-use project that would be mostly residential. The proposed building, known as 50 East 57th Street on the Macklowe Properties Web site, is listed under residential properties and is described as mixed-use.
But at a time when every developer is trading in kitchens for cubicles, the Macklowes are still mulling it over. Billy Macklowe, the heir-apparent to his father's robust throne, told a group of reporters in February that no decision had been made.
Nevertheless, they've got plenty of reason to think office. Their new tower will border 450 Park Avenue, the 32-story tower that owner Taconic Properties is selling for a record-breaking asking price of $1,500 per square foot. And the prospective 440 Park (a.k.a. 50 East 57th) will have one of its three entrances on 56th Street, directly across from the Park Avenue Tower, one of the eight buildings that the Macklowes acquired from Blackstone.
HE SAID HE'S SERIOUS ABOUT MANHATTAN. He said he's bullish about office space in Manhattan. He said he's going to buy a lot of office towers—that's how serious he is.
Welcome to New York, Craig Nassi! The Denver-based developer might be an unfamiliar name to you today, but Mr. Nassi is someone you'll know soon.
He told The Observer that he's in contract to buy six buildings, including five in midtown and one at 315 Park Avenue South. Mr. Nassi confirmed the midtown south buy, but wouldn't name the others. All in all, he said, he's going to buy up to three million square feet in Manhattan.
So who's Mr. Nassi? He's 37, a luxury-condo developer turned office-space convert who prefers e-mail to phone calls and even has a blog (craignassi.blogspot.com).
He wouldn't confirm the price for 315 Park Avenue South, but the 330,000-square-foot building likely went north of $260 million. And he said he would place an office for his company, BCN Development, inside this purchase.
And what to make of his dedication to Manhattan? Mr. Nassi said he's searching for a place to live. "Looking," he wrote in an e-mail from his Blackberry. "East side midtown."
GLENWOOD MANAGEMENT, THE FAMED UPPER East Side developer and landlord, is planning a 550,000-square-foot rental complex on the West Side near Ninth Avenue, a source said.
The development site will stretch over a plot between 37th and 38th streets and Eighth and Ninth avenues. The new complex, which could be anywhere from 20 to 25 stories tall, will develop over an area dotted with parking lots and small buildings.
Last week, Glenwood Management acquired a parcel of land for the development site at 310 West 38th Street for $59 million. The sale was recorded in city records.
If you're a developer with a familiar name, it's best to jump on the West Side bandwagon right now. The Elghanayans, Joseph Moinian, Related, Brookfield Properties and now the East Side mainstay Glenwood are all building there.
Though, in fairness, Glenwood has been breaking free from its Upper East Side roots for a few years now. The company has developments in Murray Hill, Tribeca, the Upper West Side and the financial district.
Eric Anton, a principal and broker at Eastern Consolidated, worked on the deal at 310 West 38th Street. He would not be interviewed for this story.
BUY, SELL AND TRADE! That's Joseph Chetrit's strategy.
Mr. Chetrit has purchased the Standard Oil Building at 26 Broadway for $225 million.
It was Mr. Chetrit that just sold the Toy Building at 200 Fifth Avenue for $500 million to L&L Holding Company (a price so high that it made more than a few real-estate insiders gasp) and is in contract to sell 450 West 33rd Street to Broadway Partners for $664 million.
But he's not just cashing out. In addition to the Standard Oil Building, Mr. Chetrit just purchased a pair of N.Y.U. buildings near the World Trade Center redevelopment site and spent $140 million for development rights to a 37-story mixed-use giant on Sixth Avenue between 30th and 31st streets, as The Observer reported.
The 84-year-old Standard Oil Building, at the corner of Broadway and Beaver Street, is 32 stories and has 630,000 square feet.