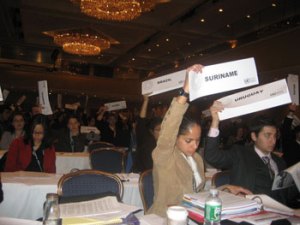 It's hard to imagine that the founders of the National Model United Nations program intended things to be quite so real.
During a five-day convention this week at the Marriott Marquis Hotel in Times Square—the second-to-last Model U.N. session of the Bush years—the American delegation fairly hijacked the proceedings, seizing control of the individual commissions and of the conference agenda.
Meanwhile, the "foreign" delegates reacted by calling the Americans hypocritical Iraq-bunglers, and worse. At one point, the U.S. delegation lost its ability to vote on the Economic and Social Council when its official placard was stolen.
"We left it in the room, and when we came back, it was mysteriously missing," said Vassar senior and U.S. delegate Leora Rothenberg, her brown eyes widening.
Between the opening ceremony at the actual United Nations General Assembly Hall on Tuesday and an awkward, John Waters–style dance on Saturday night, more than 2,200 students spent their days bustling around the hotel, snarling at their competition, quibbling over phrases and deriding each other as "bitches" and "egomaniacs" behind each other's backs.
The United States was represented in the general sessions and individual committee meetings by the Hudson River Group, 27 Vassar College and Dutchess Community College students who participated in the world's oldest and largest university-level model United Nations.
American students comprised about half of the delegations. The rest were mostly Canadian, Italian and German.
There were also smaller groups of students from Mexico, Denmark, Ecuador, Taiwan, France, Latvia, Austria, Switzerland, China, Japan, Ghana, Guyana and Puerto Rico. In previous years, there had been delegations from Iraq and Afghanistan. Because of visa restrictions this year, they couldn't come.
Each delegation represented their country by working toward resolutions that supported their country's interests.
(University of Miami students represented Cuba, for example, while delegates from the University of Copenhagen stood in for the Iraqis. The only students who got to represent their own country were Americans.)
As in some giant fantasy-role-playing game, the key was to stay in character.
"It's Dungeons and Dragons for the poli-sci geeks," said Andrew McCaughan, a teaching assistant from Vassar.
"You're 'in character' from the moment you wake up—in the elevator, in the bathroom, at the bar. Some kids take it way too seriously."
Dressed in business slacks and pointy-toed high heels, the students gathered arms in conference rooms with names like the Majestic Complex, splaying out their binders full of highlighted research, scribbled notes and Post-Its on white-linen-clothed tables.
As they got down to business, relations quickly disintegrated between the U.S. delegation and everyone else.
Vassar junior Alison Lotto said that she could feel the tension filling the room each time she announced her diplomatic affiliation. "You just get this look," Ms. Lotto said, peering through her bright-red framed glasses.
"It's that same one you get when you're traveling and you tell people you're from America, and they're like, 'I'm sorry,'" she said. "But it's like, 'Hey, I control all the money and all the power, so sorry for you.'"
Such tensions were apparent during the official interactions between delegates on the committees.
Recapping a contentious series of meetings of the Economic Commission for Latin America and the Caribbean, U.S. delegate Sam Rosen-Amy explained that "ECLAC may be a shit show, but it's my shit show."
The delegates representing Cuba had responded to what they described as his arrogant assertiveness during the meetings by calling his arguments "hypocritical" in light of America's continuing national embargo. France followed up by deploring America's actions in Iraq.
Things weren't any more amicable elsewhere.
Venezuelan delegates in another meeting actually turned their backs on U.S. representatives and avoided them completely.
World Health Organization committee member Tekima Jones said she had spent much of her time "shooting people down" as they lobbied the American delegates to support resolutions.
"Malaysia grew these huge giant balls," Ms. Jones said. "Like I already explained to him once for like 20, 25 minutes—which already pissed me off—that, you know, 'no,' just flat-out. So he starts feeling a little beefy and he has his little posse behind him, and we're still like, 'Just no, O.K.?'"
Catherine Lalonde, a 21-year-old Canadian student from the Université du Québec à Montréal who represented South Africa on the mock Economic and Social Council, said that the Americans were "playing their role really well, to be polite."
She brushed a blond highlight from her round face and leaned in close. "At first, they were really enthusiastic and all: 'Oh, yes, of course.' But then they weren't, really. Our ideas are just an aside to theirs," she said in a thick French accent. "They just …. " (She moved her arms in a circular motion.)
Plowed through?
"Yes."
To be perfectly fair, the American students were only doing as they were taught.
"It's typical, to be expected," explained Dutchess Community College professor Richard Reitano, a grumpy, grandfatherly figure to his students who has been teaching his "Model U.N. boot camp" class since 1966.
"There is a guilt to being an American, representing the United States," he added. "One student said they'd rather be China" because they disagreed with U.S. foreign policy.
"I explained to them, 'People like to be liked, but it's not a popularity contest,'" Mr. Reitano continued. "We can't be popular."
Eric Kardas, a teaching assistant assigned to the U.S. delegation, explained that America is necessarily the 800-pound gorilla at the model U.N. "The United States needs to command every committee," he said. "If there's a weak American delegation, committees fall apart."
During the bus ride to the conference, the Hudson River Group students sang along to a patriotic mix, which included songs like "The Battle Hymn of the Republic" and Toby Keith's "Courtesy of the Red, White and Blue," with that much-maligned line: "We'll put a boot in your ass / It's the American way."
At the conference, in a meeting of the Security Council—where schools assign their all-star, type-A students—Vassar sophomore and U.S. delegate Luis Trujillo took on a character distinctly reminiscent of John Bolton, the truculent, mustachioed and implacably cynical diplomat who served until recently as the Bush administration's real-life ambassador to the U.N.
As the real U.N. Security Council in Turtle Bay unanimously approved tougher new arms and financial sanctions against Iran for refusing to stop enriching uranium, their counterparts in the model U.N. were tackling the same subject.
Mr. Trujillo conducted his business from the head of the long Security Council table, opposite the chairman at the other end, with an intimidatingly large suitcase full of books, papers and binders full of research spread out on the floor.
As the model Security Council discussed tougher new arms and financial sanctions against Iran, delegates from most of the 15 member countries, including the "Big Five," tended to hover over Mr. Trujillo, nodding diligently at his suggestions or keeping an eye on him before voting to get a curt nod for "yes" or head shake for "no."
Mr. Trujillo drafted or rewrote three working papers that would get passed as resolutions in the Security Council that week.
One of the papers was originally drafted by Qatar, requesting nuclear-weapons-free zones in U.S. territory. Mr. Trujillo completely rewrote the paper and "watered down" the resolutions to comply with American interests.
"I was the bigger person and said, 'I'll go to the table with you, I'll work with you'—you know, bullshit," explained Mr. Trujillo during a break in the action, flicking his free hand as he sipped a Starbucks coffee with the other.
He would go on to receive an Outstanding Delegate Award.