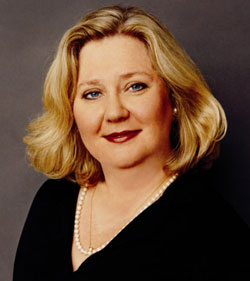 Before reading this book, I was familiar with the name Leslie Bennetts primarily because, as a Vanity Fair contributing editor, she'd conducted the first major post-Brangelina interview with the actress Jennifer Aniston. O.K., I'm shallow. But, thank God, not alone in my shallowness! According to Ms. Bennetts' biographical blurb, that was "the best-selling issue in the history of the magazine." Of course, Ms. Aniston could've been interviewed by a pygmy marmoset and it still would have been the best-selling issue in the history of the magazine. But Ms. Bennetts did an excellent job of extracting teary revelations from her winsome subject. Alighting—accidentally!—on CNN, where the journalist was promoting her coup, I saw a Big Blonde in the style of Dorothy Parker's Hazel Morse, and (thinking of that brutal tape recorder and Ms. Aniston's quavering tears, all those layers of seduction and betrayal), I flashed uncharitably on Linda Tripp.
How wrong I was! Ms. Bennetts, a former prize-winning reporter for the Philadelphia Bulletin and the first woman to cover a Presidential campaign for The New York Times, is firmly on the side of good; those celebrity interviews are apparently just occasional indulgences, like so many flaky pastries. With The Feminine Mistake, a bold, well-researched, convincingly argued and only the teensiest bit self-satisfied (and why not?) manifesto that literally urges women to "rise up" against what sociologists call the New Traditionalism, her name should be resonating on ladies' tongues: Betty Friedan, Susan Faludi … Leslie Bennetts.
But will it?
Ms. Bennetts' book is a stern rebuttal of a particularly pernicious mind-set among women these days, documented on the front page of The Times, the cover of Time and other male-dominated media outlets: that staying home long-term to raise the kids and mull window treatments might be not only a good idea, but a brave and feminist "choice." (See Hunter College sociologist Pamela Stone's detailed dissection of "choice rhetoric" beginning on page 45. Though she borrowed her excellent title from a book on the same topic published 15 years ago, Ms. Bennetts is not one to deny a tip of the hat to her sister scholars.)
Like The Joys of Much Too Much, last year's far more simplistic but similarly themed memoir by much-maligned tabloid-magazine editor and mother of four Bonnie Fuller (also unsnobbishly acknowledged by Ms. Bennetts), The Feminine Mistake advocates a busy, messy, imperfect existence and investment in one's career over an Eisenhower-era pursuit of clean countertops, varnished fingernails and micromanaged children. More substantively, it underscores the absolute necessity of monetarily compensated public life for women—even during the "temp job" of new motherhood—both for their bank accounts and their psyches. "Yes, we've all been harried and overburdened at times, but for most of us those strains were more than compensated for by immeasurable rewards," the author writes of her super-achieving, overstressed baby-boomer generation, wondering if it was in part accountable for the backlash among today's (prematurely) retiring maidens. "Have we failed to articulate the deep satisfactions of building independent lives and enjoying professional success as well as loving families?"
It's to the considerable credit of Ms. Bennetts, a New Yorker, that unlike so many of her fellow citizens writing about mommies, daddies, nannies, babies and the work-life-family "balancing act" or "juggling act" (why don't we just give in and call it a circus?), she resists filling her research pool with the gals she meets pushing swings at the playground, or upstairs in her co-op, or her own exemplary life. Yes, there's plenty of predictable anecdotal evidence from upper-middle-class media players in the New York metropolitan area, but she also visits with churchgoing Midwesterners and teenagers in Houston, white and black, rich and poor.
Tellingly, it's the stay-at-home mothers who request the cover of pseudonyms ("Patsy Wiggins," etc.) as they hesitantly describe their lives and marriages, giving long stretches of the text a kind of coffee-pot-confessional Ladies Home Journal feeling. Ms. Bennetts is their Cassandra. To hear her tell it, rich, supportive husbands are always dropping dead of heart attacks, or going to the loony bin, or running off with the secretary, leaving poor "Patsy" on the perilous precipice of pennilessness. At least, one must be prepared for that eventuality. "There is a plague of silence across the land," the author thunders about creeping female economic dependency, urging a new regimen of cold practicality and contingency plans.
And who could show the unhappy stay-at-homes how this should be accomplished? Why, Ms. Bennetts—who, she tells us, has "never taken more than a weekend off between jobs," yet also "always cooked dinner for my family" … who had the good sense to marry a man, journalist Jeremy Gerard, who lugs home groceries for those dinners and does the dishes afterwards and also makes the bed … who waited until her career was well-established before having two children, a boy and a girl … who is lucky enough to have an employer, Graydon Carter, who lets her both work from home and travel all over the world … who even lucked into the perfect baby-sitter, Norma (graciously thanked in the acknowledgements).
And you know what? More power to her.
Alexandra Jacobs is features editor of The Observer.