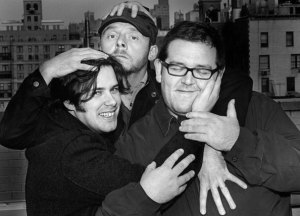 It Takes a Pillage, Part V
The U.S. Senate building, Washington, D.C. Late night. An office, dark except for a pool of light from a knockoff Tiffany lamp. Rain slashing against windows.
THE AIDE: Edwards continues to climb, I'm afraid. He's at 21 percent in New Hampshire to your 27 percent. He's getting a real bounce from the missus' cancer recurrence.
THE SENATOR: Fuck. Why do these bad things always happen to me? Why? Why? Why? O.K., Einstein, what's next?
THE AIDE: We're going to hit Hollywood twice more before Memorial Day—the Burkle fund-raiser helped more than we could have wished.
THE SENATOR: It sure did—$2.6 million. Count that, Obama, you cocksucker! Let's send Burkle something nice.
THE AIDE: Well, I'm not sure an overtly public rapport with Mr. Burkle is advisable at the moment, Senator. You see, it's tricky—here's a man—Burkle—who's rumored to—well, I mean, we all know these are completely unfounded rumors, false allegations—but here's a man who's rumored to … on occasion introduce … young women … to Mr. Clinton. And so some of the team felt there was perhaps a little too much irony in having that same man hosting a party for you ….
THE SENATOR: They can blow me. Keep your friends close, but keep your husband's pimp closer, I always say. Haw haw haw …. Now get me another bowl of nuts in here.
THE AIDE: Yes … err … ma'am. I have to say, though, even I was a bit surprised that you let Barbra Streisand—a woman who was—again completely false, but—well, there have been rumors that she had relations when she slept over in the Lincoln Bedroom … with President Clinton …. And there she is, your guest of honor at the Burkle fund-raiser …. Even I found that one hard to untangle ….
THE SENATOR: Well, it's not your job to untangle things, is it? Your job is to explain to me why Obama raised as much money in the first quarter as I did—and if he keeps doing so, your job will be to top off the milkshakes at Burger King. Do I make myself clear?
THE AIDE: Yes, Senator.
THE SENATOR: Now listen, I'm hearing that Mr. Clinton is being a tad indiscreet. Get a message to him, through Wolfie or Terrence, that if I read, see or even smell anything in the press about his Chappaqua goomah, it's not going to be pretty. Tell him if he becomes a liability to this cause, I will not hesitate to finish him—and anyone else who's unlucky enough to be in the room with him at the time. Got that? Don't write it down—I want this communicated verbally, in person.
THE AIDE: Umm …. Terrence?
THE SENATOR: McAuliffe.
THE AIDE: Ah, yes. O.K. But—finish him?—as in "divorce"?
THE SENATOR: Divorce is bad for business. Ex-husbands can be as troublesome as current husbands. Just tell Terrence—he'll know what I mean. And tell Huma I want daiquiris tonight—the good kind, like the ones we had in St. Croix.
Why Are We in Iraq?
How did our nation descend into a tragic state of "permawar" (military conflict without end)? I can only blame one sector of society: sports.
The job of athletic events is to divert young men and provide a substitute for warfare. But TV, corporate pressure and rising salaries for players have robbed American sports of their appeal. Watching a group of millionaires chase a sphere does not exactly stir the blood.
The war in Iraq began right after the Super Bowl of 2003. Let us examine that contest. Held on Jan. 26, the Tampa Bay Buccaneers trounced the Oakland Raiders, 48-21, at San Diego's Qualcomm Stadium. (Even the phrase "Qualcomm Stadium" is dispiriting.)
After this pallid contest, Americans were eager for a heroic war against an evil, mustachioed dictator.
Revive American football! End military conquest!
—Sparrow
Waverly Inns
We're told that a night at the Waverly Inn—Vanity Fair editor Graydon Carter's exclusive, clubby restaurant in the West Village—might run you about $100 a head. But for that money, of course, you do get white-hot, priceless celebrity moments, such as overhearing a bombshell gossip reporter telling about the time she played Twister with another woman for a big Hollywood producer. Still, for about the same price, you might consider a night at the other Waverly Inn—the one in Halifax, Nova Scotia.
Sure, they don't have $55 macaroni and cheese with shaved white truffles—but they do offer some nice touches. Such as: A human being picks up the phone! Plus, for the price of dinner at Graydon's joint, you can book yourself the $279 "Romance Package": post-coital nibbling from the gourmet snack pack, washed down with white wine—while sitting in your Jacuzzi decorated with long-stem roses. And hey, wait a minute—that's Canadian dollars, which means just $242 in U.S. currency!
And while it might not be packed to the gills with Manhattan's swankest sophisticates, this Waverly Inn has seen its share of celebs, as its Web site will tell you: "Famed Irish poet Oscar Wilde stopped over in Halifax and stayed at the Waverly Inn. Compared to the other guests, Wilde must have been outrageous …. " We bet!
If that's too rich for your blood, try the Waverly Inn that always has a table waiting by the harbor, off Highway 42 along Lake Michigan. That's where you'll find the Waverly Inn Pub & Pizzeria, a 115-year-old establishment boasting perks as yet undreamed of by Graydon & Co: karaoke, darts and pool. And give the nanny the night off: The kids are welcome!
Finally, if you prefer inhaling the misty mountain air over a whiff of Graydon's cigarette smoke, try the Waverly Inn ($139.50 per night) that's tucked in the mountains of historic Hendersonville, N.C. If you book one of its 14 rooms, you get an evening social hour with free beverages!
How's business compared to, say, Mr. Carter's celebrity playpen?
"Umm, well, this Waverly Inn has been here for 108 years," said Darla, the innkeeper. "We're close to area shopping and restaurants, and it's a pleasant little place."
—Nicole Brydson