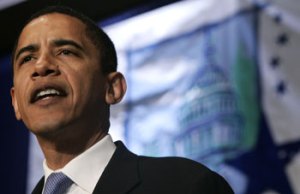 On Monday, April 9, less than a week after the Obama team announced that he had all but matched Hillary Clinton's first-quarter fund-raising totals, Barack Obama was back in New York—epicenter of Democratic campaign cash and Clinton support—to get started on the second quarter. Making his way to affairs from Soho to Central Park West in a hulking Chevrolet Suburban, Mr. Obama covered three events in less than five hours.
For all the love that the donors threw his way, they also wanted to know that he had the political will—or simply muscle—to deliver at the polls next year. During one question-and-answer session at the home of retired investment banker Steven Gluckstern, a guest asked bluntly whether Mr. Obama was street-fighter enough to become President. It was a question, according to one of the event's co-hosts, money manager Whitney Tilson, that the candidate warmed to.
"He responded by pointing out that he came to Chicago many years ago with nothing—no assets, no political whatever—and he had a meteoric rise," Mr. Tilson recalled. "And I think his concluding comment was, 'I think I'm pretty good at this game of politics.'"
And, it seems, fund-raising.
Mr. Obama's Manhattan money-raising spree began well before sunset at the Central Park West apartment of Huffington Post co-founder Kenneth Lerer and his wife Katherine Sailer, and continued late into the night with hour-long stops at Steven and Judith Glucksterns' Soho home and the Upper East Side manse of George and Joan Hornig.
The price of admission to each event was $2,300—the maximum primary donation allowed by law. Not that that kept anyone away.
"We were packed. We never had an event like this," said Mrs. Hornig, a jewelry designer. "There was no pulling teeth to get support."
Bob Ennis, an investment banker who co-hosted the event at the Glucksterns, reported a similar crush of supporters. "We were definitely at max capacity," he said. Mr. Gluckstern, a retired investment banker who most recently chaired the Democracy Alliance, later placed the number of guests at 150 people.
But it was the Lerer event, which was co-hosted by former AOL Time Warner chief operating officer Robert Pittman and his wife Veronique, that gave the evening its flair. From 6 until 8 in the evening, literati like Tina Brown mingled with glitterati like Liev Schreiber, Ron Howard and Naomi Watts, as well as 140 or so hedge-funders, Internet entrepreneurs and Wall Street types. The actor Frank Langella made an appearance, as did John Ortiz—on his one night off from his nightly performances in the Public Theater's Jack Goes Boating, no less—and retired NBC News anchor Tom Brokaw (who was there as an observer, not a donor).
There was even a visitor from Camelot—John F. Kennedy's onetime special counsel speechwriter Ted Sorensen, who showed up at the Lerers' house, much as he had at an earlier Obama fund-raiser at the Grand Hyatt, to give the Senator his blessing.
"I decided on two bases," Mr. Sorensen said. "The first is a process of elimination. I am not for any of the other contenders for the nomination, either because they supported the war in Iraq, which I think is unconscionable, or because I don't think they can win in November of 2008. And I'm tired of losing.
"The other one," he continued, "is that most of the arguments made against Obama sounded to me like the arguments that were made against J.F.K. 47 years ago, when people said he was too young and too inexperienced and wasn't supported by any of the party leaders in Washington."
Mr. Obama reportedly stayed at the Lerers' for a solid hour and a half, during which he mingled, posed for pictures, shook hands and eventually spoke. For 20 minutes, he offered up his thoughts on the Iraq War, education and health care, after which he was treated to a barrage of questions, both courteous and probing.
"It's all very well to talk about hope and idealism and values," one guest asked, according to Mr. Sorensen, "but what about specific programs?"
Another guest wanted to know why Mr. Obama hadn't been more involved in the civil-rights movement.
Mr. Obama answered, once again, with stories from Chicago, pointing to the work he did as an organizer in the inner city after graduating from Harvard Law School.
At the later event in Soho, Mr. Obama responded to a question about one of his opponents by saying, according to an attendee, that he was not running against Hillary Clinton, but against cynicism.
One of the guests at that event—the actor and director Andre Gregory—sounded positively giddy during an interview the following day.
"I would say that he is the first man running for President that I have been truly excited about since Lyndon Johnson first became President," Mr. Gregory said. "Since Lyndon Johnson's first term, I have not voted for a single candidate with enthusiasm."
—additional reporting by Anna Schneider-Mayerson