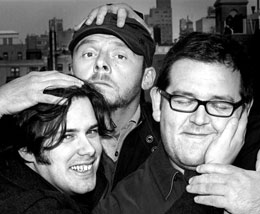 This weekend, as far as the movie studios are concerned, was the last weekend before the official start of summer. So you can forgive them if they took a bit of a break with the big movie releases. (Also, releasing a big movie in Manhattan this weekend is an ill-fated gesture, with the latest entry in the Spider-Man franchise making its debut at the Tribeca Film Festival.)
Audiences protested by not showing up at theaters this weekend, with box office numbers in the dumpster all over the country.
In Manhattan, none of the movies released wide this weekend—The Invisible (like Ghost, but for teens); Next (the inevitable Nicholas Cage flop after his success with Ghost Rider); The Condemned (Running Man redux)—could break the $10,000 mark for per screen average. (In New York City, The Namesake had a better per screen average in its eighth week than these three films could muster in their first.) And while The Invisible and Next were second and third in the country as far as total gross, none of them grossed over $10 million. Next!
Despite all of that, the straight-to-Netflix-queue award this week goes to Jamie Kennedy and his homage to breakdancing, Kickin' It Old Skool. Considered bad enough to make you think you've been "X"ed after watching it, this film could not dredge up more than roughly $1,500 for each theater it played in. This, coupled with the fact that it only appears to be playing in four theaters in Manhattan, probably explains why it didn't crack Manhattan's top 10. Again, The Namesake, playing in one more theater, in its eighth—eighth!—week had a higher gross in the city. Jhumpa, Jehosephat!
So, who is this week's NYC champion? Well, it's none other than Fracture, again. Take that shana punim Ryan Gosling and Anthony Hopkins ol' British mug, mix it with some matricide and you got yourself a movie with some staying power. Killing one's wife never seemed so civilized.
That poor man's Ben Savage, Shia LaBeouf, with the number 1 movie in the country for the third week in a row, Disturbia, could only flag down a third place finish here in the city.
Lost among all this "Pre-Memorial Day" carnage is Hot Fuzz, a fantastic film wrongly marketed as a slapstick comedy. The Shaun of the Dead guys have made a smart, hilarious spoof of the American buddy cop movie. Leave it to the pop culture intelligentsia in Manhattan to pick this one out of the lot, like a pig sniffing for truffles.
While it may have slipped from 6 to 7 in the national box office rankings, it held firmly to the number 2 slot in the city. And both nationally and locally, there is one strong indicator that this one has legs: its total box office only decreased 16 percent from its first week in release to its second. (Standard drop-off is typically in the 30-40% range.) Look for this one to survive the Spider-Man 3 onslaught.