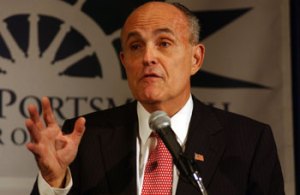 Behind closed doors in a Palm Beach hotel, Rudy Giuliani gave members of the conservative anti-tax group Club for Growth much of the red-meat rhetoric they came to hear.
"None of the Democrats can even talk about fiscal discipline," said Mr. Giuliani. "We need a President who has actually practiced it, there in the battlefields, and won battles for fiscal discipline—and I'm the only one that's done that."
As club members lunched on shrimp, crème brûlée and glasses of iced tea in the Ritz-Carlton in Manalapan, Mr. Giuliani sought to defuse concerns about his positions on the right to bear arms, immigration and abortion.
Several times during the half-hour meeting, Mr. Giuliani also implied that, unlike Senator John McCain and former Massachusetts Governor Mitt Romney, he was the only proven fiscal conservative in the race, and suggested that the other Republicans had lost their way after so many about-faces.
"When a candidate for President starts twisting up all their views to get your support now," Mr. Giuliani said, "it reduces their effectiveness to lead."
The trip to Florida came at a trying time for the former Mayor. He has been beset by new revelations about disgraced former Police Commissioner Bernard Kerik. Speculation about Mr. Giuliani's private life has intensified, compelling him to respond to reports about his wife's personal and professional history. And his lead in the polls—as well as the very premise that he would be the most appealing candidate in a general election—is suddenly threatened by the prospective candidacy of former Senator Fred Thompson.
The Florida trip was less a campaign swing than a cruel test of his ability to function as a front-runner.
"They are going to throw everything they can at him," said Bill Diamond, the former commissioner of the Department of Citywide Administrative Services and a longtime Giuliani supporter who now lives in Palm Beach. "Now's the time."
For now, Mr. Giuliani is succeeding.
On Monday, the Giuliani campaign said it had raked in more than $15 million dollars in the election's first fund-raising cycle. And Mr. Diamond, who attended a strategy session with Mr. Giuliani and key Florida donors on Saturday, said the campaign intends to hold 60 fund-raisers in the next 90 days and do more retail politicking in an effort to build on Mr. Giuliani's lead.
A Quinnipiac University poll of registered Republicans in Florida showed Mr. Giuliani holding onto his advantage, with the support of 35 percent of those polled. Mr. McCain, his closest rival, had 15 percent.
"I've done a lot of politics in Florida, always for other people. Now I get a chance to do it for myself and see what happens," Mr. Giuliani told reporters after the Saturday luncheon. "We raised virtually no money in January, we raised a little bit of money in February, and we raised a lot of money in March. It looks to me like we are on the right track."
Still a Pragmatic Choice
Certainly, Mr. Giuliani seems to be moving in the right direction to line up support in the crucial swing state of Florida, which may soon pass a law to move its primary up to the last week in January.
State G.O.P. chair Jim Greer, who hasn't endorsed any candidate, suggested that Mr. Giuliani might be particularly well-suited to Florida voters and a Republican electorate that was eager to win in a general election.
"I think they are more inclined to believe in someone who is going to address their daily needs as a citizen," said Mr. Greer.
When it was observed that such a description seemed to point to Mr. Giuliani, Mr. Greer said: "I agree."
Other nominally neutral Republican figures in Florida were less cryptic about their enthusiasm for Mr. Giuliani.
After explaining that he wasn't committed to any candidate, Sid Dinerstein, the chairman of the Palm Beach G.O.P., said that the significant New York diaspora in southern Florida made Mr. Giuliani the clear local favorite.
"There is a tremendous New York population and a tremendous Jewish population, and Rudy is almost Jewish," said Mr. Dinerstein.
He ridiculed Mr. McCain as "yesterday's candidate" with "very little support," and said that despite Mr. Romney's frequent trips to the area and an aggressive fund-raising operation that resulted in more than $20 million in first-quarter donations nationwide, "the traction is not there."
Mr. Giuliani also recently won the support of J. Richard Blankenship, a major Florida fund-raiser and close personal ally of former Governor Jeb Bush, who has defected from Mr. Romney's camp.
Supporters of Mr. Giuliani's opponents also talked about the former Mayor's progress, but suggested that his gains are illusory. Adam Hasner, a state representative from Boca Raton and a McCain supporter who acted as a liaison to Florida's Jewish community for the 2004 Bush-Cheney campaign, admitted that Mr. Giuliani had quickly built a strong organization in the state, but said that "we're still in the first quarter of a four-quarter game."
On Saturday afternoon at the Ritz-Carlton, Mr. Giuliani sought to head off reservations about his staying power by stressing that he was the only sure bet for fiscal conservatives.
Arguing that he was "the only candidate in this race" to have practiced supply-side economics, he said that it was "something I actually accomplished, something I actually understand."
The crowd erupted.
Mr. Giuliani got an equally enthusiastic reception for his hard-core partisan iteration of international security policy. Democrats, he said, "want to copy what they regard as the very successful way that continental Europe has dealt with terrorism, which is essentially to negotiate with it, to accommodate it, to appease it," he said, adding: "I believe we should use the American model for how we deal with terrorism. It's called being on offense."
The Tough Questions, Again
Despite the generally friendly company on fiscal and defense matters, some guests at the luncheon took advantage of a short question-and-answer session to raise what has been a tiresome refrain for Mr. Giuliani: his positions on social issues.
One man asked what types of judges he would appoint as President, and if he would defend them against the attacks of Chuck Schumer of New York and Ted Kennedy of Massachusetts, who both sit on the Senate Judiciary Committee.
"That's my nature—to fight for what I believe in," said Mr. Giuliani, who went on to say that those judicial appointments, more than anything else, accounted for a "Presidential legacy" and that his background as a U.S. Attorney meant he "would probably take that more seriously than any of the other candidates."
He reiterated his intention to appoint judges in the mold of Supreme Court Chief Justice John Roberts and Justices Samuel Alito and Antonin Scalia, and said that he wouldn't base his decisions on any one case.
Some members of the audience pressed on. One guest asked for a clarification of Mr. Giuliani's position on abortion, which he said was responsible for more lives lost than the Sept. 11 attacks that burnished Mr. Giuliani's Presidential chances.
"What you are saying I take very, very seriously," Mr. Giuliani said in a deliberate tone. "I've thought about it for many, many years. I've discussed it, prayed about it, and I respect very much your view. I'm against abortion; I think abortion is wrong. If it were a personal decision, I'd advise anyone not to have an abortion."
But, he said, the state should be kept out of these "ultimately very, very personal decisions," adding: "We have to leave it to individual choice."
Mr. Giuliani was equally careful when addressing the issue of immigration, arguing that it would be better to allow working illegal immigrants to register with the government and pay taxes and Social Security, and thus free up law enforcement to seek out "the ones we don't want—and that's where I am going to find the terrorists."
The answer met with an awkward silence, which Mr. Giuliani quickly broke with a crowd-pleasing call to make English proficiency a requirement for citizenship. "We have to restore assimilation to immigration," he said.
Another issue that has hounded Mr. Giuliani has been the application of the Second Amendment. In light of a Mayoral record that was strongly in favor of gun control, pro-gun activists such as Bob Barr have expressed deep suspicion of Mr. Giuliani's commitment to gun owners' rights. On Saturday, Mr. Giuliani said he agreed with a recent ruling that struck down a law restricting handguns in Washington, D.C., arguing that the Constitutional right extended to individuals not serving in the organized militia.
"The Second Amendment is a personal right, not just a civic right," Mr. Giuliani said. "Any restrictions have to be reasonable restrictions, in much the same way of any restrictions on the right to free speech, or any restrictions on the right to be free from illegal search and seizure."
After the speech, Mr. Giuliani, dressed in a navy blue suit and red tie, mingled with the crowd. His wife, Judith, stood next to him in a powder-blue blazer and pink pants.
While Mr. Giuliani froze in mid-handshake to smile for a camera, a luncheon guest leaned over to Mrs. Giuliani with a sympathetic message.
"I don't envy you on this long road," said the guest.
"Oh, it's worth it in the end," she replied.